The CUInsight Experience podcast: Cathie Mahon – Powerful networks (#77)
"We go where the banks can't and won't, and we should own that." - Cathie Mahon
Thank you for tuning in to episode 77 of The CUInsight Experience podcast with your host, Randy Smith, co-founder of CUInsight.com. This episode is brought to you by our friends at PSCU. As the nation's premier payments CUSO, PSCU proudly supports the success of more than 1,500 credit unions.
For many low and moderate-income families across the country, Community Development Credit Unions (CDCUs) have been a vital support system throughout the COVID-19 crisis and resulting recession. On this week's episode, Cathie Mahon, President and CEO of Inclusiv, and I dig into the importance of Community Development Credit Unions from coast to coast, as well as discuss the amazing work Inclusiv is doing to support these credit unions and their members now and going forward. 
During our conversation, Cathie and I talk about many of the challenges and fragile dynamics that come with serving low-income households. She shares some of the incredible ways CDCUs have responded during the crisis to ensure their members have access to their funds and accounts. We also discuss why credit unions need to be more aggressive in reaching out to and serving unbanked individuals, and how this crisis is helping Inclusiv to build and maintain a more robust network of credit unions. 
From there, Cathie and I chat at lenght about why she took the position at Inclusiv, how the inspiration has changed over the years, and why "perfect is the enemy of the good". We also talk about building trust as a leader, what she's learned from her mentors, and some of the things she does to unwind. 
During the show's rapid-fire section, we learn that Cathie was a bit of a troublemaker in high school and that she wanted to be a journalist when she grew up. She also shares some of her favorite books, including one she recently finished, and explains why Bill Clinton is the first person to come to mind when she hears the word success. 
It was a blast getting to know Cathie better, and I hope to be able to cross paths with her again soon so we can continue this great conversation. Enjoy!
Find the full show notes on cuinsight.com
Subscribe on: Apple Podcasts, Spotify, Google Play, Stitcher 
Books mentioned on The CUInsight Experience podcast: Book List 
How to find Cathie:
Cathie Mahon
cathie.mahon@inclusiv.org 
https://www.inclusiv.org
Facebook | Twitter | LinkedIn
Show notes from this episode:
A big shout-out to our friends at PSCU, an amazing sponsor of The CUInsight Experience podcast. Thank you! 
Check out all the outstanding work that Cathie and her team at Inclusiv are doing here. 
Shout-out: Randy's mother 
Learn more about how Puerto Rico's network of financial cooperatives came together after Hurricane Maria in this great article from Inclusiv.
Shout-out: Jill Nowacki
Shout-out: Michael Bloomberg 
Shout-out: Cliff Rosenthal
Shout-out: CUES 
Shout-out: Jonathan Mintz
Shout-out: Sheilah Montgomery 
Shout-out: Lynda Milton
Shout-out: Prospect Park, Brooklyn, NY
Shout-out: NPR
Album mentioned: London Calling by The Clash
Album mentioned: Get Happy by Elvis Costello
Book mentioned: The Motorcycle Diaries: Notes on a Latin American Journey by Ernesto Che Guevara
Book mentioned: One Hundred Years of Solitude by Gabriel Garcia Marquez
Book mentioned: Say Nothing: A True Story of Murder and Memory in Northern Ireland by Patrick Radden Keefe
Shout-out: Bill Clinton
Shout-out: Clinton Global Initiative
Previous guests mentioned in this episode: Jill Nowacki (episodes 4, 18, 37 & 64)
In This Episode:
[02:25] – Cathie, welcome to the show!
[03:20] – Cathie shares how critical it is to have community development credit unions during these trying times.
[04:57] – What are some challenges the lower-income members are facing, and how are the community development credit unions helping?
[07:28] – Keeping branches open is just one way they are trying to help the communities.
[09:34] – Cathie believes that how members interact with their credit unions will be changed forever.
[11:42] – What do credit unions need to do to stay relevant to the pace of change that is happening now?
[14:40] – Cathie shares what she will be most proud to have accomplished a year from now.
[17:58] – Cathie and Randy speak about the experience of the PPP program.
[18:45] – What inspired you to take the position as CEO at Inclusive?
[20:23] – Cathie speaks about how the inspiration has changed with years on the job.
[22:28] – The perfect is the enemy of the good is something Cathie's team has heard her say so much they can finish the sentence.
[23:51] – Making hard decisions is something Cathie has had to cultivate over the years.
[26:32] – Cathie debunks a common myth about leadership.
[27:51] – Is there a common mistake that you see young leaders make?
[29:46] – Cathie speaks about the mentors she has had and what she learned from them.
[32:24] – Cathie discusses what she likes to do to recharge when she has a day off.
[33:21] – What were you like in high school and do you remember the first time you got into memorable trouble?
[34:54] – Cathie says she wanted to be a journalist when she grew up.
[36:10] – She shares some daily routines she does to keep her day in sync.
[36:52] – What is the best album of all time?
[37:28] – What book do you think everyone should read?
[38:18] – Trying to figure out balance has become more important, and solving problems at work has become less important.
[39:19] – When you hear the word success, which is the first person who comes to mind?
[40:13] – Cathie shares some final thoughts for the listeners.
[40:54] – Thank you so much for being on the show!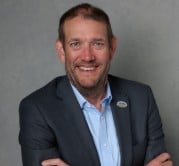 Randall Smith is the co-founder of CUInsight.com, the host of The CUInsight Experience podcast, and a bit of a wanderlust. As one of the co-founders of CUInsight.com he ...
Web: www.CUInsight.com
Details