The CUInsight Experience podcast: Elissa McCarter-LaBorde – Power of people (#131)
"A lot of people are not well-served by the financial sector, and that's what we have to change." - Elissa McCarter-LaBorde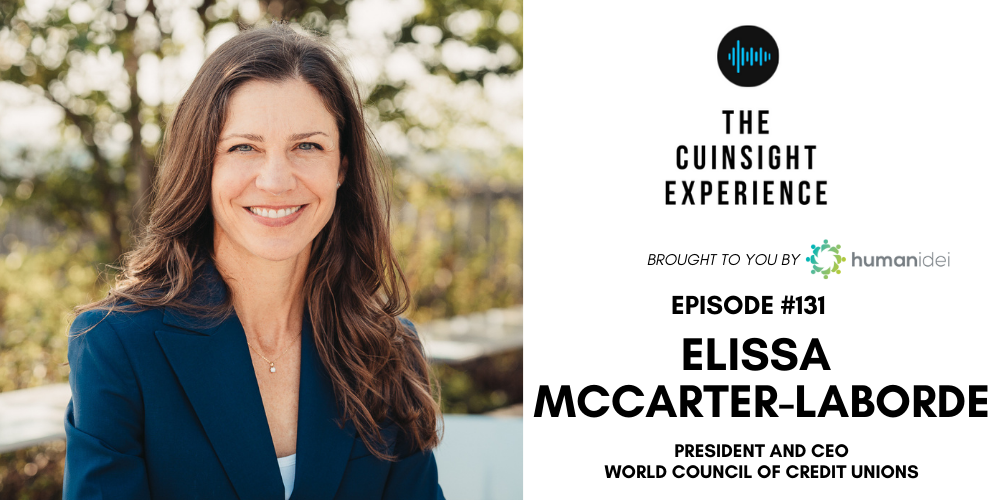 Thank you for tuning in to episode 131 of The CUInsight Experience podcast with your host, Randy Smith, co-founder of CUInsight.com. This episode is brought to you by Humanidei. Humanidei helps credit unions build inclusive cultures that attract, develop, and retain talent.
My guest on today's show is Elissa McCarter-LaBorde, President & CEO of the World Council of Credit Unions. She is new to the credit union industry, but spent over twenty years working in financial inclusion on a global scale. Most of her prior work was spent designing financial services for low-income populations; now, Elissa is bringing her skills and experience to credit unions across the globe. Elissa shares that she has loved to see the commitment, passion, and synergy with financial inclusion initiatives that are core to the credit union movement.
After graduate school, Elissa got her first role with a microcredit program as a debt collector in Armenia. This position deeply impacted her understanding of the relationship between people and finances. She expresses that gender distinctions, age, life cycle, financial access, and community support all factor into understanding the consumer. Elissa explains that for her, credit unison are a counterweight to banks and fintechs that have gone astray from supporting people. She shares that a business model prioritizing community reinvestment, such as the one credit unions employ, is really powerful, especially as there are many people who are both underserved or simply not well-served by the financial sector.
Elissa and I discuss financial health and inclusion, the power of people and networks, and the importance of diversity of thought in leadership. Elissa also brings up ways she approaches the art of feedback, both giving and receiving. Listen as Elissa talks about a very important early investment in her career, the "secret sauce" she thinks makes good leader, and the big footprint of credit unions across the world that has her most excited.
As we wrap up the show, Elissa shares interesting memories of a Yo-Yo Ma concert and the reasons she associates Michelle Obama with "success." Enjoy my conversation with Elissa McCarter-LaBorde!
Subscribe on: Apple Podcasts, Spotify, Stitcher 
Books mentioned on The CUInsight Experience podcast: Book List 
How to find Elissa:
Elissa McCarter-LaBorde, President & CEO of the World Council of Credit Unions
emccarter-laborde@woccu.org
https://www.woccu.org/
LinkedIn 
Show notes from this episode:
A big shout-out to our friends at Humanidei, an amazing sponsor of The CUInsight Experience podcast. Thank you!
Want to hear more from Elissa? Click here.
Shout-out: Credit Union National Association (CUNA)
Shout-out: CUNA's Governmental Affairs Conference (GAC)
Shout-out: Elissa's Dad
Shout-out: U.S. Air Force
Shout-out: Delta Air Lines
Shout-out: Delta Community Credit Union
Place mentioned: Yerevan, Armenia
Place mentioned: Ukraine
Place mentioned: Kyiv, Ukraine
Shout-out: US Agency for International Development (USAID)
Shout-out: Ukrainian Credit Union Displacement Fund
Shout-out: Warren Buffet
Shout-out: Dale Carnegie
Shout-out: Elissa's kids
Place mentioned: Kenya
Place mentioned: Indonesia
Shout-out: Washington National Cathedral
Place mentioned: Washington D.C.
Artist mentioned: Yo-Yo Ma
Shout-out: Audible
Book mentioned: The Island of Sea Women by Lisa See
Place mentioned: South Korea
Place mentioned: Seoul, South Korea
Shout-out: Michelle Obama
In This Episode:
[00:37] – Elissa McCarter-LaBorde talks about being excited to see the synergy of the credit union space.
[02:56] – How did Elissa first learn about credit unions?
[03:47] – Elissa started her career as a debt collector. What did this teach her about understanding people?
[05:34] – A business model that prioritizes savings, assets, and reinvestment into community.
[08:31] – What can credit unions do to support fellow partners in the ecosystem during a social crisis?
[10:10] – The World Council of Credit Unions is gathering support for people in the Ukraine.
[12:18] – Elissa talks about breaking down barriers on why people have not had good financial access in the past.
[14:19] – Update not only technology, but also mindset.
[16:30] – Approach larger problems with a diverse set of perspectives to move towards a solution.
[18:08] – What did a homemaker class teach Elissa that impacted her career?
[19:49] – Here is what Elissa looks for in a leadership team.
[21:58] – Build a transparent relationship in your teams, so that feedback can go both ways.
[24:24] – Intentions of teams, on all levels, should head toward the same direction.
[27:09] – Elissa talks about taking advantage of risk when walking into a new role.
[29:34] – The emerging work culture balances work productivity and personal priorities.
[32:09] – What did Elissa's former boss tell her about taking on a CEO role?
[34:45] – Elissa talks about Yo-Yo Ma and a book about women free divers.
[36:45] – Thank you for listening, be well friends.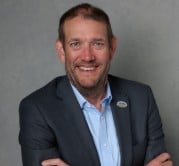 Randall Smith is the co-founder of CUInsight.com, the host of The CUInsight Experience podcast, and a bit of a wanderlust. As one of the co-founders of CUInsight.com he ...
Web: www.CUInsight.com
Details