The CUInsight Experience podcast: James Wileman – Be proactive (#79)
"Time, experience, and a willingness to learn, that's the bridge from here to where you're trying to go." - James Wileman
Thank you for tuning in to episode 79 of The CUInsight Experience podcast with your host, Randy Smith, co-founder of CUInsight.com. This episode is brought to you by our friends at PSCU. As the nation's premier payments CUSO, PSCU proudly supports the success of more than 1,500 credit unions.
Credit unions across the country have been extremely agile over the last few months in responding to various service challenges and a whole host of other difficulties. In chatting with James Wileman, President and CEO of Credit Union 1 in Alaska and this week's podcast guest, I've gained some perspective into how he and his team have fast-tracked essential projects that typically would have taken them 6 months in 6 days. We also discuss the work they're doing to better serve their members and the state of Alaska now and going forward. 
In expanding services to meet members' needs, James and I discuss the partnerships their credit union has formed with state-led agencies to provide relief to small businesses in the communities they serve. James also shares his belief that credit unions must be proactive in finding new opportunities to serve their members, as well as discusses pivoting their long-term service strategy to better accommodate members in this new normal. 
During the episode, we also discuss how James came to lead the team at Credit Union 1, what he's learned from hardships in his career, and why you shouldn't "carry the boat anchor for longer than you need to". James also tells us about the amazing team he has at Credit Union 1, as well as the network of peers and mentors who have helped guide him over the years. 
While James admits that he sucks at work-life balance, we learn that he loves to go camping with his family to recharge. He also shares that he's always wanted to go to space, loves the L.A. Lakers, and encourages everyone to read books by professional athletes and coaches to learn more about teamwork. I hope you find some life lessons that resonate with you in this episode. Enjoy!
Find the full show notes on cuinsight.com
Subscribe on: Apple Podcasts, Spotify, Google Play, Stitcher 
Books mentioned on The CUInsight Experience podcast: Book List 
How to find James:
James Wileman
www.cu1.org
LinkedIn | Facebook | Instagram 
Show notes from this episode:
A big shout-out to our friends at PSCU, an amazing sponsor of The CUInsight Experience podcast. Thank you! 
Check out all the outstanding work that James and his team at Credit Union 1 are doing here. 
Shout-out: Alaska's Department of Commerce, Community, and Economic Development Committee
Shout-out: Alaska Industrial Development and Export Authority
Shout-out: Governor of Alaska Mike Dunleavy
Learn more about the State of Alaska's Permanent Fund Division here
Shout-out: Alps Federal Credit Union
Shout-out: Sitka, Alaska
Shout-out: Anchorage, Alaska 
Shout-out: Tom Kane, President/CEO of the Illinois Credit Union League and LSC
Shout-out: Colin Cowherd, Host of the Herd on Fox Sports Radio
Shout-out: Randy's uncle Mike Kimberhttps://www.icul.com
Shout-out: Davina Napier, Chief Lending Officer at Credit Union 1 
Shout-out: Rachel Langtry, Chief Operating Officer at Credit Union 1
Shout-out: Mark Burgess, Chief Technology Officer at Credit Union 1
Shout-out: Chad Bostick, Chief Financial Officer at Credit Union 1 
Shout-out: Leslie Ellis, former President/CEO at Credit Union 1
Shout-out: Gary Sterton, CEO at Animus Credit Union
Shout-out: Western CUNA Management School
Shout-out: CUES CEO Institute 
Shout-out: Scott Daukas, Chief Risk Officer at TwinStar Credit Union
Shout-out: Geoff Bullock, Engagement and Strategy Officer at FireFly Credit Union
Shout-out: Sam Launius, CEO at Oregonians Credit Union
Shout-out: Shonna Shearson, SVP of Operations at Valley Strong Credit Union
Shout-out: James' wife and family
Shout-out: Los Angeles' Lakers
Shout-out: Jill Nowacki
Shout-out: The Proposal 
Shout-out: Sandra Bullock
Shout-out: SpaceX
Album mentioned: Greatest Hits by The Eagles
Album mentioned: The Best of Both Worlds by Van Halen 
Album mentioned: David Lee Roth
Album mentioned: Sammy Hagar 
Album mentioned: Gary Cherone 
Album mentioned: Greatest Hits by Molly Hatchet
Album mentioned: 50 Number Ones by George Strait 
Book mentioned: The Ideal Team Player: How to Recognize and Cultivate The Three Essential Virtues by Patrick M. Lencioni 
Book mentioned: Traction: Get a Grip on Your Business by Gino Wickman
Book mentioned: Any book by a Lakers player or coach
Previous guests mentioned in this episode: Tom Kane, Jill Nowacki (episodes 4, 18, 37 & 64)
In This Episode:
[02:24] – Welcome to the show, James!
[02:32] – How is everything going in Alaska?
[03:31] – James shares what they did before COVID-19 that allowed them to pivot quickly and smoothly.
[04:27] – James speaks about things they implemented in nine days for members.
[07:46] – James shares how his credit union helped the State of Alaska during this pandemic.
[11:35] – Do you think the pandemic will change how members interact with credit unions in the future?
[13:33] – James discusses what he believes credit unions need to change to stay competitive in financial services.
[15:03] – How they adapted and have been able to flourish is something he will be proud they accomplished a year from now.
[18:04] – What inspired you to take the position at Credit Union 1?
[20:15] – James shares why he stayed at the credit union when he was passed over for a promotion and advice for others going through the same thing.
[23:05] – Has the inspiration changed over the years?
[26:20] – James speaks about how he cultivated the ability to make hard decisions.
[29:19] – James shares advice he was given that he still uses in his career.
[31:10] – Have you had mentors throughout your career?
[33:33] – James chats about how he likes to spend his time off.
[35:37] – James speaks about what he was like in high school.
[36:38] – What did you want to be when you grew up?
[37:45] – What is the best album of all time?
[39:10] – What book do you think everyone should read?
[40:34] – James shares what has become more important as he gets older.
[41:36] – When you hear the word success, who is the first person who comes to mind?
[44:14] – Thank you so much for being on the show!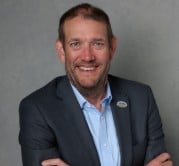 Randall Smith is the co-founder of CUInsight.com, the host of The CUInsight Experience podcast, and a bit of a wanderlust. As one of the co-founders of CUInsight.com he ...
Web: www.CUInsight.com
Details