The CUInsight Experience podcast: Juan Fernández Ceballos – Remaining focused (#114)
"The best leaders listen." - Juan Fernández Ceballos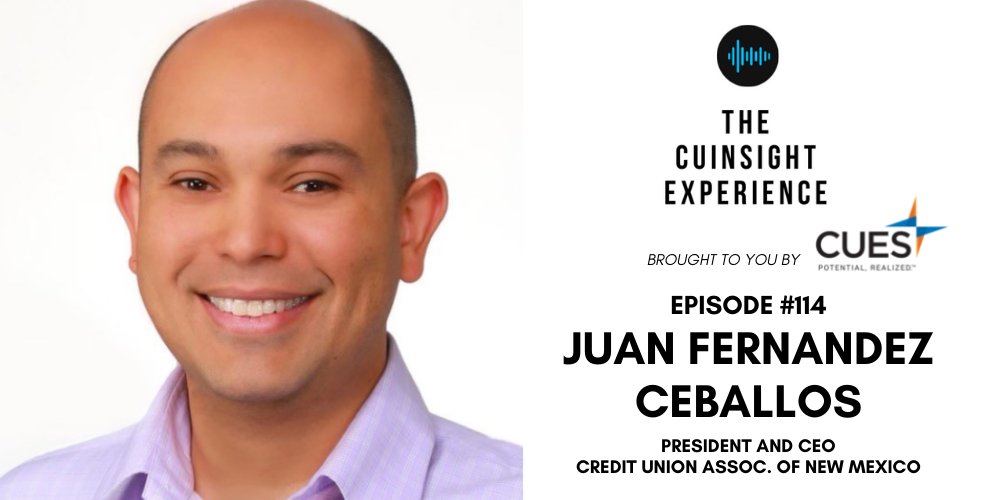 Thank you for tuning in to episode 114 of The CUInsight Experience podcast with your host, Randy Smith, co-founder of CUInsight.com. This episode is brought to you by our friends at CUES. CUES is the leading talent development solutions provider to the credit union industry.
My guest on today's show is Juan Fernández Ceballos, President & CEO of the Credit Union Association of New Mexico. In this episode, we chat about how credit unions can continue to thrive in a congested financial space and break down barriers. Juan shares the importance of mentorship and its impact on the career journey for future leaders. 
We also discuss Juan's new role as President & CEO of CUANM. He shares his excitement as the first Latino to head a credit union association and how working at a natural-person credit union helped him understand the challenges executives and boards face daily. Juan believes the best innovations come from times of crisis and are born out of necessity. We also discuss ways credit unions and leagues can lean into more conversation and action around diversity, equity, and inclusion. 
Juan encourages other league executives to build a cohesive team and leverage the credit union difference to keep both leagues and credit unions relevant. He also shares hacks for finding the right mentor and ways leaders can support young professionals in their development. 
As we discuss Juan's personal leadership style and the ways he maintains purpose, we discover his emphasis on community. We chat about the two types of leaders Juan surrounds himself with and how each group supports purpose. During the rapid-fire questions, Juan shares a very interesting story of his journey to credit unions and how it has fueled his passion for helping others. Juan shares a simple tip for leaders as we close the show, and you'll be surprised to hear who he thinks of when he hears the word "success."  Enjoy my conversation with Juan Fernández Ceballos!
Subscribe on: Apple Podcasts, Spotify, Google Play, Stitcher 
Books mentioned on The CUInsight Experience podcast: Book List 
How to find Juan:
Juan Fernández Ceballos, President & CEO of CUANM
jfernandez@cuanm.org
https://www.cuanm.com
LinkedIn | Twitter | Facebook  
Show notes from this episode:
A big shout-out to our friends at CUES, an amazing sponsor of The CUInsight Experience podcast. Thank you!
After listening to our show, check out the CUES podcast here.
The CUES podcast features a wide variety of industry leaders, and cross industry experts discussing their perspectives on credit union topics and trends.
Check out all that Juan and his team are doing at Credit Union Association of New Mexico here.
Connect with Juan on LinkedIn to get more information on the Happy Hour conversations.
Shout-out: Jill Nowacki
Shout-out: Charlotte Nemec, Canopy Credit Union
Shout-out: CULCT
Place mentioned: New Mexico
Shout-out: Zoom
Place mentioned: Delaware
Place mentioned: California
Shout-out: CUNA
Shout-out: Marsha Majors
Shout-out: Pablo DeFillipi
Shout-out: Victor Corro
Shout-out: Diana Dykstra, CCUL
Shout-out: Troy Stang, NWCUA
Shout-out: Paul Gentile
Shout-out: Credit Union Times
Program mentioned: CUDE Program
Shout-out: Chad Helminak
Shout-out: Gigi Hyland
Place mentioned: Puerto Rico
Place mentioned: Rochester, NY
Shout-out: William Mellin, NYCUA
Shout-out: Peloton
Shout-out: Jill's son, Crosby
Shout-out: HBO Max
Shout-out: Lois Kitsch
Shout-out: Don Bosco Special School
Place mentioned: Likuyani, Kenya
Book mentioned: The First 90 Days: Critical Success Strategies for New Leaders at All Levels by Michael D. Watkins
Album mentioned: In the Heights (soundtrack) by Lin-Manuel Miranda
Previous guests mentioned in this episode: Gigi Hyland, Marsha Majors, Victor Corro, Diana Dykstra, Lois Kitsch, Jill Nowacki (episodes 4, 18, 37, 64, 82, 101, & 113) 
In This Episode:
[02:43] – We congratulate Juan Fernández Ceballos on his new position as the President & CEO of the Credit Union Association of New Mexico, especially as the first Latino in the role.
[04:46] – Juan shares what his journey through previous positions taught him as he got to his new position.
[07:26] – Are small credit unions associations influential?
[09:21] – Juan communicates what objectives he aims to align in the organization to help his team thrive.
[11:25] – What are Juan's hacks for thinking forward?
[13:12] – For individual credit unions, Juan believes organizations should lean towards the cooperative nature of credit unions.
[15:19] – How important is it for credit unions to collaborate with their neighbor organizations and serve their communities together?
[17:51] – Juan explores the idea of placing a different spin on the role of regulators in the credit union space.
[19:26] – Juan shares how the people around him impact his life, and speaks on being intentional about who he keeps in his life.
[22:26] – We can build ourselves up by creating a network, including the network of content we consume.
[24:32] – Juan believes that having different perspectives is beneficial in more ways than one.
[26:44] – How does focus, or a lack of focus, impact a credit union?
[28:16] – What should credit unions do to stay relevant?
[29:57] – As a kid, Juan was interested in politics and banking. How did banking win between the two?
[32:49] – Juan cares about creating more opportunities to show young people in the field the bigger picture of the credit union movement.
[34:54] – Juan tells us the meaning behind "How can we?", explains effective measurement, and dispels the myth of thinking any leader is unattainably extraordinary.
[37:10] – What does Juan do to recharge himself?
[39:26] – Juan says he was so shy in high school that he imagines no one would feel comfortable talking to him at that time.
[42:13] – Juan mentions "The First 90 Days", "In the Heights", and the first name he thinks of when he hears the word "success".
[45:12] – To send us off, Juan encourages us to innovate, get involved, and seize the opportunities before us.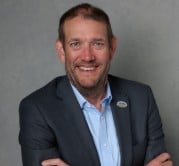 Randall Smith is the co-founder of CUInsight.com, the host of The CUInsight Experience podcast, and a bit of a wanderlust. As one of the co-founders of CUInsight.com he ...
Web: www.CUInsight.com
Details