The CUInsight Experience podcast: Linda Bodie – Figuring out what works (#25)
"Love what you do. Do what you love." - Linda Bodie
Welcome to episode 25 of The CUInsight Experience podcast. Hosted by Randy Smith, co-founder and publisher of CUInsight.com. Today's guest is Linda Bodie the president and CEO of Element Federal Credit Union in Charleston, WV. We discuss her path to leadership as well as diversity, equity, and inclusion. Linda also talks about what small credit unions should do to stay relevant and thrive in today's market.
Linda and I started our conversation at CO-OP Think this year talking about diversity and inclusion — a huge topic in the industry today. Unfortunately, many times the words are used interchangeably but diversity is more of an adjective and inclusion is more indicative of acceptance. We delve into Linda's path to the top and the challenges she has faced a woman and a lesbian in a male-dominated industry.
We then move through various topics surrounding the fundamental differences in experience between women and men. From there we discuss the process that Linda feels will have the most impact on changing the culture within credit unions and business in general. Finally, we discuss the role of technology in evening out the playing field between credit unions and larger banking institutions.
Tune in to today's episode to learn all about how addressing diversity and inclusion leads to better collaboration and sustainability! After all, sustainability is the goal of every credit union in today's banking environment.
Subscribe on: Apple Podcasts, Spotify, Google Podcasts, Stitcher
How to find Linda:
Linda Bodie
President & CEO of Element Federal Credit Union
linda.bodie@elementfcu.org
www.elementfcu.org
Twitter | LinkedIn
Show notes from this episode:
Conference mentioned: CO-OP Think Event
Software mentioned: Skype
Software mentioned: FaceTime
Platform mentioned: iPhone
App mentioned: Element Federal Credit Union App
Shout out: Element Federal Credit Union Promise
Album mentioned: ABBA – The Greatest Hits
Book mentioned: The Purple Cow by Seth Godin
Book mentioned: Oh, the Places You'll Go by Dr. Seuss
Previous guests mentioned in this episode: Samantha Paxson, Jill Nowacki (Ep. 4 & Ep. 18), Tracie Kenyon
You can find all past episodes of The CUInsight Experience here.
In This Episode:
[00:03] – Welcome back to the show! Randy introduces Linda Bodie, today's guest.
[02:05] – We discuss the difference between diversity and inclusion.
[03:27] – What are the biggest challenges to women and the LGBTQ community getting a seat at the table?
[05:41] – We then discuss how education can impact inclusion.
[06:59] – Linda shares the challenges she faced in reaching the top.
[09:24] – Given her experiences, Linda has worked to change the culture of the industry.
[11:30] – At what level should the biggest changes be made, individual, local, or national?
[14:11] – What advice does Linda give to those who want to get involved in the process of change?
[15:45] – Use what you have to get to a solution – Linda talks about what that means.
[17:42] – Element Federal Credit Union was the first institution to have remote deposit capability on the iPhone.
[19:09] – We discuss the Element promise and the employee pledge.
[21:05] – When you hear, that's what's always been done, how does that make you feel?
[22:02] – There are three components to Element's ability to thrive in a shrinking industry, attitude, grit, and collaboration.
[24:21] – Is there a fundamental belief in credit unions that will need to change?
[25:41] – How does Linda feel about technology within the credit union environment?
[28:09] – What inspired Linda to become CEO of a federal credit union?
[29:02] – Linda's inspiration for the job switched due to the boring nature of the industry.
[30:37] – Linda identifies as a servant leader who is not afraid to cause a ruckus.
[31:12] – Her employees describe her leadership style as being a chameleon, she changes with the needs of the credit union.
[32:17] – Linda doesn't think her leadership style has changed, she's simply improved upon it.
[34:02] – Linda believes you should do what you love and love what you do. Also, don't click anything in email.
[35:02] – What mistakes does she see young leaders make over and over?
[36:15] – Treat other's the way you want to be treated, but also recognize their uniqueness.
[37:52] – What does Linda do to clear her head when she comes up against a wall?
[40:11] – Engage your staff and stay involved in the community to keep the credit union relevant.
[41:33] – Linda loves to be outdoors and play drums when she has free time.
[43:28] – Linda reaches back to kindergarten to recount the first time she got in trouble.
[44:38] – If she doesn't get up early then her day is off. She also spends time with their pets.
[45:30] – Best album of all time: ABBA – The Greatest Hits
[46:23] – Book she recommends: The Purple Cow by Seth Godin and Oh, the Places You'll Go by Dr. Seuss
[47:11] – As she's gotten older, self-care has become more important. Things are less important, she'd prefer experiences.
[48:02] – When Linda thinks of success, she doesn't think of a particular person. Instead, she thinks of those who have overcome obstacles and accomplished the things they set out to do.
[49:01] – Be true to your authentic self and you'll make better decisions and be happier.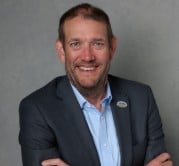 Randall Smith is the co-founder of CUInsight.com, the host of The CUInsight Experience podcast, and a bit of a wanderlust. As one of the co-founders of CUInsight.com he ...
Web: www.CUInsight.com
Details