The CUInsight Experience podcast: Lisa Brown – Leading fearlessly (#68)
"Don't let fear dictate how you make your decisions and how you lead." - Lisa Brown

Thank you for tuning in to episode 68 of The CUInsight Experience podcast with your host, Randy Smith, co-founder of CUInsight.com. This episode is brought to you by our friends at PSCU. As the nation's premier payments CUSO, PSCU proudly supports the success of more than 1,500 credit unions.
Navigating a major crisis can be difficult, especially when it has the potential to affect both your member's personal and financial health. On this week's episode, I sat down with Lisa Brown, President and CEO of Tallahassee-Leon Federal Credit Union, to learn more about how her team is rethinking member service in the face of this crisis, applying lessons learned from the last recession, and working directly with members to develop a business strategy for the next 12 – 18 months. 
During our discussion, Lisa talk about how her team was able to open a branch in just five days to provide drive-thru service to at-risk members in a nearby community, while also managing the stress of implementing an emergency pandemic plan. With that in mind, she also shared some of the internal mantras she uses to stay focused and make hard decisions. On her toughest days, she often likes to remind herself that "this is what separates the men from the boys."  
Additionally, Lisa and I discuss her hopes for a healthy future, overcoming the struggles of being a type A personality, and what she believes all good leaders need to learn to be successful. We also talk about her new found appreciation for free time and what she's doing to fill that time, which may include some chickens in the near future. 
We wrap up our conversation with the rapid-fire portion of the episode, where we learn a little more about Lisa's busy life outside of credit unions, her daily routines, and her definition of success. You can feel Lisa's passion for credit unions, her community, and her family throughout the entire episode. You won't want to miss it! 
Subscribe on: Apple Podcasts, Spotify, Google Play, Stitcher 
Books mentioned on The CUInsight Experience podcast: Book List 
How to find Lisa:
Lisa Brown, President and CEO of Tallahassee-Leon Federal Union
lisabrown@tlfcu.org
www.tlfcu.org
Facebook | LinkedIn | Twitter
Show notes from this episode:
Shout-out: To our friends at PSCU, an amazing sponsor of The CUInsight Experience podcast. Thank you!
Check out all the great work Lisa and her team at Tallahassee-Leon Federal Credit Union are doing for their members here. 
Curious about DE? Find out more about the National Credit Union Foundation's signature program. 
Shout-out: Association of British Credit Unions Limited (ABCUL) 
Shout-out: Ray Cremer
Shout-out: CUTimes 
Shout-out: African DE Program
Shout-out: Rachel Pross
Shout-out: Big Daddy 
Shout-out: Vacation 
Song mentioned: Fancy by Iggy Azalea
Shout-out: Lisa's son 
Shout-out: Mike Akers
Shout-out: Flag Credit Union 
Shout-out: Jim Nussle
Shout-out: Bob Trunzo
Shout-out: Diane Dykstra
Shout-out: Jill Nowacki
Watch the video of the TLFCU member sharing their success story. 
Shout-out: Gigi Hyland
Album mentioned: The Wedding Singer (Music From The Motion Picture)
Book mentioned: The Subtle Art of Not Giving a F*ck by Mark Manson
Previous guests mentioned in this episode: Rachel Pross, Jim Nussle, Bob Trunzo, Diane Dykstra, Jill Nowacki (episodes 4, 18, 37 & 64), Gigi Hyland
You can find all past episodes of The CUInsight Experience here. 
In This Episode:
[02:20] – Lisa, welcome to the show!
[03:07] – Lisa shares how hard it was to open a credit union in five days in order to provide them drive-thru service to members in a near-by community.
[06:12] – Did your board know about your emergency pandemic plan?
[09:13] – Randy and Lisa discuss how her credit union is located in a predominately low-income area and how they are helping members during this crisis.
[11:09] – Lisa says to take a step back with the stock market and look at it from a thirty thousand foot level.
[13:48] – Lisa speaks about moving out all consumer loan due dates ninety days.
[14:21] – Lisa shares the ways they are going to reach out to members to learn about their situations.
[16:27] – Lisa discusses using the data from talking to the members to come up with a plan for the next twelve to eighteen months.
[18:55] – They believe that we must realize that the recovery from this pandemic is a marathon, not a sprint.
[20:10] – Looking forward to a year from now, what will you be the proudest that you have accomplished?
[21:27] – Lisa shares what inspired her to take the job at Tallahassee-Leon Federal Credit Union.
[24:25] – She speaks about what she does to bring her attention back when she loses focus.
[27:48] – Lisa believes that to be a good leader, you need to be true to yourself.
[29:56] – She shares how she learned to make difficult decisions.
[32:27] – Do you have a piece of advice or a life lesson that you still use today?
[35:53] – Lisa talks about what she does when she has a day off and how she recharges.
[37:48] – Lisa shares that she wanted a job where she could wear high heels.
[39:14] – Do you have any daily routines that if you don't do your day feels off?
[40:45] – What's the best album of all time?
[42:13] – Is there a book you think everyone should read?
[43:30] – Lisa believes that time with family and simplifying her life has become more important, and the opinion of the masses has become less important.
[45:12] – When you hear the word success, who is the first person that comes to mind?
[47:43] – Lisa shares her final thoughts with us.
[51:37] – Thank you so much for taking the time out of your day to talk with us.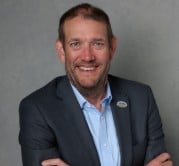 Randall Smith is the co-founder of CUInsight.com, the host of The CUInsight Experience podcast, and a bit of a wanderlust. As one of the co-founders of CUInsight.com he ...
Web: www.CUInsight.com
Details