The CUInsight Experience podcast: Lois Kitsch – Trust the Process (#27)
"Truly trust that life works and that things will work out." - Lois Kitsch
Welcome to episode 27 of The CUInsight Experience podcast. Hosted by Randy Smith, co-founder and publisher of CUInsight.com. Today's guest is Lois Kitsch the cofounder of CU Difference. She has worked for years in developing bright minds not only in the credit union space but also within the world as a whole.
Lois and I sat down while in Kenya to discuss the developmental education programs both in the US and abroad and how they mirror each other. We share our love of travel and how meaningful the experience in Africa was. We also discuss how credit unions benefit from being involved in aid programs for other countries.
This was a truly special episode recorded during an amazing trip abroad (see pictures below). Listen in to learn how Lois's work with DE in the United States has helped her with her passions in Africa. If you're interested in learning how to become more involved in cooperative development abroad, contact Lois at cudifference.com.
Subscribe on: Apple Podcasts, Spotify, Google Podcasts, Stitcher
How to find Lois:
Lois Kitsch, Co-founder of CU Difference
lois@cudifference.com
www.cudifference.com
LinkedIn | Facebook
Show notes from this episode:
Program mentioned: Credit Union Development Education
Learn more about SOCCOs here.
Learn more about the work George Ombado and the ACCOSCA team are doing here.
Workshop mentioned: International Credit Union Development Workshop
Shout-out: School's First Federal Credit Union for donating uniforms to the Don Bosco Special School.
Lois' favorite place she's traveled: Maasai Mara
Shout-out: Brent Rempe and David Mategwa
Shout-out: Bert Hash
Book mentioned: Change Your Thoughts, Change Your Life, Dr. Wayne W. Dyer
Favorite artists: Chris Botti, The Rolling Stones, and Harry Chapin.
Shout-out: Mark Meyer, Gerry Singleton
Previous guests mentioned in this episode: Gigi Hyland, Tracie Kenyon
You can find all past episodes of The CUInsight Experience here.
In This Episode:
[00:33] – Welcome back to the show! Randy introduces Lois Kitsch, today's guest.
[03:12] – Lois shares the recording location for the day's episode, Kenya.
[03:54] – Learn more about the international version of the developmental education program.
[05:50] – 43% of Kenyans have no access to clean water, just one of the concerns that credit unions in Africa are tackling.
[06:37] – Inclusion of women and children in Africa is another big issue that cooperatives are tackling.
[07:39] – Credit union movements in Africa are very diverse and Lois provides more information about them.
[09:17] – What are the benefits to US credit unions of participating in programs like ACDE?
[10:59] – If you want to find out more about the development education programs in Africa, contact Lois.
[12:39] – How did Lois get involved in credit unions and what is her inspiration for continuing on?
[14:12] – Lois was 45 when she first left the United States and has been to almost 70 different countries.
[14:46] – Her favorite place to travel to is Masai Mara Kenya.
[15:31] – "Trust the process," one of Lois's favorite sayings.
[16:13] – Biggest mistakes that Lois made as a new leader were not trusting herself and second-guessing herself.
[17:03] – Lois says she'd tell her 25-year-old self to find balance and work better not harder.
[21:38] – Trust the process in DE, but trust the process in life as well.
[22:15] – Outside of credit union development, Lois likes doing yoga, walking, and drumming.
[23:32] – Lois skipped out in high school and blamed it on her twin sister.
[24:13] – Daily routine when she's home is to do yoga, but when she's traveling it falls away.
[24:44] – Favorite artists are Chris Botti, The Rolling Stones, and Harry Chapin.
[25:07] – Dr. Dyer's Change Your Thoughts, Change Your Life is Lois's favorite book to gift.
[25:32] – As Lois has gotten success has become less important and seeing changes in people's lives is more important.
[26:26] – Mark Myer is who Lois thinks of when she thinks of success. She also thinks of Gary Singleton and her sister because of how happy and peaceful she is.
[27:26] – Lois asks that you enjoy life and travel.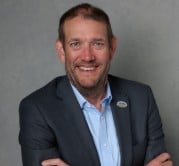 Randall Smith is the co-founder of CUInsight.com, the host of The CUInsight Experience podcast, and a bit of a wanderlust. As one of the co-founders of CUInsight.com he ...
Web: www.CUInsight.com
Details