The CUInsight Experience podcast: Mark Arnold – Vision and values (#74)
"It's not just about the work you do, it's about the people you impact." - Mark Arnold
Thank you for tuning in to episode 74 of The CUInsight Experience podcast with your host, Randy Smith, co-founder of CUInsight.com. This episode is brought to you by our friends at PSCU. As the nation's premier payments CUSO, PSCU proudly supports the success of more than 1,500 credit unions.
In the midst of a crisis, it can be difficult to balance member's immediate needs with the long-term plans and goals for your brand. To discuss this challenge and more, I sat down with Mark Arnold, Founder and CEO of On The Mark Strategies and long-time contributor to CUInsight. Mark and his team have a ton of experience helping credit unions across the country align their marketing and strategic planning efforts with their values to build trust and relevancy in their community. 
During our conversation, Mark shares some important themes he thinks credit unions should keep in mind when communicating with their members and teams. We also discuss why Mark believes marketing will never be the same following COVID-19, and what credit unions should be doing to build a brand that's "consistent, clear, and unique" going forward. His recommendation is to start by writing down what makes your credit union different in six or less words. 
Mark and I also talk about his path to starting his own business and some of the difficult career decisions he had to make along the way. He shares that leadership can get lonely, which is why it's important to build a network of people you can tap into for advice and more. We also chat about mentors, a typical workday, and Mark's love of running. 
As usual, we finish with the rapid-fire questions, where we learn that Mark wanted to be a writer when he grew up. He also tells us about the first time he got into trouble as a child, the books he thinks everyone should read, and that his dad is the person he thinks of when he hears the word success. You don't want to miss this episode!
Find the full show notes on cuinsight.com
Subscribe on: Apple Podcasts, Spotify, Google Play, Stitcher 
Books mentioned on The CUInsight Experience podcast: Book List 
How to find Mark:
Mark Arnold, Founder and CEO of On The Mark Strategies
mark@markarnold.com 
www.markarnold.com
Twitter | LinkedIn
Show notes from this episode:
A big shout-out to our friends at PSCU, an amazing sponsor of The CUInsight Experience podcast. Thank you! 
Check out all the outstanding work that Mark and his team at On The Mark Strategies are doing here.
Watch Mark's 3 Questions interview with Randy here.
Shout-out: Texas Credit Union League (now Cornerstone Credit Union League)
Shout-out: Terry Young
Shout-out: Jill Nowacki
Shout-out: Jeff Rendel
Shout-out: Casey Boggs
Shout-out: Eric Pointer
Shout-out: Dave Krause
Shout-out: Stefanie Rupert 
Shout-out: Maurice Smith
Shout-out: Mark's dad
Shout-out: Catalyst Corporate Federal Credit Union 
Shout-out: Brett Martinez
Shout-out: Mark's wife
Shout-out: Bill Cheney
Shout-out: Crissy Cheney
Album mentioned: The Very Best of John Williams
Book mentioned: Leading for Growth: How Umpqua Bank Got Cool and Created a Culture of Greatness by Ray Davis 
Book mentioned: Grow: How Ideals Power Growth and Profit at the World's Greatest Companies by Jim Stengel 
Book mentioned: The Revenue Growth Habit: The Simple Art of Growing Your Business by 15% in 15 Minutes Per Day by Alex Goldfayn 
Previous guests mentioned in this episode: Jill Nowacki (episodes 4, 18, 37 & 64), Maurice Smith, Brett Martinez, Bill Cheney
You can find all past episodes of The CUInsight Experience here. 
In This Episode:
[02:15] – Mark, welcome to the show!
[03:03] – Mark shares tips on communication with their members and teams.
[05:02] – Are you rethinking strategic planning for the future? Do you have a plan?
[07:13] – Mark believes that the way members interact with credit unions will change.
[09:20] – Mark shares what he thinks credit unions need to fundamentally change to stay relevant.
[10:47] – What makes your credit union different in six words or fewer without using the words community, people, and service.
[12:42] – Mark speaks about what he will be proud of that he and his team accomplished this year.
[13:47] – What was the inspiration for you to start On The Mark Strategies?
[16:35] – Marks shares how motivation has changed over the years.
[19:01] – Mark discusses what his team has heard him say so often that they can finish his sentence.
[20:21] – Mark says that the ability to make the tough decisions is something he has cultivated.
[21:13] – Leadership is a team sport is a myth that he wants to debunk. It can be lonely at the top.
[22:47] – Is there a mistake you made or one that you see young leaders making today?
[23:52] – Mark shares that passion is critical is the advice they gave him along the way.
[26:53] – Marks speaks about his dad leading with vision and compassion.
[27:35] – Mark discusses a time when he felt over his head and was ready to throw in the towel.
[28:44] – What does a typical workday look like, and what would it take to have a perfect workday?
[30:25] – Mark shares what he loves to do when he has a day off and needs to recharge.
[31:24] – Mark says it's a struggle to keep his business and personal life separate.
[33:08] – What was Mark like in high school and when was the first time you got into memorable trouble?
[34:43] – Mark chats about wanting to be a writer when he grew up.
[35:31] – Running, reading the bible, and writing in his journal is what Mark does every day, and if he doesn't, his day is off.
[36:41] – What is your favorite album of all time?
[37:25] – Is there a book you think everyone should read?
[38:22] – Spending time with his family has become more important, and titles are less important.
[39:52] – When you hear the word success, who is the first person who comes to mind?
[41:15] – Now is not the time to pause; now is the time to grow; now is the time to accelerate your growth.
[42:33] – Thank you so much, Mark, for being on the show.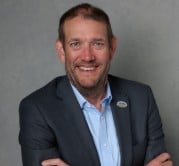 Randall Smith is the co-founder of CUInsight.com, the host of The CUInsight Experience podcast, and a bit of a wanderlust. As one of the co-founders of CUInsight.com he ...
Web: www.CUInsight.com
Details