The CUInsight Experience podcast: Monica Davy – Inclusive opportunities (#80)
"The best decisions are made when you include others in your processing." - Monica Davy
Thank you for tuning in to episode 80 of The CUInsight Experience podcast with your host, Randy Smith, co-founder of CUInsight.com. This episode is brought to you by our friends at PSCU. As the nation's premier payments CUSO, PSCU proudly supports the success of more than 1,500 credit unions.
Over the last few months, there have been many important conversations in the credit union industry about the diverse needs of credit union members and employees. At the center of many of those conversations is Monica Davy, Director of the Office of Minority and Women Inclusion at the NCUA. I had the pleasure of sitting down with Monica on this week's episode to learn more about the work she and her team have been doing over the last four years at the NCUA, and how that work has uniquely positioned them to lead the diversity, equity, and inclusion conversation through not only a global pandemic, but also the death of George Floyd and the resulting social protests.
Monica and I discuss organizational issues facing DEI, and some tactics that credit union leaders can use to ensure accountability from the top-down. We also chat about best practices for creating inclusive opportunities and safe spaces; the responsibility credit unions have to address issues of racial inequality in their communities; and the need to infuse diverse, innovative thinking into credit union board rooms. 
In the leadership and life hacks portion of our conversation, we learn about Monica's time at the Internal Revenue Service, her transition to the NCUA, and what she finds most fulfilling about her current role. Monica and I also talk about the difference between mentors and sponsors, overcoming self-doubt, and the neighborhood dance parties she's put on during quarantine. 
We discuss how spending time with her family has become more important, and having a clean house has become less. Monica also tells us about her son's resilience and perseverance through various medical issues and why he is the first person she thinks of when she hears the word success. Monica outlines so many ideas and actionable steps for credit union throughout the episode that you won't want to miss. Give it a listen! 
Find the full show notes on cuinsight.com
Subscribe on: Apple Podcasts, Spotify, Google Play, Stitcher 
Books mentioned on The CUInsight Experience podcast: Book List 
How to find Monica:
monicadavy@ncua.gov 
www.ncua.gov
LinkedIn | Facebook | Twitter
Show notes from this episode:
A big shout-out to our friends at PSCU, an amazing sponsor of The CUInsight Experience podcast. Thank you! 
Check out all the outstanding work that Monica and her team at NCUA are doing here. 
Shout-out: Jill Nowacki
Shout-out: CUNA's Governmental Affairs Conference
Shout-out: Chairman Rodney Hood
Shout-out: Humanidei
Shout-out: African-American Credit Union Coalition 
Shout-out: Renee Sattiewhite
Shout-out: Beth Tucker, Deputy Commission of the Internal Revenue Service
Album mentioned: Greatest Hits by Luther Vandross
Book mentioned: White Fragility: Why It's So Hard For White People To Talk About Racism by Robin DiAngelo
Book mentioned: Between The World And Me by Ta-Nehisi Coates
Book mentioned: The Water Dancer by Ta-Nehisi Coates
Book mentioned: Becoming by Michelle Obama
Shout-out: Monica's son
Find NCUA's Credit Union Diversity Self-Assessment here 
Previous guests mentioned in this episode: Jill Nowacki (episodes 4, 18, 37 & 64), Chairman Rodney Hood, Renee Sattiewhite
In This Episode:
[02:25] – Monica, welcome to the show!
[04:10] – Monica shares best practices that leaders credit unions can do to make sure that the commitment to diversity, equity, and inclusion is happening for the long term.
[06:46] – Monica speaks about how many of her black employees were not surprised by everything that has happened.
[08:14] – She discusses the frozen middle and what it means.
[09:57] – Monica shares ways that credit unions can create a safe space at work and how to make it ingrained in how you do business.
[12:05] – Monica believes that credit unions have a unique opportunity to affect change with systemic racism.
[13:66] – What challenges have you seen since COVID-19 hit?
[15:48] – Monica discusses how the pandemic and racism will affect how members interact with credit unions.
[18:24] – Do you have unconscious bias?
[19:00] – Monica speaks about what credit unions need to do to stay relevant in the technology space.
[20:40] – Monica shares what she will be proud to have accomplished a year from now.
[24:29] – What was the inspiration to take the position with the NCUA?
[26:20] – Monica speaks about how the inspiration has changed.
[27:16] – You have to have all the answers is something that Monica believes is a leadership myth.
[29:01] – Monica believes that the ability to make hard decisions is something that she has cultivated over the years.
[31:02] – How have mentors impacted your career? What is the difference between a mentor and a sponsor?
[32:44] – Monica shares a time when she felt self-doubt.
[33:42] – Monica is an extrovert, and if money weren't an issue, she would run a bed-and-breakfast because she loves to cook for people.
[35:13] – What were you like in high school?
[35:34] – Monica wanted to be a lawyer when she was a child.
[37:04] – What is the best album of all time?
[37:29] – What book do you think everyone should read?
[38:26] – What has become more important, and what has become less important?
[39:46] – Monica shares that her son is the person she thinks about when she hears the word success.
[41:05] – Monica shares some final thoughts for the listeners.
[42:40] – Thank you so much for being on the show today!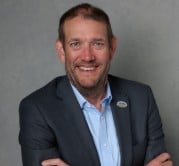 Randall Smith is the co-founder of CUInsight.com, the host of The CUInsight Experience podcast, and a bit of a wanderlust. As one of the co-founders of CUInsight.com he ...
Web: www.CUInsight.com
Details