The CUInsight Experience podcast: Pete Hilger – Promise to deliver (#67)
"When we understand the big picture, we can apply those lessons learned." - Pete Hilger
Thank you for tuning in to episode 67 of The CUInsight Experience podcast with your host Randy Smith, co-founder of CUInsight.com. This episode is brought to you by our friends at PSCU. As the nation's premier payments CUSO, PSCU proudly supports the success of more than 1,500 credit unions.
When it comes to digital transformation, how do you stay ahead of the pace of change, while also providing value? What role can digital technology and data play in the success of the credit union industry? To answer all that and more, I sat down with Pete Hilger, CEO and President of Allied Solutions, to chat about his company's shift from solely a distribution/manufacturing business to a booming service and technology company. 
Throughout the episode, Pete and I discuss many of the challenges Allied Solutions has had to overcome to remain relevant, including modernizing their core platform, investing in meaningful service solutions, and diversifying their business. Pete also shares how they've been able to build a "better and bigger, NOT bigger and better" business and work environment, while remaining true to their roots and culture. 
Additionally, we learn about Pete's time in the military and how those experiences, among others, helped get him to where he is today. We also talk about the leadership lessons he's learned over the years, the mentors he's had along the way, and the need to let go and trust your employees. 
As usual, we wrap up with the rapid-fire questions, where Pete gives us a glimpse into his day, chats about what he does to recharge, and tells us about his rigorous daily workout routine  – I get tired just thinking about it. Be sure to give this episode a listen! 
Subscribe on: Apple Podcasts, Spotify, Google Play, Stitcher 
Books mentioned on The CUInsight Experience podcast: Book List 
How to find Pete:
Pete Hilger, CEO and President of Allied Solutions
pete.hilger@alliedsolutions.net
www.alliedsolutions.net
LinkedIn | Facebook | Twitter
Show notes from this episode:
Shout-out: To our friends at PSCU, an amazing sponsor of The CUInsight Experience podcast. Thank you!
Check out all the work Pete and his team are doing at Allied Solutions here
Shout-out: Chuck Fagan 
Shout-out: Carmel, Indiana
Shout-out: St. Paul, Minnesota
Shout-out: Dakota Dunes, South Dakota 
Shout-out: Plano, Texas
Shout-out: Pete's mom, Melissa Eldredge 
Shout-out: Chris Hilger
Shout-out: Securian Financial 
Shout-out: Lauren Culp 
Shout-out: Pete's wife
Shout-out: Pete's kids
Shout-out: Tampa Bay Lightning 
Shout-out: North Central High School
Shout-out: Joe Walsh 
Shout-out: Jill Nowacki
Band mentioned: Tom Petty and the Heartbreakers: Running Down a Dream by Tom Petty
Book mentioned: The Art of Racing in The Rain by Garth Stein
Previous guests mentioned in this episode: Chuck Fagan, Lauren Culp, Jill Nowacki (episodes 4, 18, 37 & 64)
You can find all past episodes of The CUInsight Experience here. 
In This Episode:
[01:57] – Pete, welcome to the show!
[02:45] – Pete shares a little of Allied Solutions' history and what has changed in the last few years.
[04:34] – What do you think needs to change with credit unions to keep them relevant fundamentally?
[05:54] – Pete shares how they are staying afloat with the changing technology in today's market.
[08:46] – Pete speaks about where he finds great employees and keeping the ones he has.
[10:54] – How do you keep the culture that made you successful through all of the growth Allied has experienced?
[12:46] – Pete chats about what he will be proud to have accomplished a year from now.
[14:17] – Pete shares what inspired him to take the position as CEO of Allied Solutions.
[17:02] – Pete speaks about the things he learned from the shredding company he bought that went under.
[19:19] – How would you describe your leadership style and how has that changed over the years?
[21:25] – "Our success or failures drip down to the lowest person within our organization to the highest person within our organization." Is something Pete says all the time to his team.
[22:33] – Pete says that the military helped cultivate his ability to make the hard decisions.
[23:50] – He believes that the biggest lesson he has learned over the years was to treat people better.
[24:48] – Is there a piece or life lesson you learned that you keep going back to?
[25:40] – Pete shares who his mentors were as he came up in his career.
[27:00] – He speaks about a couple of times in his career with Allied that he was really torn about what to do.
[28:48] – What does your typical workday look like and describe what the perfect day would be.
[30:35] – Pete describes what he does to recharge when he has a day off.
[31:56] – What were you like in high school and what was the first time you got into memorable trouble?
[33:45] – Pete shares what he wanted to be when he grew up.
[34:45] – Pete says that if he doesn't work out every day, he feels off.
[35:33] – What is your favorite album?
[36:26] – What book do you think everyone should read?
[37:21] – Pete believes that knowing everything has become less important and the condition of the company has become more important.
[38:48] – Donald Trump and his mom are the first people that come to mind when Pete hears the word success.
[40:55] – Pete's final thoughts for the listeners.
[42:10] – Thank you for being on the show, Pete!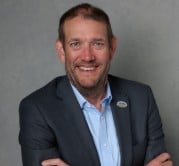 Randall Smith is the co-founder of CUInsight.com, the host of The CUInsight Experience podcast, and a bit of a wanderlust. As one of the co-founders of CUInsight.com he ...
Web: www.CUInsight.com
Details