The CUInsight Experience podcast: Randy Smith – Learning and growing (#53)
"It doesn't have to be done or perfect to launch." - Randy Smith
Welcome episode 53 of The CUInsight Experience podcast. The season one finale. Hosted by Randy Smith, co-founder of CUInsight.com. This episode the tables are turned and Jill Nowacki, president and CEO of Humanidei (and my human), plays host and is putting me on the hot seat. Jill asks me all the questions I have asked my guests this last year on the show, along with a few little twists.
We talk about my favorite guests, episodes, and locations around the world where we have recorded podcasts this year; why being intentional with diversity and inclusion is so important to the podcast; and the advice I would give someone who is thinking of starting a podcast. We also talk about what credit unions need to do to stay relevant in today's ultra competitive financial services space.
I discuss the early motivation David Miller and I had to create CUInsight and how we worked together over the years to make it what it is today. We talk about my leadership style (or lack thereof) and what I feel the greatest strength of the team is. I speak about how losing a promotion led me to where I am today, personally and professionally; the advice I was given early on; and what I do when I hit a wall and can't quite figure out how to proceed.
Listen as I answer the rapid-fire questions I have asked our guests and what my final thoughts on the year are. If you have wanted to get to know me better, this is the episode you can't miss. Jill gets me to lay it all on the line and let you know what our hopes for next year are.
Have a wonderful holiday season, and see you soon for the second season of The CUInsight Experience podcast January, 6th 2020. Enjoy!
Subscribe on: Apple Podcasts, Spotify, Google Play, Stitcher 
Books mentioned on The CUInsight Experience podcast in season one: Book List
How to find Randy:
Randy Smith, co-founder of CUInsight.com and host of The CUInsight Experience podcast
www.CUInsight.com
rsmith@CUInsight.com
LinkedIn | Twitter | Facebook | Instagram | YouTube 
Show notes from this episode:
Shout-out: To our host today, my human, 3X guest on the podcast, and the most amazing person I know, my love, Jill Nowacki.
Shout-out: Melina Palmer and her podcast The Brainy Business (sorry Melina I said your maiden name, whoops)
Shout-out: To our first guest on the podcast (and guinea pig), Jim Nussle.
My favorite guest: Jill on episodes episodes 4, 18 & 37.
Shout-out: Sam Paxson and her audacity to think big.
Shout-out: Maurice Smith and his book Sowing Seeds: Life Lessons from My Father.
Shout-out: Steve Swanston (sorry again buddy for forgetting to push record)
Shout-out: Diana Dykstra and her answer to the memorable trouble question.
Shout-out: John Pembroke for providing a great location to record in the Bahamas while attending CUES Symposium earlier in the year.
Shout-out: George Ombado, Lois Kitsch, Bill Cheney, and Julie Ferguson all recorded in Kenya this year.
Shout-out: to Jill and her company Humanidei who are doing amazing work with human capital DEI in our movement.
Shout-out: Holly Fearing and the Filene Fill-in podcast.
Podcast mentioned: The Tim Ferriss Show 
Podcast mentioned: Big Question by Cal Fussman
Shout-out: David Miller, co-founder of CUInsight.com and the best business partner a guy could have.
Shout-out: Mike Reuter
Shout-out: Lauren Culp, the boss who runs the entire CUInsight.com show.
Shout-out: Chuck Fagan
Shout-out: to the amazing CUInsight.com team. David, Lauren, John, Robbie, Jenna, Wads, and Jenn.
Shout-out: Brandi Stankovic and the Strategic Hotbox podcast.
Shout-out: John Spence for the tip on being a better listener.
Follow Jill and my travels (my passion) on Instagram at Trip_Around_The_Sun.
The journals Jill and I use: Moleskin and Shinola
Book mentioned: The Artist's Way by Julia Cameron
YouTube Video mentioned: The Artist's Way – Morning Pages by Julia Cameron
Mediation app we use: Insight Timer (referred to us by Leo Ardine)
Album mentioned: Appetite for Destruction by Guns n' Roses
Book mentioned: Sapiens by Yuval Noah Harari – The first book I sent Jill when I was in Bali, Indonesia. We started our conversation that we are still having today. Still ridiculous my love.
Book mentioned: Let My People Go Surfing by Yvon Chouinard
Book mentioned: Vagabonding by Rolf Potts and his podcast Deviate by Rolf Potts
Book mentioned: The Four Hour Work Week by Tim Ferriss
Book mentioned: The Inevitable by Kevin Kelly
Blog post mentioned: 1000 True Fans by Kevin Kelly
Book mentioned: Factfullness by Hans Rosling
Book mentioned: Creative Calling by Chase Jarvis
Shout-out: Coconut Tree Divers in Roatan, Honduras where Ted worked and I got my PADI Advanced Open Water Certification.
Shout-out: Scuba Sarah on Instagram
Previous guests mentioned in this episode: Jill Nowacki (episodes 4, 18 & 37), Melina Palmer, Jim Nussle, Sam Paxson, Maurice Smith, Steve Swantson, Diana Dykstra, John Pembroke, George Ombado, Lois Kitsch, Bill Cheney, Julie Ferguson, Mike Reuter, Lauren Culp, Chuck Fagan, John Spence, Leo Ardine.
You can find all past episodes of The CUInsight Experience here. 
In This Episode:
[01:35] – Randy, welcome to your show!
[02:28] – What was the inspiration for starting this podcast, and does it look the way you dreamed it?
[03:59] – Randy says that Jill is his favorite guest ever on his show, and he talks about a few of his favorite episodes.
[06:58] – He talks about recording podcasts as he travels the world.
[08:11] – Why do diversity and inclusion mean so much to you?
[09:55] – Randy tells us he has gotten so many emails about how much they loved the podcasts that had diversity in them.
[10:40] – His advice to anyone who wants to do a podcast, find a mentor that already has a podcast, get the right equipment and listen to podcasts and see what you would do differently.
[12:52] – Is there something you feel credit unions need to do sooner rather than later to stay relevant?
[15:34] – Randy speaks about starting CUInsight with his partner David and how they slowly pieced together what you see today on CUInsight.
[18:40] – He tells us his leadership style is knowing when to get out of the way.
[20:24] – Was there a common trait between all of the leaders you interviewed over the last year?
[22:04] – Randy says that the greatest strength his team has is all the things they can accomplish together.
[23:58] – He tells us some of the things he says all of the time.
[25:24] – What is a career mistake that you have made or see young leaders making today?
[27:14] – Randy speaks about getting passed over for a promotion, which led him to where he is today in his career and with Jill.
[28:36] – An essential piece of advice he was given that he uses all the time is, I don't know, but I'll find out for you and then follow through.
[30:57] – What hacks do you have to get over a wall when you are trying to figure something out?
[31:37] – When Randy has time off, he likes to travel, stare at the ocean, and regroup.
[33:49] – When was the first time you got into memorable trouble?
[35:11] – Journaling is something Randy has to do every day, or his whole day is off.
[36:46] – What is the best album of all time?
[37:30] – What book is your favorite to give to people?
[39:27] – Time has become more important, and recognition has become less important.
[41:30] – When he hears the word success, he thinks of Jill.
[43:28] – His final thoughts or asks are, please keep listening and let me know who you want to hear on the show. Find him and let him know what he can do better.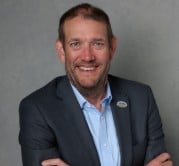 Randall Smith is the co-founder of CUInsight.com, the host of The CUInsight Experience podcast, and a bit of a wanderlust. As one of the co-founders of CUInsight.com he ...
Web: www.CUInsight.com
Details