The CUInsight Experience podcast: Ricky Otey – First things first (#139)
"You have to be willing to get out there, go forward, and not worry about yesterday's mistakes." - Ricky Otey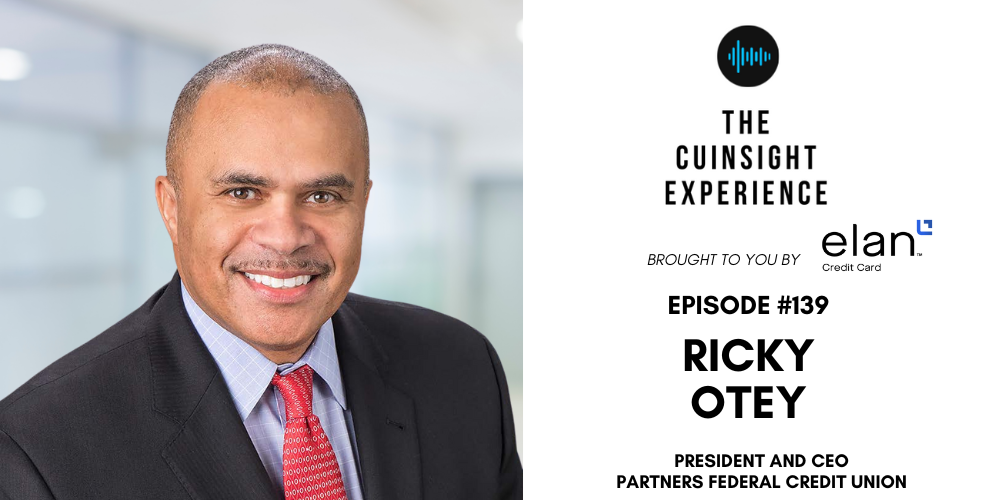 Thank you for tuning in to episode 139 of The CUInsight Experience podcast with your host, Randy Smith, co-founder of CUInsight.com. This episode is brought to you by Elan Credit Card. Elan partners with more than 250 credit unions to provide an outsourced credit card program, and offers merchant and mortgage services for credit union members and business owners.
My guest on today's show is Ricky Otey, President & CEO of Partners Federal Credit Union. Ricky has worked in the financial services industry as an executive for 30 years. In this episode, we chat about the professional and personal connections that can strengthen your career trajectory. He expresses excitement for the future of credit unions and shares insights on staying relevant and focused on growth. He also discusses the value of having a mentor (and also being a mentor) to receive guidance and gain greater opportunities throughout your career.
During our conversation, Ricky dives into the greatest investment he made in his career that shaped his thought process. Ricky also shares two critical questions he asks himself when building a leadership team. We discuss the importance of establishing expectations and behaviors through a feedback model; situation, behavior and impact. Ricky discusses the importance of connecting with employees and sharing strategic plans to provide clarity about the organization's objectives.
Ricky and I chat about taking on new risks and innovating for the future. We also talk about accountability and knowing when to pull the plug on an idea. Ricky chats about the benefits of remote work; specifically, the larger talent pool and increased opportunities that credit unions can now offer future employees. Tune in to hear Ricky discuss team expectations, strategic planning, and storytelling.
As we wrap up the show, listen in as Ricky shares how he finds balance in life, his favorite album of all time, and the countless lessons learned from his father. Enjoy my conversation with Ricky Otey!
Subscribe on: Apple Podcasts, Spotify, Stitcher 
Books mentioned on The CUInsight Experience podcast: Book List 
How to find Ricky:
Ricky Otey, President & CEO of Partners Federal Credit Union
theofficeoftheceo@partnersfcu.org
www.partnersfcu.org
LinkedIn | Instagram | Facebook
Show notes from this episode:
A big shout-out to our friends at Elan Credit Card, an amazing sponsor of The CUInsight Experience podcast. Thank you!
Want to hear more from Ricky? Click here.
Place mentioned: Florida
Place mentioned: California
Shout-out: First Union National Bank
Place mentioned: Charlotte, NC
Shout-out: Wachovia
Shout-out: Wells Fargo
Shout-out: Virginia 
Shout-out: Capital One
Place mentioned: Texas
Shout-out: North Fork Bank
Place mentioned: New York
Place mentioned: New Jersey
Place mentioned: Connecticut
Place mentioned: Fort Mill, SC
Shout-out: Sharonview FCU
Shout-out: Warren Buffet
Shout-out: Dale Carnegie
Shout-out: Stephen Covey
Shout-out: Morgan Stanley
Shout-out: Ricky's God-daughter
Shout-out: Ricky's Wife
Shout-out: Jill Nowacki
Shout-out: Ricky's father-in-law
Book mentioned: The Ride of a Lifetime: Lessons Learned from 15 Years as CEO of the Walt Disney Company by Robert Iger
Artist mentioned: KC and the Sunshine Band
Shout-out: Ricky's Father
Shout-out: Big Island, VA
Previous guests mentioned in this episode: Jill Nowacki (episodes 4, 18, 37, 64, 82, 101, 113, 126, & 138)
In This Episode:
[00:45] – Ricky Otey talks about the top financial companies he worked with over the years.
[03:29] – Ricky is excited about combining a grassroots approach with modern tech solutions.
[06:17] – Start developing your personal board of directors. Ricky gives tips for who to have in your personal board of directors.
[09:28] – Ricky shares what takeaway he still uses from a Stephen Covey seminar he attended decades ago.
[11:47] – Here are Ricky's principles for building a leadership team.
[13:45] – How do you measure whether a potential team member fits the work culture?
[15:35] – Ricky says there are only two types of feedback: Glow and Grow.
[17:10] – When people feel a sense of ownership in what they're doing, they're more likely to participate along the journey.
[18:44] – Ricky explains his approach to building relationships with board members as a CEO.
[21:06] – Taking accountability builds credibility. Ricky talks about why you shouldn't be afraid of mistakes.
[23:59] – How can leaders help create a balance in a remote team?
[26:42] – Ricky talks about keeping an open mind as the credit union field changes.
[28:29] – Ricky says he had this humorous revelation about his wife and their relationship during the pandemic.
[30:26] – What book does Ricky want to suggest to everyone?
[33:00] – Ricky encourages everyone to be an eternal optimist.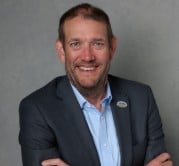 Randall Smith is the co-founder of CUInsight.com, the host of The CUInsight Experience podcast, and a bit of a wanderlust. As one of the co-founders of CUInsight.com he ...
Web: www.CUInsight.com
Details