The CUInsight Experience podcast: Jill and Randy – Yes or No (#138)
"You can't just build diversity, you have to bring in the equity to create an inclusive environment." - Jill Nowacki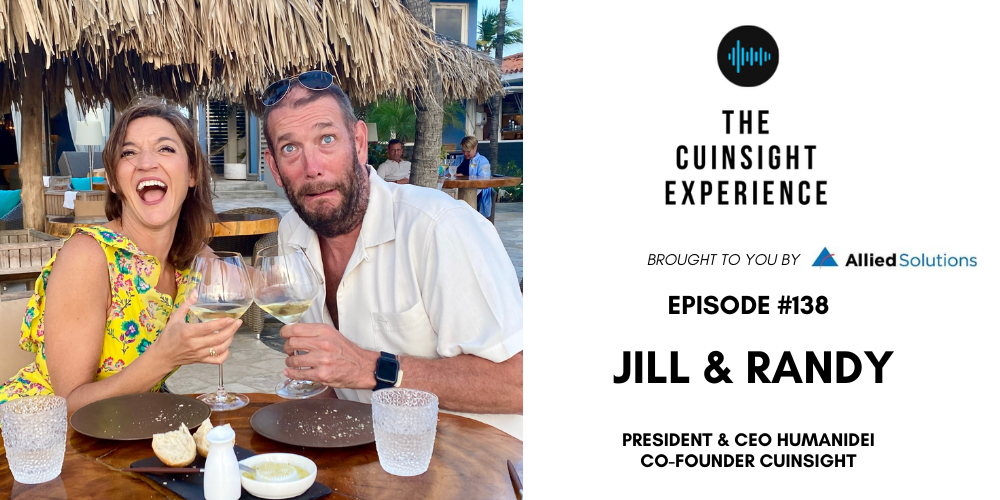 Thank you for tuning in to episode 138 of The CUInsight Experience podcast with your host, Randy Smith, co-founder of CUInsight.com. This episode is brought to you by Allied Solutions. Allied Solutions is focused on helping clients grow their bottom line, protect their business and members, and evolve to stay ahead of the competition.
My guest on today's show is Jill Nowacki, the President & CEO of Humanidei + O'Rourke, who also happens to be my human. In this episode, we chat about intentional living from two different angles with Jill being more of a "YES" person while I am more of a "NO" person. Jill reveals how she leads an intentional life and structures it to allow her to say, "yes" more often. She discusses the importance of creating work-life integration, and we share our different views of taking space and rest. During our conversation, Jill provides her thoughts on effective leadership and highlights the significance of feedback and collaboration when making decisions.
Throughout the episode, Jill shares the impact credit unions can have in reducing the racial wealth gap and putting an end to long-term systemic inequality. Jill encourages credit union leaders to have conversations about racial inequity and be more involved in their communities to better understand the issues people are facing. She also recommends credit unions design products and services to solve these economic issues. 
The conversation comes full circle as we chat about intentionality in building diverse leadership teams and boards. Jill shares the importance of creating an inclusive environment and asking "the equity question" to structure systems in a way that doesn't favor or leave out specific groups of people. Tune in to hear Jill's advice on positively impacting our communities, diversity, equity and inclusion, and finding a seat at the right table. 
As we wrap up the show, listen in as Jill and I share our laughter, stories, and curiosities. Enjoy my conversation with Jill Nowacki!
Subscribe on: Apple Podcasts, Spotify, Stitcher 
Books mentioned on The CUInsight Experience podcast: Book List 
How to find Jill:
Jill Nowacki, President & CEO of Humanidei + O'Rourke
jill@humanidei.com
www.humanidei.com
Jill: LinkedIn | Instagram | Twitter | Medium
Humanidei: LinkedIn | Instagram | Twitter | Facebook
Show notes from this episode:
A big shout-out to our friends at Allied Solutions, an amazing sponsor of The CUInsight Experience podcast. Thank you!
Want to hear more from Jill? Click here.
Shout-out: Humanidei
Shout-out: The Family Circus
Shout-out: CUNA
Shout-out: Governmental Affairs Conference (GAC)
Shout-out: Jill's son Crosby
Place mentioned: Africa
Shout-out: Mount Kilimanjaro
Find out more about Climb Africa and support: Randy's page, Jill's page
Shout-out: Lauren Culp
Shout-out: Dennis Tanimoto
Book mentioned: Atlas of the Heart: Mapping Meaningful Connection and the Language of Human Experience by Brené Brown
Previous guests mentioned in this episode: Lauren Culp (39,115), Jill Nowacki (episodes 4, 18, 37, 64, 82, 101, 113, 126, & 138), Randy Smith (53, 101) 
In This Episode:
[01:13] – Jill & Randy talk about balancing each other in their shared intentional life. 
[03:16] – What does living an intentional life look like?
[06:05] – Jill talks about the struggles and benefits of saying "YES" more often.
[09:00] – Jill & Randy explore what the word "space" means to them individually.
[11:26] – How can you manage the time you create for yourself? Jill starts off by discussing her role as a mom.
[14:06] – Jill continues her thoughts on managing time as different categories that make up a whole life. 
[17:01] – Collaboration on decision-making can be a strength.
[18:50] – It's okay to seek feedback.
[20:29] – Randy reflects on making collaborative efforts to move forward as a team.
[22:00] – What is the racial wealth gap? Is there an opportunity for credit unions to make a major contribution to reduce the gap?
[24:16] – Jill provides reasons credit unions should work with communities to develop the solutions.
[26:21] – Be intentional with cultivating diverse boards that evolve as the people evolve.
[28:09] – Jill encourages you to ask "the equity question" to have a better perspective of who your decisions might favor or leave out.
[30:16] – What advice does Jill have for people looking for "a seat at the table"?
[32:58] – What is Jill reading lately?
[35:21] – Jill & Randy joke about when they're the most thrifty.
[36:54] – Do something nice for yourself.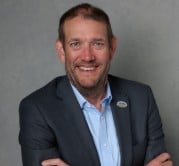 Randall Smith is the co-founder of CUInsight.com, the host of The CUInsight Experience podcast, and a bit of a wanderlust. As one of the co-founders of CUInsight.com he ...
Web: www.CUInsight.com
Details