The CUInsight Experience podcast: Lauren Culp – Looking forward (#39)
"When one of us succeeds, we all rise." - Lauren Culp
Welcome to episode 39 of The CUInsight Experience podcast. Hosted by Randy Smith, Co-Founder of CUInsight.com. In this episode, Randy has a conversation with Lauren Culp, the new Publisher and CEO of CUInsight.com.
Randy and Lauren talk about the need for credit unions to embrace their identity and nimbly adapt to changes both for the market and for the workforce. Lauren shares her perspective on how credit unions will be able to keep up with the times going forward, the need for more diversity, equity, and inclusion, and the rapid pace of change in our world. 
Lauren also talks about her experiences leading diverse and highly engaged teams, the ways she approached increasing diversity and inclusion in the program she led at Filene, and what she's most excited about as she takes the helm at CUInsight. 
Tune in to learn more about CUInsight's first-ever CEO, what she's learned through her career, and what she sees the future holds for credit unions and CUInsight.
Subscribe on: Apple Podcasts, Spotify, Google Play, Stitcher  
How to find Lauren:
Lauren Culp, Publisher and CEO of CUInsight.com
lculp@cuinsight.com
www.CUInsight.com
Twitter | Linkedin | Instagram | Facebook 
Show notes from this episode:
Press release: CUInsight appoints Lauren Culp Publisher/CEO
Company mentioned: Filene Research Institute
Company mentioned: The Cooperative Trust
Shout-out: Our friends at CO-OP Financial Services
Shout-out: Our friends at CUNA and it's time to start planning for GAC 2020
Shout-out: Our amazing CUInsight.com team – David, John, Robbie, Jenna and Jen
Book mentioned: Wolfpack by Abby Wambach
Album mentioned: Without Fear by Dermot Kennedy
Album mentioned: Reputation by Taylor Swift
Book mentioned: Brave Not Perfect by Reshma Saujani
Conference mentioned: CUNA ACUC where Reshma Saujani was a keynote.
Shout-out: Michelle Obama
Book mentioned: Becoming by Michelle Obama
Previous guests mentioned in this episode: Tansley Strearns, Jill Nowacki (episodes 4, 18 & 37), Caroline Willard, Linda Bodie, Jim Nussle, Maurice Smith
You can find all past episodes of The CUInsight Experience here. 
In This Episode:
[01:28] – Welcome to the show Lauren Culp, Publisher and CEO of CUInsight.com.
[02:58] Lauren feels that there are two challenges facing credit unions today. Adapting to change and understanding the identity of the credit union and how to effectively tell that story.
[06:52] How can we get college graduates to consider the credit union as an employer of choice?
[08:48] Lauren feels like the daily work model is changing, and the credit unions have to adapt.
[10:03] We need to be very explicit about our message when looking for new talent.
[11:35] Be intentional with diversity in the application pool.
[13:28] When Lauren started choosing candidates for the mentor team, she made sure that they were as visually diverse as possible.
[14:13] This led to a very diverse crash group which ended up being the strongest one they had ever had.
[15:05] Is there a belief in credit unions today that fundamentally needs to change?
[16:18] She took the job as Publisher and CEO of CUInsight because she loved the way they collaborate with credit unions and the constant innovation and the eye for what is next.
[17:58] Has the inspiration changed now that she's been with the company for a few months?
[18:38] Her leadership style is collaborative. She believes there is value in empowering people.
[19:35] Is there something that people who work with you have heard so many times that they can finish the sentence?
[20:35] The mistake she sees young leaders make most is sticking with what is comfortable and not take risks.
[22:28] Do you have a memorable failure that led to great success?
[24:12] The advice that she received that she uses all the time is having a wolf pack, a pack of beautiful people that support her.
[25:30] She says when she hits a wall, she phones a friend to get an outside perspective.
[26:30] The friend you call, are they from the credit union?
[27:32] How does she plan on keeping it fresh? Keeping it consistent and finding new ways to spice it up.
[28:47] What do you do on your day off? Sports?
[29:45] The first memorable trouble she got into was in 3rd grade, she turned in a project that didn't meet her parent's standards.
[30:50] What does she have to do every day or her day will feel off?
[31:35] What is your favorite album of all time?
[32:10] What book do you give to people the most often?
[33:40] Being healthy has become more important to her over the years. What people think has become less important.
[35:02] When Lauren thinks of success, she thinks of Michelle Obama.
[36:10] What are your final thoughts?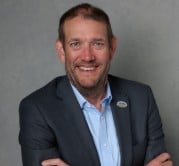 Randall Smith is the co-founder of CUInsight.com, the host of The CUInsight Experience podcast, and a bit of a wanderlust. As one of the co-founders of CUInsight.com he ...
Web: www.CUInsight.com
Details