The CUInsight Experience podcast: Lauren Culp – Building the ship (#115)
"Don't ever be afraid to challenge the status quo." - Lauren Culp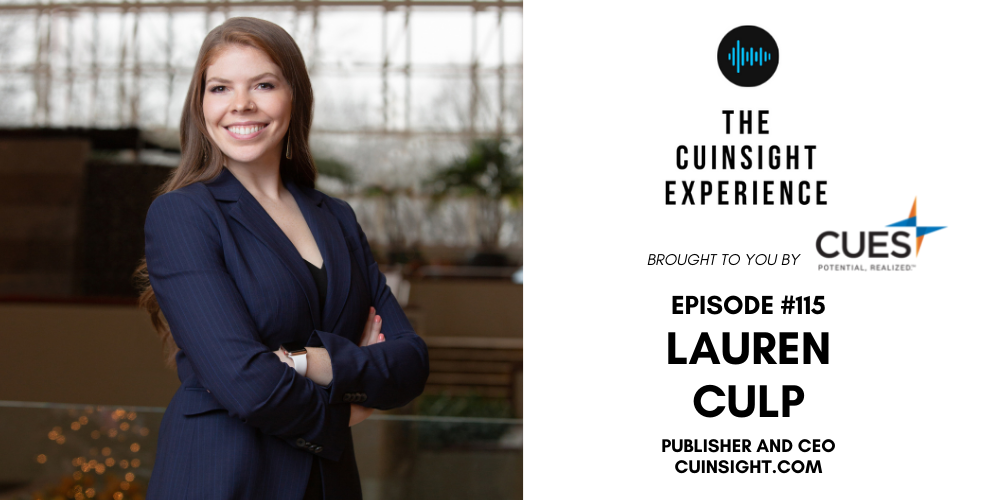 Thank you for tuning in to episode 115 of The CUInsight Experience podcast with your host, Randy Smith, co-founder of CUInsight.com. This episode is brought to you by our friends at CUES. CUES is the leading talent development solutions provider to the credit union industry.
My guest on today's show is Lauren Culp, our very own Publisher & CEO here at CUInsight.com. In this episode, we chat about all things leadership: insights and tips for first time CEOs, leading through a global crisis, and successfully working with your board. 
In terms of the board relationship, Lauren shares tools to help CEOs recognize the needs of the board and grow strong relationships while understanding their differences. She believes that a great leader should keep in contact with the board regularly, so much so that meetings become mostly a formality. 
While it is not difficult to find purpose in the credit union industry, Lauren maintains purpose by asking herself, "What can I continue to do to make a measurable impact?" She believes that the pandemic has given leaders a unique way to stay connected to both members and the mission.  We discuss the evolving importance of digital experience and ease of use in delivering on the credit union cornerstone of stellar member service. Lauren believes that challenging the status quo and anticipating member needs is critical to our industry's success.
As we wrap up the show, Lauren shares insights for new CEOs and debunks a few leadership myths. We journey through Lauren's non-traditional career path and learn about where she draws inspiration. Lauren shares activities she enjoys outside of the office that keep her recharged and who she thinks of now when she hears the word "success." Enjoy my conversation with Lauren Culp!  
Subscribe on: Apple Podcasts, Spotify, Google Play, Stitcher 
Books mentioned on The CUInsight Experience podcast: Book List 
How to find Lauren:
Lauren Culp, Publisher & CEO of CUInsight
lculp@cuinsight.com
www.cuinsight.com
LinkedIn | Twitter | Facebook | YouTube | Instagram | The CUInsight Network podcast
Show notes from this episode:
A big shout-out to our friends at CUES, an amazing sponsor of The CUInsight Experience podcast. Thank you!
After listening to our show, check out the CUES podcast here.
The CUES podcast features a wide variety of industry leaders, and cross-industry experts discussing their perspectives on credit union topics and trends.
Register for Mini-Con Series: GROW and catch the replay of past sessions here.
Shout-out: Brian Lee, Landings CU
Shout-out: David Miller
Shout-out: Peloton
Shout-out: Tesla
Shout-out: Julie Ferguson, JRF Consulting Services
Follow Julie on Instagram here.
Shout-out: Filene Research Institute
Shout-out: ACCOSCA, Kenya
Place mentioned: Bonaire
Place mentioned: Denver, Colorado
Shout-out: Google
Shout-out: Facebook
Shout-out: Amazon
Shout-out: Lauren MacVay, True North FCU
Place mentioned: Juneau, Alaska
Shout-out: CUNA GAC
Shout-out: The Daily Skimm
Shout-out: Morning Brew
Shout-out: John Pettit
Shout-out: Robbie Young
Shout-out: Courtney Scott
Shout-out: Linda Lafortune
Shout-out: Madison, Wisconsin
Shout-out: Nespresso
Shout-out: Michelle Obama
Shout-out: Jill Nowacki
Book mentioned: The First 90 Days, Updated and Expanded: Proven Strategies for Getting Up to Speed Faster and Smarter by Michael Watkins
Book mentioned:  What Your Customer Wants and Can't Tell You: Unlocking Consumer Decisions with the Science of Behavioral Economics (Marketing Research) by Melina Palmer
Playlist mentioned: Lewis Capaldi Radio
Previous guests mentioned in this episode: Julie Ferguson, Melina Palmer, Jill Nowacki (episodes 4, 18, 37, 64, 82, 101, & 113) 
In This Episode:
[02:25] – Lauren and Randy catch up on what the last two years were like. Lauren shares how she felt about being a first-year CEO.
[04:36] – What does Lauren want to say to anyone who hopes to be a CEO?
[05:54] – To communicate well with your board members, talk their language, and know what is valuable to the individual members.
[07:48] – Lauren finds pockets of time to allow herself to think strategically; this way, she is not in a reactive mode all day.
[10:03] – Work and life can coexist.
[11:51] – Lauren explains how the concept of a "wolf pack" is related to her life and career.
[14:50] – Purpose is built into the culture of Credit Unions, so Lauren finds purpose to be a natural extension of her efforts.
[17:25] – Lauren emphasizes that people should focus on interacting as humans, instead of treating it as "worker bee to worker bee".
[19:06] – From a team perspective, Lauren is proud of the growth, strategy, and community of the talent she's encountered.
[21:02] – For engaging an audience, virtual methods of connecting aren't going anywhere.
[22:40] – What are Lauren's observations of the current credit union industry?
[24:34] – Sometimes people can't tell you what they want, you have to tell them what they want.
[26:05] – Lauren originally had a childhood dream to be a librarian. She started working in credit unions to get tuition reimbursement for college.
[28:26] – Lauren likes how connected CUInsight is to the credit union community. She's inspired to connect digitally and grow together.
[30:12] – Lauren is constantly inspired by how the team is testing and iterating new ideas.
[32:17] – Lauren is always open to hearing different perspectives from her team.
[34:00] – "Natural-born Leader" is a phrase that Lauren feels people should be careful of using. She says that the phrase can make it easy to misunderstand the intentionality and hard work of leadership.
[35:37] – Lauren talks about how she incorporates physical activity, like exercising, to bring balance to her life.
[37:10] – When she thinks about it, Lauren is proud that she did not do life the "traditional" way.
[39:41] – Lauren shares that she stole chalk in 3rd grade, and she tells us the sweet reason why.
[41:43] – What books are Lauren reading lately?
[44:27] – Don't ever be afraid to challenge the status quo.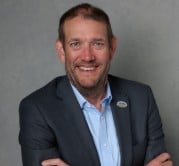 Randall Smith is the co-founder of CUInsight.com, the host of The CUInsight Experience podcast, and a bit of a wanderlust. As one of the co-founders of CUInsight.com he ...
Web: www.CUInsight.com
Details