The CUInsight Experience podcast: Susan Mitchell – Collision Course (#50)
"Stand up for the things in our life that count." - Sue Mitchell
Welcome to episode 50 The CUInsight Experience with your host Randy Smith, co-founder of CUInsight.com. In this episode, Randy is very excited to welcome Susan Mitchell. Sue is the CEO of Mitchell Stankovic and Associates, and a long-time credit union advocate.
Sue and her team started the Underground Collision; to get conversations started around subjects that aren't being tackled at the moment. She says to her it's all about bringing people together, planting some seeds and see if new initiatives can come out of it.
She talks about the need credit unions have for new members, her inspiration for starting her own business, and how that inspiration has changed over the years. She speaks about her leadership style and how being a leader today is different than in previous years. Sue also believes that young leaders today should be more articulate when stating objectives; they need to be better at communicating with others.
Sue is a fascinating woman with many years of life experience that she is happy to share. Listen in to this conversation and think about what she says, what she thinks needs to be done, and how she believes it will help the world be a better place. We all need to do more, and she is giving us ideas on where to start. Enjoy!
Subscribe on: Apple Podcasts, Spotify, Google Play, Stitcher 
How to find Sue:
Susan Mitchell, CEO Mitchell Stankovic and Associates
www.mitchellstankovic.com
susan@mitchellstankovic.com
Twitter | LinkedIn | Facebook  
Show notes from this episode:
Read more about Sue here and take the time to watch her video being honored with the 2018 Herb Wegner Award for Individual Lifetime Achievement.
Check out all the great work going on at Mitchell Stankovic and Associates and find out more about the Underground Collision.
Register for the next Underground Collision in DC at CUNA GAC here.
Shout-out: Money 20/20 (more credit union folks should attend)
Shout-out: Global Women's Leadership Network
Shout-out: George Ombado, ACCOSCA and SACCA Congress
Shout-out: WOCCU
Shout-out: Brian Branch
Shout-out: Mike Stankovic
Shout-out: The National Credit Union Foundation
Get your tickets here for the National Credit Union Foundation Dinner presenting the Herb Wegner Memorial Awards at CUNA GAC.
Shout-out: Dave Adams
Shout-out: Sam Paxson
Sue mentioned #RiseUp: Empowering Women in Leadership at Money 20/20.
Shout-out: Mike Reuter and the Worldwide Foundation for Credit Unions
Shout-out: Brett Martinez
Shout-out: Leni San Roque
Shout-out: Manfred Alfanso Dasenbrock
Shout-out: Eleonora Zgonjanin Petrovikj
Shout-out: WYCUP
Shout-out: Judy McCartney
Shout-out: Bob Trunzo
Album mentioned: What's Going On by Marvin Gaye
Book mentioned: Think Wrong: How to Conquer the Status Quo and Do Work That Matters by John Bielenberg and Mike Burn
Previous guests mentioned in this episode: George Ombado, Dave Adams, Sam Paxson, Mike Reuter, Brett Martinez, Bob Trunzo, Jill Nowacki (episodes 4, 18 & 37)
You can find all past episodes of The CUInsight Experience here. 
In This Episode:
[01:43] – Sue, Welcome to the show!
[02:36] – Sue discusses the organization she helped found for the financial inclusion of women.
[05:27] – What changes have you seen in credit unions over the space of your career?
[07:32] – Sue tells us what the underground collision is and why she started it
[12:26] – She believes that credit unions need to do more when it comes to new members.
[15:45] – What inspired you to go out on your own and?
[17:37] – Her inspiration has changed by honing in on diversity and not just in gender and her commitment to changing the world.
[19:36] – Her leadership style is collaborative, and she believes in motivating with energy.
[21:23] – How has being a successful leader changed over time?
[22:59] – Get over it, let the baggage go is what Sue tells everyone on her team.
[23:42] – Being more articulate when stating objectives, better communication is something she thinks young leaders need to be better at.
[24:41] – What hacks do you have to help young leaders and listeners work on their communication?
[26:00] – She discusses innovation and research and development and her experience with it.
[27:19] – Garbage in, Garbage out is something one of her previous bosses used to tell her all the time.
[28:32] – Sue hikes, spends time outside, and reads when she has a day off.
[29:22] – Do you remember the first time you got into memorable trouble?
[29:43] – Sue's daily routine is thinking about her gratitudes when she is walking.
[33:23] – Her favorite Album of all time is What's Going On by Marvin Gaye.
[33:57] – A book she believes everyone should read is.
[35:39] – As she has gotten older, the value of her time and standing up for what's important is more critical, and noise is less important.
[37:45] – Her parents are who come to mind when she thinks about the word success.
[38:19] – Sue's final thoughts.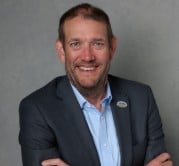 Randall Smith is the co-founder of CUInsight.com, the host of The CUInsight Experience podcast, and a bit of a wanderlust. As one of the co-founders of CUInsight.com he ...
Web: www.CUInsight.com
Details