The CUInsight Network podcast: Advocacy & education – NAFCU (#41)
Featuring Greg Mesack, SVP of Government Affairs at NAFCU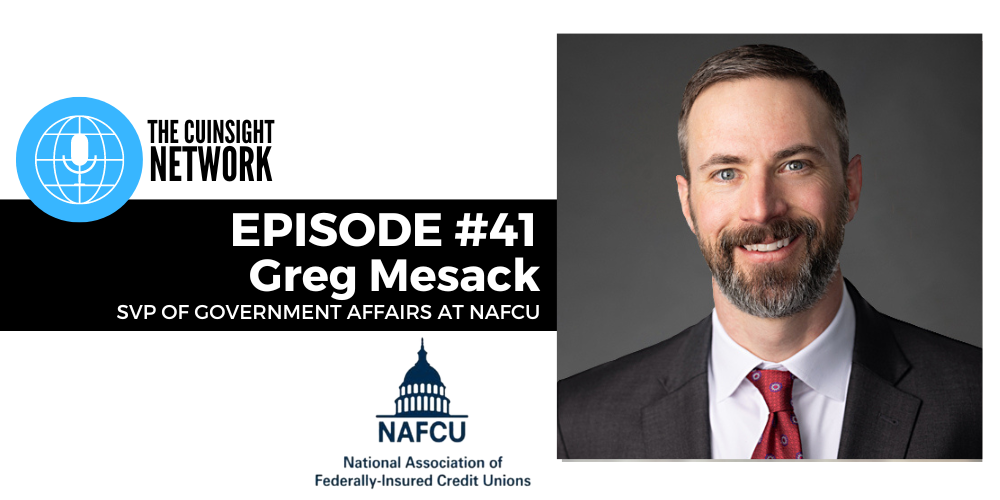 Thank you for tuning in to episode 41 of The CUInsight Network, with your host, Lauren Culp, Publisher & CEO of CUInsight.com. In The CUInsight Network, we take a deeper dive with the thought leaders who support the credit union community. We discuss issues and challenges facing credit unions and identify best practices to learn and grow together.
My guest today is Greg Mesack, SVP of Government Affairs at NAFCU. The team at NAFCU advocates for credit unions nationwide by interacting with government officials and policymakers allowing credit unions to continue serving their members. Through financial advocacy, NAFCU helps protect members from financial institutions that may not have consumers' best interest at heart. NAFCU is committed to representing, assisting, educating and defending our member credit unions to help them grow, and help grow the industry as well.
In this conversation, Greg and I talk about how credit unions are critical in this current economic state and what NAFCU is doing to protect them. Along the way, Greg discusses the Credit Card Competition Act of 2022 (CCCA), the battle between banks and retailers, rapid consolidation, and inflation. He explains how these pull resources from economically-distressed areas, especially rural and inner city communities. Greg speaks passionately about financial advocacy, and he shares how people can get involved.
As we wrap up the episode, Greg talks about Tom Brady, his hack for keeping up with sports, and the product he can't live without. Enjoy my conversation with Greg Mesack!
Connect with Greg:
Greg Mesack, SVP of Government Affairs at NAFCU
gmesack@nafcu.org
https://www.nafcu.org/
Greg: LinkedIn | Twitter
NAFCU: Twitter | Facebook | Instagram | LinkedIn | YouTube
Show notes from this episode:
What an amazing interview with Greg! Check out all the exceptional work his team is doing over at NAFCU here.
Want to hear more from Greg Mesack? Click here.
Place mentioned: Michigan
Shout-out: Capitol Hill
Place mentioned: Washington, D.C.
Shout-out: B. Dan Berger
Shout-out: Carrie Hunt
Shout-out: Greg's wife
Shout-out: Credit Card Competition Act of 2022
Shout-out: Dodd–Frank Wall Street Reform and Consumer Protection Act
Shout-out: Venmo
Shout-out: Zelle
Shout-out: Tom Brady
Shout-out: University of Michigan
Shout-out: Amazon
Shout-out: The Lord of the Rings: Rings of Power
Shout-out: J.R.R. Tolkien
Book mentioned: The Hobbit by J.R.R. Tolkien
Book mentioned: The Silmarillion by J.R.R. Tolkien
Book mentioned: The Lord of the Rings by J.R.R. Tolkien
In this episode:
[00:43] – Greg Mesack says he didn't have a real plan when he was younger. He just wanted to see where life would take him.
[02:42] – Greg fell in love with politics at Capitol Hill.
[05:29] – NAFCU is making sure credit unions can help everyday Americans without pressure from the government.
[06:57] – What is the Credit Card Competition Act of 2022? PART 1
[09:06] – What is the Credit Card Competition Act of 2022? PART 2
[10:54] – Greg shows how what happened with the Dodd-Frank Act gives context to what's happening now.
[12:49] – What can people do to advocate for themselves and others?
[15:21] – Bank branches are closing more quickly, leaving an economic ripple effect across bank deserts.
[17:58] – Credit unions are fighting to help underserved areas.
[20:15] – What happens when credit unions merge with banks? Greg gives his thoughts and observations.
[22:05] – Credit unions are not out to make money off members.
[24:53] – What is NAFCU's vision for the future of finance?
[27:10] – Greg warns the public to do their due diligence when using new fintech services.
[30:08] – Greg is completely won-over by his air fryer.
[31:42] – Greg says this athlete redefined "success" for an NFL career.
[33:12] – Greg suggests this classic series for everyone to read.
[34:51] – Get engaged. Greg wants to hear what's important to you.
Lauren Culp is the Publisher & CEO at CUInsight.com. She leads the growing team at CUInsight, works with organizations serving credit unions to maximize their brand and exposure, connects with ...
Web: https://www.cuinsight.com
Details