The CUInsight Network podcast: Cybersecurity – Adlumin (#8)
Featuring Robert Johnston, CEO of Adlumin, Inc.
Thank you for tuning in to episode 8 of The CUInsight Network, with your host, Randy Smith, Co-founder of CUInsight.com. In The CUInsight Network, we take a deeper dive with the thought leaders who support the credit union community. We discuss issues and challenges facing credit unions and identify best practices to learn and grow together.
My guest today is Robert Johnston, CEO of Adlumin, Inc. Robert shares his journey from the military to the credit union industry and how he rediscovered purpose through this transition. He also shares cybersecurity best practices for credit union leaders and how to implement them during periods of rapid change. 
Throughout the show Robert shares the data science behind Adlumin's cybersecurity integration and how his team has been able to improve compliance for credit union CORE systems. He believes it is imperative for credit unions to increase security in order to stay relevant and mitigate major system threats. With the increase in technological breaches and hacking on the rise, Robert and his team have been working on compliance reporting that is easily accessible, seamless, and secure. 
We also chat about new regulations with the incoming administration and what that looks like for Adlumin in their daily operations. Robert feels that the next wave of innovation is cloud-based data and its ability to increase the security of member information while allowing credit unions to maximize data retention. 
As we wrap up the show, we learn that Robert and his team use just about every video conferencing platform available and are always looking for the next best. We were excited to learn what he does in his free time away from the office, what he is currently reading, and who he thinks about when he hears the word "success." Enjoy my conversation with Robert Johnston! 
Connect with Robert Johnston:
Robert Johnston, CEO of Adlumin, Inc.
robert.johnston@adlumin.com
www.adlumin.com
LinkedIn | Twitter | Facebook | YouTube 
Show notes from this episode:
What an amazing interview with Robert, check out all the awesome work his team is doing over at Adlumin, Inc. here.
Want to hear more from the Adlumin team? Click here.
Place mentioned: Central Florida
Shout-out: U.S. Naval Academy
Shout-out: Robert's parents
Shout-out: U.S.  Marine Corps
Shout-out: Ikea
Shou-out: Symitar
Shout-out: Alkami
Shout-out: InTREx-CU
Shout-out: NCUA
Shout-out: NCUA Acet
Shout-out: nCino
Shout-out: Bank of America
Place mentioned: New York
Term mentioned: State chartered credit union
Shout-out: Finra
Shout-out: Microsoft Office 365
Shout-out: Microsoft Sharepoint
Shout-out: Microsoft OneDrive
Shout-out: Google
Place mentioned: Africa
Term mentioned: Virtual Private Network (VPN)
Term mentioned: Ransomware
Shout-out: Zoom
Shout-out: GoToMeeting
Shout-out: Microsoft Teams
Shout-out: Slack
Shout-out: Jeff Bezos
Shout-out: Amazon
Shout-out: Whole Foods Market
Shout-out: Jill Nowacki
Artists mentioned: Sting
Shout-out: Chevrolet Corvette Stingray
Album mentioned: Synchronicity by the Police
Shout-out: Robert's daughter
Book mentioned: Start With Why: How Great Leaders Inspire Everyone to Take Action by Simon Sinek
Spotify playlist: Reggaeton
Place mentioned: Miami, Florida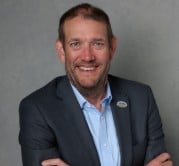 Randall Smith is the co-founder of CUInsight.com, the host of The CUInsight Experience podcast, and a bit of a wanderlust. As one of the co-founders of CUInsight.com he ...
Web: www.CUInsight.com
Details