The CUInsight Network podcast: Partnership & protection – Securian Financial (#42)
Featuring Bill Gould, Executive Vice President at Securian Financial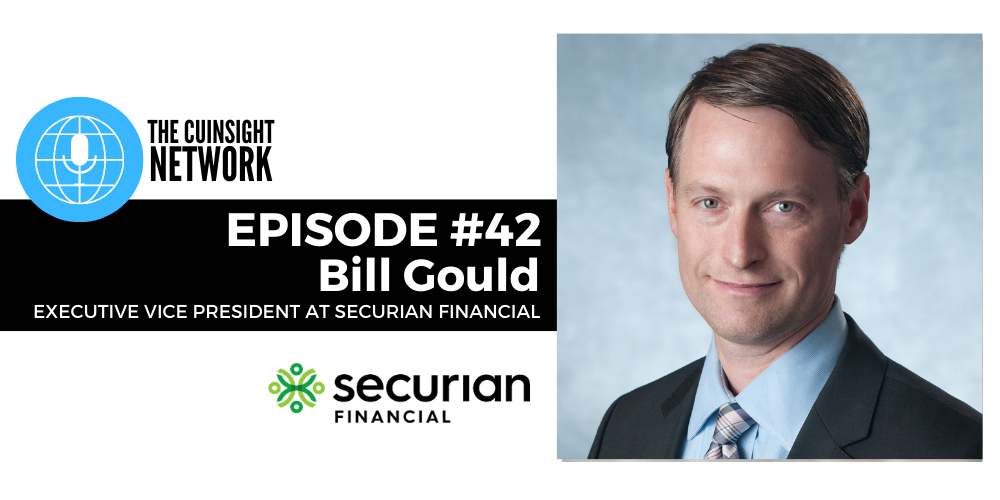 Thank you for tuning in to episode 42 of The CUInsight Network, with your host, Lauren Culp, Publisher & CEO of CUInsight.com. In The CUInsight Network, we take a deeper dive with the thought leaders who support the credit union community. We discuss issues and challenges facing credit unions and identify best practices to learn and grow together.
My guest today is Bill Gould, Executive Vice President at Securian Financial. For over 60 years, Securian Financial operates as a mutual holding company that provides a range of financial products and services. The team helps credit unions provide protection and products to members. Together, they create a partnership that improves the experience of both the members and the staff.
In this conversation, Bill and I talk about credit union partnerships that help financial service teams embrace innovation. Bill shares his insights on where fintechs can fit in and create opportunities for credit unions. We discuss the importance of maintaining engagement with employees, and Bill shares two key fundamentals that he looks for when adding to his team. Bill also explains new trends emerging in the financial service industry and how Securian plans to innovate to meet those needs.
As we wrap up the episode, Bill talks about his father's entrepreneurial grit, his family-time hobbies, and his book choices. Enjoy my conversation with Bill Gould!
Connect with Bill:
Bill Gould, Executive Vice President at Securian Financial
william.gould@securian.com
https://www.securian.com/
Bill: LinkedIn
Securian Financial: Twitter | Facebook | Instagram | LinkedIn | YouTube
Show notes from this episode:
What an amazing interview with Bill! Check out all the exceptional work his team is doing over at Securian Financial here.
Want to hear more from Bill Gould? Click here.
Shout-out: University of Minnesota
Shout-out: Chris Hilger
Place mentioned: Carmel, IN
Shout-out: Allied Solutions
Shout-out: Twin Cities
Shout-out: Venmo
Place mentioned: Philadelphia, PA
Shout-out:Bill's pup
Shout-out: Bill's children
Shout-out: Peloton
Shout-out: Bill's father
Shout-out: Audible
Shout-out: The Lord of the Rings: Rings of Power
Shout-out: J.R.R. Tolkien
Book mentioned: Think Again: The Power of Knowing What You Don't Know by Adam Grant
Book mentioned: Deep Purpose: The Heart and Soul of High-Performance Companies by Ranjay Gulati
In this episode:
[00:40] – Bill Gould comes from a family of jewelers.
[02:43] – How does Securian Financial help credit unions?
[04:21] – Bill explains how loan officers benefit from understanding the context of their service and impact.
[07:22] – What can credit unions build partnerships around? PART 1
[09:03] – What can credit unions build partnerships around? PART 2
[10:38] – Bill considers himself a talent scout while building his team.
[12:45] – Here are two fundamentals for choosing the right hire for a role.
[15:30] – Change will continue to accelerate.
[17:10] – Bill talks about his father's entrepreneurial grit as a jeweler.
[19:23] – What is Bill reading these days?
[21:05] – Bill reminds everyone that these uncertain times are a great opportunity to discover new solutions.
Lauren Culp is the Publisher & CEO at CUInsight.com. She leads the growing team at CUInsight, works with organizations serving credit unions to maximize their brand and exposure, connects with ...
Web: https://www.cuinsight.com
Details