The magic of innovation? Your people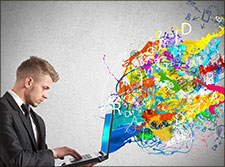 The first one to sign up for CUES' inaugural Strategic Innovation Institute, held last week at MIT, I walked into class last Monday looking for an "innovation support group." By the time the institute was over, I had found the support group I envisioned, plus learned progressive concepts, frameworks, and strategies for advancing innovation that were validated by case studies both in and out of the credit union industry.
For example, at one point, my Strategic Innovation Institute classmates and I were asked to consider the role of budgeting in supporting innovation. To get a discussion rolling, we were asked what percentage of our organizational budgets was devoted to innovation.
At my credit union, USAlliance Federal Credit Union, in Rye, N.Y., we don't budget for innovation per se, but it's still part of our DNA. With an original field of membership of IBM employees, every major project we've undertaken in the last three years—whether that was mobile banking, integrating interfaces or making incremental improvements to our product offerings—has had innovation at the top of the priority list.
Notably, institute instructors also called on us to talk about the magic of innovation. And that isn't part of budgeting. It lies with your people.
This idea was driven home by discussion of a case study about $1.7 billion Affinity Plus Credit Union, St. Paul, Minn., back when Kyle Markland was CEO. Markland empowered his employees to do all kinds of things—like set CD rates on the fly—and achieved great results.
continue reading »