The power of partnerships
If you Google "partnership," you'll find a wide variety of books, blogs, and ads promising everything from marital bliss to world peace.
You'll see many different approaches, but you'll hear one common theme: Partnerships have the power to strengthen your relationships and achieve shared goals that you might not be able to reach on your own.
And if you scroll far enough in your search for partnerships, you will even find references to NCUA.
During my first term on the NCUA Board, I launched Partnering and Leadership Successes, or PALS. The primary purpose of this initiative was to foster collaboration both between NCUA and credit union stakeholders and between credit union officials. To achieve this goal, NCUA hosted free PALS Workshops around the country, where panels of credit union leaders shared best practices with their colleagues.
The hallmark of these workshops was that presenters recounted for their peers success stories about partnering with community-based and non-profit organizations. These partnerships empowered credit unions to make affordable mortgages, generate small business loans, serve the underserved, and reach diverse new markets. It is truly gratifying to see many of those partnerships that began over a decade ago are still paying dividends for credit unions and their members today.
Since returning to NCUA as Chairman, I've had the opportunity to forge very productive partnerships at the national level. Two of our most recent partnerships are approaching their one-year anniversary. And both are benefiting credit unions.
Promoting Financial Literacy with AARP
Last September, NCUA formalized a partnership with AARP to promote financial education and outreach. Our shared goal is to help consumers achieve financial security through increased access to responsible and affordable financial services.
During the first year of our partnership, NCUA and AARP jointly:
Co-hosted a free webinar titled "Avoiding Frauds and Scams: A Primer for Older Americans." NCUA presenters explained common types of scams and frauds, strategies for avoiding them, and how to safely conduct financial transactions. Participants discussed joint guidance developed by NCUA and seven other federal regulators to combat and report suspected financial exploitation of older adults.
Co-hosted a Twitter chat for Older Americans Month. NCUA's tweets linked to anti-fraud resources on our consumer website, MyCreditUnion.gov.
Educated consumers about credit unions. NCUA provided information for AARP's consumer educational materials to describe credit unions' cooperative structure, membership eligibility, NCUA share insurance coverage, and the credit union locator on MyCreditUnion.gov.
During the second year of our partnership, we plan to further share financial education tools and resources including AARP's Fraud Watch Network and NCUA's new Fraud Prevention Center, which will be launched at MyCreditUnion.gov. There are many areas where NCUA, AARP, and credit unions can work together to help consumers achieve financial security, and this partnership will continue to encourage those collaborations.
Facilitating Small Business Loans with SBA
Credit unions benefit by partnering with the U.S. Small Business Administration. Backed by the full faith and credit of the U.S. government, SBA guarantees up to 90 percent of the principal of approved loans to small business owners. SBA-guaranteed loans provide credit to small business owners who might have difficulty obtaining loans from other institutions; and they rank among credit unions' safest loans.
When I first met with SBA Administrator Maria Contreras-Sweet, we discussed ways we could make it easier for credit unions to help their members finance small business ventures. Shortly thereafter, we signed a Memorandum of Understanding between our agencies to help credit unions connect with more small business owners.
During the first year of NCUA's partnership with SBA:
NCUA's Community Development Revolving Loan Fund provided New Product Grants for low-income credit unions to offer SBA-guaranteed loans.
SBA and NCUA co-hosted a free webinar for all credit unions titled, "Balancing Loan Portfolios with SBA Guarantees."Participants discussed the benefits of SBA lending and learned that the guaranteed portion of each loan does not count against credit unions' statutory member business lending cap.
AARP joined SBA and NCUA in co-hosting two additional free webinars. These webinars focused on SBA-guaranteed loans to "Encore Entrepreneurs"—small business owners over age 50 who are transitioning from traditional careers to entrepreneurship.
NCUA's Economic Development Specialists and Specialized Lending Examiners were trained on SBA lending programs. These trained NCUA staff can now discuss the various types of SBA loans and lending platforms with credit union officials.
During the second year of our partnership, SBA and NCUA plan to promote "SBA One," a new online loan management platform that simplifies SBA lending. Credit unions will be able to electronically generate required forms, manage documents through a single portal, and close deals using secured electronic signatures. This platform could save thousands of dollars in costs per loan.
SBA also plans to develop an online tool that will match small businesses with local credit unions approved as SBA lenders. Small businesses can use SBA's "LINC" tool to fill out a questionnaire that will be sent to participating lenders in their community. If you are interested in having your credit union contacted by small business owners using LINC, please send a request to linc@sba.gov. 
I encourage you to take advantage of NCUA's national partnerships and leverage opportunities in your community. For example, Vice Chairman Rick Metsger serves as NCUA's member on the Board of NeighborWorks America, which supports a network of more than 240 non-profit community development organizations. These NeighborWorks affiliates can refer prospective homebuyers to credit unions for affordable financial services. You might consider reaching out to a NeighborWorks organization in your community.
While we can't promise you world peace or marital bliss, we can promise you that partnerships like these will benefit your credit union, your members, and your communities.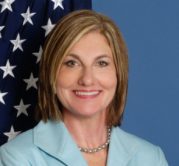 Debbie Matz was nominated by President Barack Obama to serve as the eighth board chair of the National Credit Union Administration (NCUA). After confirmation by the U.S. Senate on ...
Web: www.ncua.gov
Details