The Rise of the Virtual Worker
by: Sharon Simpson, Marketing Consultant, Ongoing Operations
As I was walking through the grocery store (at 11am on a Tuesday), I couldn't help but notice the man in the aisle next to me. He was dressed in the same type of casual attire as I was (shorts, flip flops and a t-shirt). The type of guy you'd think was on vacation or is maybe a stay-at-home Dad or something. However, as he talked rapidly on his blue tooth trying to finalize "the deal" and quoting discount percentages, I realized that we are becoming more of the rule than the exception. The "we" I speak of is the virtual workforce. More often than not these days, I find myself running into mirror images. The other Mom at t-ball I'm chatting up is a remote worker for a huge company.  The Friday afternoon conference call I'm on with four other people has multiple dogs barking in the background (not mine this time thankfully!) because it turns out none of us are in a traditional office – not even one.
Now I know "telecommuting" or being a remote worker is not possible for every single position (I'd be pretty upset if I walked in to the credit union and found no tellers, for example) but the pace at which the workforce is evolving is kind of incredible to me. Ten years ago, or even three years ago when I first started my own marketing consulting firm (out of the basement of my house), people just assumed I didn't work unless I was dressed like I was going to an office. I got all kinds of questions and strange looks when I mentioned having to run to make a conference call after dropping the kids off at pre-school (wearing my uniform of sweats)!
It's not all fun and t-ball games. For every hour I spend hanging out with the kids after school, I know I need to squeeze in at least an hour of work after they go to bed that night.  Well worth it though, and I think we'd be hard pressed to find a parent who would think otherwise.  A virtual option is not just a perk for parents with young kids though – imagine a commuter who gets to reclaim 2-3 hours each and every day by working from a home office? For me, and many others, the infinite opportunities of being virtual are mind-blowing. The benefits for employers can be equally enticing. Building expenses can be reduced if physical expansion is not necessary to add employees and business continuity plans are often enhanced when you have remote staff in place. Retaining top talent becomes much easier when freedom is part of the package (want to move across the country to be closer to family? need to shift your hours a bit to make a field trip? – done and done).
Despite some of the initial thinking I heard on the subject (how will you make sure people actually work if they aren't here? How will people work together if they are physically distant?), I find that the culture of working for results reigns supreme in the virtual world. There is no idle water cooler chit chat, there are no distractions (except the occasional self-made ones), there are no excuses. In fact, some of the hardest working people I've ever met don't work in a traditional office. The biggest con can be that work becomes all-consuming (it's rare I don't work at least some on weekends and I haven't taken a real "vacation" without sneaking in some work in over 3 yrs now).  Building (and maintaining) relationships can be challenging at times as well, but somehow we all seem to be making it work.
So a big high-five to all my virtual colleagues out there and for those of you who have not yet experienced the rise of the virtual worker, now might be a good time to think about how you can start incorporating more flexibility into your own workforce. The tools are all there – video chatting (boo, no more sweats!), virtual desktops, secure connections – now it's just a matter of using them effectively.
Sharon Simpson is a national consultant who specializes in developing strategic marketing plans for CUSOs and credit unions. She has over fifteen years of marketing experience in the financial services industry. She previously served as Vice President of Marketing for Mid-Atlantic Federal Credit Union and as Vice President of Marketing & Administration for Callahan Financial Services, Inc., a subsidiary of Callahan & Associates, Inc., a leading credit union consulting firm based in Washington, DC. Sharon holds a Master of Arts degree in Political Management from The George Washington University and a Bachelor of Arts degree in International Relations from the University of San Diego. Sharon can be contacted at sgsimpsonconsulting@mac.com. www.ongoingoperations.com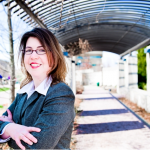 Sharon is a national consultant who specializes in developing strategic marketing plans for CUSOs and credit unions. She has over fifteen years of marketing experience in the financial services industry. ...
Web: www.cumarketingsolutions.com
Details