Transforming member experience: One step closer to our future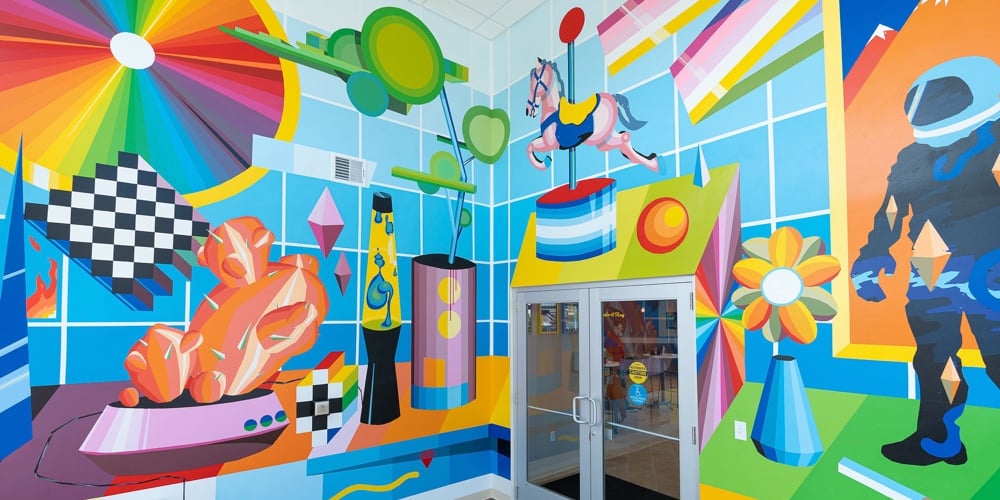 As concert season races toward us, I count the days until my first Dave Matthews Band show of the summer with deep anticipation. As with many things in my life, the planning and preparation add to the enjoyment of the experience. I delight in the reveal of tour dates, mash-up my calendar with my top concert location options, and whimsically decide how I can attend shows where folks will join me and revel in the experience of live music.
Few experiences animate joy in the way a Dave Matthews Band concert can. Chatting about the possibilities of the set list with people passionate about the library of the band's songs always makes for fun pre-concert conversation. From entering the venue, exploring a new or well-remembered space, to the moment when the crowd first sees a glimpse of Dave beginning a confident walk onstage, to hearing his poetry in song, the entire experience brings to life your senses and heightens your emotions.
One of my favorite Dave lyrics is, "To change the world, start with one step. However small, the first step is hardest of all." It makes me reflect on the debate credit union leaders have had over the future of branching since I began my credit union adventure in 1998. Bold headlines across our trade publications foretold the "death of the branch," extolling the need to shape a digital journey and reduce operating expenses.
As I onboarded at Community Financial Credit Union in June 2022, I had the opportunity to visit each branch location in our network, 13 at the time. They were very traditional in approach, with teller lines, office spaces for private conversations, large stations to write on transaction slips, and invitations to join us for coffee.
Our 14th location was nearing the final stages of construction as I arrived. As our leadership team assembled and our chief experience officer, Danielle Milner, talked with me about our approach to this new physical space, we had just crafted our experience manifesto that casts a vision for what engagement with Community Financial Credit Union can be. One of my favorite lines from the manifesto is, "When time has expired at each phase of your journey, as the seconds seep into the next one, what is left behind is a series of experiences created by the ones who were courageous and bold enough to care at all costs."
I asked Danielle what she might do if we were building this new location from the ground up today. We dreamt together. She talked about what you might smell, taste, see, hear, and touch. We couldn't start from the beginning – the walls were in place, the teller line already existed, and the footprint could not be shifted. Instead, we decided that within the confines of what we already had in motion, it was time to try something different and experiment with the branch experience of the future. We could "change the world, starting with one step." Our Playground Branch was born.
Over the course of eight weeks, we brought to life our first experimental digital-first Playground. Using the word "playground" was purposeful as we signaled the jubilant experience and iterative approach to testing new ideas, ways of curating engagement, and, most importantly, creating a member-centric location focused on bringing dreams to life.
Similar to a Dave Matthews Band concert, the experience of the Playground begins with anticipation and curiosity before you enter our doors. The colorful neon landmark sign leads with "Playground," encouraging non-members and curious parents to consider, "What is this place?"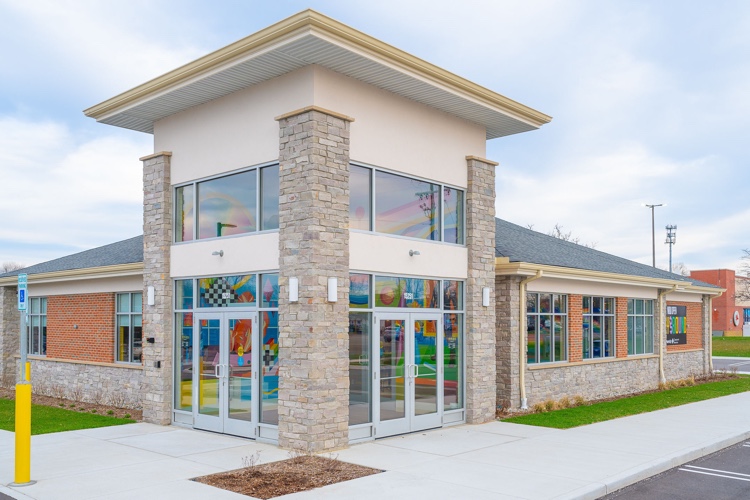 The digital-first experience starts at our welcome mat. As members enter the vestibule, they are met with vivid murals crafted to incorporate Augmented Reality (AR). Instead of a typical "kids' area," the Playground branch hosts a studio for our next generation of members to create video content they can share with family and friends. As an organization responsible for bringing dreams to life, this creation space invites possibilities and uses technology to encourage our younger members to leverage video in new ways. Kids often ask parents, "Can't we stay just a little longer?"
The space engages all senses. The murals continue throughout the walls of the branch. There is a scent that was designed to match the experience we are bringing to life. Members hear joyful music and watch digital content and see a living wall. Our team offers locally curated snacks and beverages. The experience comes to life vibrantly.
A leader within the Playground plays the concierge role as people enter. In the concierge role, we assess the member's needs and create a warm connection with a team member best suited to work alongside our member. Conversations occur throughout the branch, with tablets as the technological conduit to our systems. This brings down the impediment to the connection created by walls and desks. Playful furniture creates the feeling of a living room rather than a financial institution, ensuring we invite members to relax in our space.
I return to see the Dave Matthews Band play annually because of the expansive delight and the emotional connection they nurture with a sea of audience members that lasts well beyond the last tune they play. Our Playground team takes creating that emotional connection seriously. Unlike a concert, at times, that dynamic sharing might be darker as we walk with our members through life's earthquakes like death, divorce, job loss, and more. Walking with people during their most challenging seasons, when others may walk away, makes their work even more imperative. It's much easier to join someone in empathy and sharing in those happy times. It takes a special team to connect when the times are tougher.
As humans, we are unified in our quest for more time. That makes the commitment of time our members make when they come to a branch even more precious. Our Playground location is just the beginning of an exploration of how we create experiences that connect us deeply with our members and communities. We will change and shift as we learn and grow. The strategy demands a complex approach. For us, the answer to the future of a branch is about embracing the messiness of the human experience. It's human first, fueled by technology, amplified by beauty, and leaves you wanting more. While it might not be quite the same as a Dave Matthews Band concert, we believe our members will be planning their next trip to see us with unmatched exuberance. What's your first step toward positive change this week?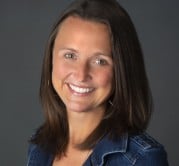 "No" is not a word in Tansley's vocabulary. If there is an opportunity to bolster Community Financial Credit Union and the industry at large, Tansley will jump on board ...
Web: https://www.cfcu.org
Details