View From the Board: Happy 60th birthday, DCUC!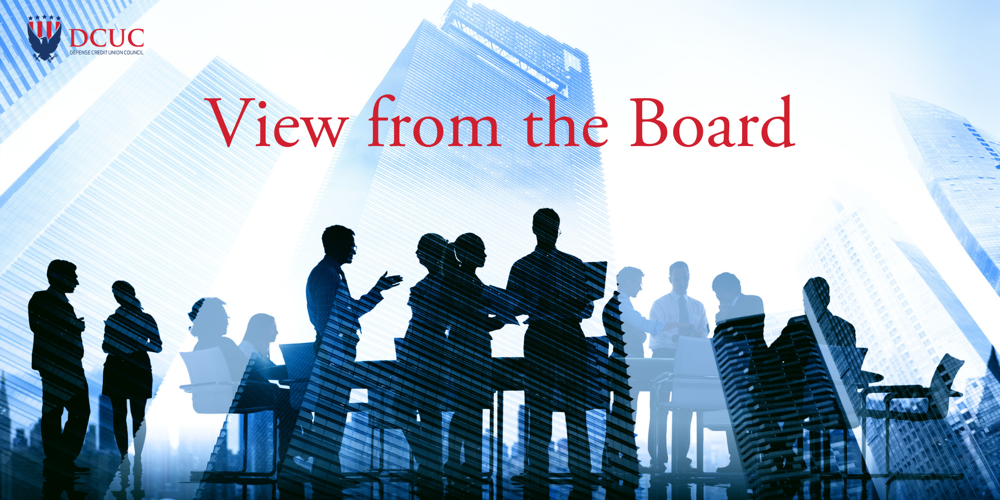 As we read in last month's ALERT, the Defense Credit Union Council (DCUC) was created under the Credit Union National Association (CUNA) in 1963 with 87 credit unions serving 1,327,690 members with $535,218,708 in assets. Early on, Frontwave CU recognized the value of an advocate for military credit unions and joined DCUC in 1966, adding its 15,853 members and $5.7 million in assets. Over the years both organizations have grown. DCUC now has 184 member credit unions that serve over 33 million members with a combined $480 billion in assets, and Frontwave now serves 122,555 members with $1.4 billion in assets.
Advocacy was the reason Frontwave joined DCUC, and advocacy has always been the tip of the spear for DCUC! Throughout six decades of service to member credit unions, DCUC has aggressively tackled a myriad of regulatory, legislative, and policy challenges. Maybe it's just me but, it feels like the volume of challenges is escalating at an alarming pace and they are coming at us from virtually everywhere! It's like a "Whack a Mole" game. You whack the FMV mole and up pops moles for ODP, MLA, and interchange…Whack! Whack! Whack! If that's not hard enough…sometimes, you have to whack the same mole multiple times!
Around this same time last year, I wrote a "View from the Board" article about the tremendously effective work DCUC had done several years prior to garnering Department of Defense (DoD) support for in-kind consideration and, ultimately, no-cost land leases on military installations. Whacked that mole!
Just a few months after I penned that article, Frontwave was working on a new land lease for a branch location on board Camp Pendleton. Frontwave was informed we would be required to pay Fair Market Value for all new and renewing land leases on the four installations we serve. What?! Thought that mole was whacked! Same mole, different hole!
continue reading »