Want to offset the "threat" of fintechs? Invest in people and process
Fintechs are on the rise – and it's easy to feel threatened by their growth in the industry. Traditional financial institutions should be devoting resources to consider fintech's impact on the industry and how best to identify and maximize the differentiators that set them apart. Successfully offsetting both the perceived and real threat of fintech will take significant self-reflection into the "what" and "why" of your credit union and may stretch you outside of your comfort zone – but trust me, it will be worth it.
Threat vs. Opportunity
Perhaps one of the best places to start is by unpacking the perceived threat of fintechs. Many in the traditional banking industry feel that fintechs are "coming for our members." Is that true? Or, are fintechs just doing a better job of giving consumers what they want in simple, easy-to-navigate ways? Sure, that might be threatening to the way you do business, but perhaps instead of viewing it as a threat, use it as fuel; consider the positive ways fintechs are revolutionizing the industry and, where possible, follow suit.
To be clear, I am not saying abandon everything your credit union was built upon – tradition, longevity, and history are important – and they're what got you here. Rather, I am saying take and learn from the good of fintech – the ease and speed of access, for example – and work to ensure that is not a reason a current or potential member choses a fintech's offerings over yours.
Conversely (and key), double down on what a fintech can't replicate: relationships. Traditionally, the banking industry has leaned into transactions as the driver of the business, and in turn, the branch. However, recent consumer preferences and practices have revealed that while transactions are important, they will never be the primary driver of the branch, because relationships are not built through transactions, and relationships create longtime, loyal members. When credit unions make serving people, versus selling services, their primary goal – fintechs don't stand a chance.
Real-Life Application
But, if truly serving people were easy, everyone would already be doing it. It takes devoted staff time and resources, and this is where technology can make all the difference. Not to replace individualized, personalized interactions, but to create efficiencies that bolster staff bandwidth for relationship-building beyond the transaction. Determining the highest and best use of your team's time makes the difference.
What are your team members currently spending time on that could be accomplished more efficiently through an investment in new, different or even fintech-driven tools and technologies? Are there elements of the transaction that could be automated? Would an investment in software, platforms or web-based tools allow your staff to be more present for members' in-branch experiences?
As just one example, Integrated Teller Machines (ITMs) can be a great way to maximize staff resources and drive efficiency. ITMs can be staffed virtually by off-site tellers, resulting in operational efficiency.
Recently, La Macchia Group completed construction of two new, ITM-only branches for Eglin Federal Credit Union. These ITM-only branches are designed to serve the transactional needs of members (taking a page out of the fintech playbook). Coupled with the credit union's extensive, more traditional branch network, members are given the option to bank how, when, and where they feel most comfortable. Perhaps a payment or a withdrawal occurs via an ITM, but a conversation about loans and / or investment strategies happens in a traditional branch, under the guidance of an on-the-ground team member who lives and is invested in the community.
The key to credit union's success in 2022 and beyond will be adaptability, embracing the "fintech mindset" where it makes sense for their members, to aid efficiency and create frictionless transactional experiences, while also making investments into the people who build relationships that turn transactions into long term, loyal members. It starts with a thorough understanding of and willingness to invest in the who, what and why that is unique to your brand identity, capitalizing on the opportunity to highlight and celebrate what makes you "you", while simultaneously evolving how you determine and deliver against your consumers' needs.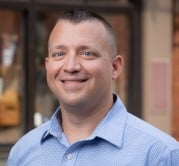 As the Director of Retail Strategies for La Macchia Group, Tim Klatt brings over 15 years of experience in geographical market analysis, strategy development and large scale retail deployments for ...
Web: www.lamacchiagroup.com
Details