What does President Biden have to do with the Foundation's DE program?
It's a new year, a fresh start and we're looking forward to celebrating our 39th year of offering the Credit Union Development Education (DE) Program! We also look back with gratitude for the people who have made the DE Program possible over the years. This includes our supporters, former program directors, mentors, participants and of course … President Joseph Biden. 
Wait, what? It's true! Nearly 40 years ago as a US Senator, President Biden created the funding that helped to jumpstart the Foundation's DE Program.
The DE Program began in 1982 with a grant to the CUNA Foundation, now known as the National Credit Union Foundation, from the U.S. Agency for International Development (U.S. A.I.D.). At the time, Senators Biden and Pell sponsored legislation which allocated $1 million annually to be used by private voluntary organizations in the U.S. to fund programs. These programs were intended to educate the public about major development issues related to hunger and economic development, primarily in developing countries.
Eighty-eight programs received funding through the initial Biden-Pell sponsored grants and the Foundation's DE Program is the only program that is still in existence. To date, more than 2,100 credit union professionals from more than 35 countries have graduated the DE Program. Former participants have also taken the DE Program internationally and created independently run DE Programs in Africa (Africa DE), Asia (Asia DE and Philippines DE), North America (Canada DE and Caribbean DE/CaribDE), and Europe (DEEU) and we estimate there are more than 4,200 DEs worldwide.
The purpose of the DE Program has remained constant over the years as its look and feel have evolved. We prioritize the teaching of development issues and how these issues impact the financial well-being of our members and communities. We also explore how we can solve these issues by leveraging our cooperative business model and practicing empathy in financial services.
When I participated in the DE Program in 2009, it showed me that the credit union movement was filled with smart caring people who were able to achieve great things by cooperating in the spirit of serving others. Like credit unions, the DE Program should not be a "best kept secret". So our team at the Foundation continues to take elements from DE and share our lessons in new ways to support credit unions and reach new audiences. I'd encourage you to check out our workshops and online learning if you're interested in exploring the "why" of your credit union and let us know how we can help.
As we look back proudly on the history of the DE Program, we thank not only President Biden but the many, many people who have breathed life into the program and helped it thrive throughout the years. Your support has ensured that the noble purpose and cooperative spirit of credit unions will live on through those who earn their CUDE Designation.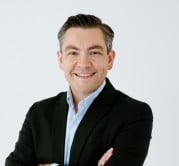 Chad is the Chief Impact Officer at the National Credit Union Foundation.
Web: www.ncuf.coop
Details