What you need to know about cryptocurrency and intergenerational wealth transfers
Over the next few decades, more than $30 trillion in wealth will shift from the baby boomer generation to younger generations through inheritances. Another notable trend is that an increasing number of millennials and Gen Z are investing in cryptocurrency. For credit unions, this could pose a serious challenge, as funds flowing from the US's biggest and wealthiest generation could end up in digital assets. 
To put this into context, based on a recent survey, 54% of millennials and 56% of Gen Z adults said that they're including cryptocurrencies as part of their retirement and investment strategies.
This signals a significant shift towards cryptocurrency and there are several reasons why: 
Young people have a lot more time before they need to retire, so they can take risks with alternative investments. This means, they are far more willing to risk some of their portfolios on cryptocurrencies, which are known to be more volatile and carry more risk.
Another reason is that most in the younger generation believe that they can become wealthy when investing in cryptocurrencies. In fact, according to Engine Insights, 59% of Gen Z and 46% of millennials believe that investing in cryptocurrencies can make them millionaires. 
Lastly, the younger generation is entirely online and mobile. This lends itself well to cryptocurrency, which is native to the web and one can transact entirely on mobile.
Combined, this makes younger generations more comfortable investing in cryptocurrencies and other digital assets. It's no surprise that 94% of people who own crypto assets are millennials and Gen Z'ers, according to this study by Stilt.
How to Prepare For the Shift
Considering the above, it's clear that credit unions need to rethink their strategies to cater to the shift of wealth from older generations to younger ones and into crypto assets. Here are some strategies that might be helpful when doing this. 
These are some starting points and there are a suite of other options to consider for each credit union's member demands.
Integrate Crypto Related Products
More than 60% of Americans are interested in buying cryptocurrency, but don't know how. Many credit unions are also seeing funds flowing from their accounts to crypto exchanges, while member demand for cryptocurrency grows. Credit unions are in a unique position to increase value to their members by providing access to cryptocurrency. Under both retail and business service, credit unions can offer a mix of investing, crypto-based rewards, crypto-based lending and crypto retirement products.
In light of the recent NCUA guidance, credit unions can partner with third parties to offer crypto services. As such, they can form the right strategic partnerships to expand their offering and align it with the needs and expectations of younger generations.
Drive Education & Engagement
Another vital strategy for credit unions is to educate themselves and their members about cryptocurrencies, related technologies, and the regulatory landscape around cryptocurrencies.  Doing this will help credit unions increase member engagement, literacy around a new asset class, and stay abreast of a constantly evolving space. 
Another benefit of education is that it will help credit unions understand what products they can offer, and what their members' needs and expectations are. It will also help them identify possible third parties they can partner with to expand their offerings. This, in turn, will allow them to develop strategies to serve their members and take advantage of opportunities when they arise.
Increase Non-Interest Revenue

Credit unions should consider non-interest revenue opportunities for example: through trading transaction fees, earning yield on excess cash deposits or participating in alternative income options, such as staking. Crypto enables new business models and products for the credit union industry, which can be lucrative in the long term.
The Bottom Line
The increasing shift of wealth from older generations to their younger heirs signals that credit unions are poised for a new era. The successful credit union of the future will offer cryptocurrency related products and services in line with their member demands.
In order to accomplish this, credit unions will need to learn and adapt to this technology shift toward offering cryptocurrencies. That's where Avenir comes in. We're building simple and automated access to crypto for credit unions and their members. Avenir is the bridge from current financial systems to blockchain native tools.
We will be hosting a roundtable on Apr 19, 2022 at 10am PST to provide context on this paradigm shift and how to integrate crypto in your credit union's business model. This is the perfect opportunity to ask any questions about crypto to Gaspar (my co-founder) and I. If you're interested, please sign up here and we'll share the zoom details with you.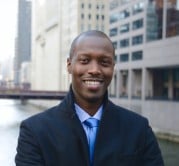 Paulin is the founder of Avenir, which builds technology that lets credit unions and banks offer crypto services to their members and customers. Paulin previously worked at Meta and brings ...
Web: https://avenirapp.co
Details