Why do Young People Still View Credit Unions as a Place for Older Folks?
Maybe it's because we're not connecting with them…
By: Sharon Simpson, SGS Consulting
There are likely many reasons that surveys continue to show a lack of understanding and appeal in the overall industry's attempt to win over Gen Yers. I think one very clear reason is that marketing alone is not enough – just calling something a "Next Gen" checking account and putting out a cooler looking web page is not going to make a teenager move their money or get excited about credit unions.  And educational content (even made to look more fun) is only going to go so far.
What Gen Yers need (besides great products with great rates that they can qualify for with a limited credit history) are tools that let them do what they want to do most – connect. What does Facebook do so well? It lets you "connect with the people in your life" and control who those people are and how much you show them. What about new technologies like mobile banking? You can text to find out your balance or login to a mobile version of traditional online banking – keeping you and your money connected 24/7.
Young people want to connect – when they want, how they want and wherever they want. If more credit unions provide the tools that allow that to happen, then maybe the idea that credit unions are just for "older folks" will vanish or at least fall out of vogue like MySpace.  But how does a young person want to connect with a CU? How do they want to connect with their money?
Well in addition to being part of the digital generation, young people today have been impacted by the Great Recession. Saving is cool again. Credit cards and loads of debt, not so much… That's why new tools are evolving like Piggybanc.com, which lets credit unions offer a co-branded version of a social savings network.  Young members can personalize a profile page with photos and their savings goals and invite the "givers" in their lives to participate. Using the secure infrastructure of FSCC, "givers" with accounts at any financial institution can make deposits directly into the "savers" insured account at any participating credit union. Grandparents, aunts, uncles, and family friends can help young people reach their unique savings milestones faster and become more engaged with the "savers" they are trying to connect with. Some teens are even using the tool to accept credit card payments for odd jobs like babysitting. Pretty cool stuff and not the same as another "Next Gen" checking pitch.
So give them what they want – real tools to connect – instead of another marketing campaign re-positioning the same old product line.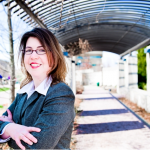 Sharon is a national consultant who specializes in developing strategic marketing plans for CUSOs and credit unions. She has over fifteen years of marketing experience in the financial services industry. ...
Web: www.cumarketingsolutions.com
Details