Year of regulatory relief yields real results
A year ago, I presented an ambitious agenda for regulatory relief. With the good news that credit unions' performance metrics had returned to pre-financial crisis levels, NCUA moved to modernize many regulations to provide credit union executives and boards greater discretion.
A year later, I am pleased to report that 2015 was, in fact, a year of regulatory relief. Here's what we did:
Eliminated Fixed Assets Cap
The NCUA Board eliminated federal credit unions' 5 percent cap on fixed assets. In the process, we removed the need to apply to NCUA Regional Offices for waivers of fixed asset purchases. Federal credit unions are now empowered to make their own business decisions about purchasing land, buildings, office equipment, and technology.
Pre-Approved Associations
A majority of the NCUA Board voted to pre-approve 12 categories of associations for federal credit unions' fields of membership:
Alumni associations;
Athletic booster clubs;
Chamber of Commerce groups;
Electric cooperatives;
Ethnic organizations;
Fraternal organizations;
Homeowners' associations;
Labor unions;
Occupational organizations;
Parent-teacher associations;
Religious organizations; and
Scouting groups.
Federal credit unions can now apply to add any of these 12 categories of associations automatically. In addition, federal credit unions can still apply to add any other associations manually.
Resolved Consumer Complaints
NCUA's Office of Consumer Protection changed the agency's approach to handling complaints received from federal credit union members. Federal credit unions now have 60 days to resolve each issue with their members before NCUA decides whether or not to independently investigate the complaint.
Enhanced Attractiveness of Secondary Capital
For low-income credit unions, we enhanced attractiveness of secondary capital with a more flexible policy for investors. Investors can now call for early redemption of portions of secondary capital that low-income credit unions no longer need.
Extended Regulatory Flexibility
A majority of the NCUA Board also voted to raise the asset threshold for small credit unions to $100 million. This means three of every four credit unions are eligible for regulatory flexibility consideration in future rulemakings.
2016—A New Year of Regulatory Relief
Our ambitious agenda carries on in 2016. During the first half of this year, we'll be working diligently to finalize two of our most significant regulatory relief proposals from 2015.
Removing Business Lending Limits
In 2015, the NCUA Board proposed removing non-statutory limits on member business lending. The proposed rule is designed to:
Empower credit unions to write their own business loan policies and set their own limits under the law;
Eliminate the personal guarantee requirement and the need for regulatory waivers; and
Remove unnecessary barriers on business loan participations which help credit unions diversify risks.
We're planning to finalize our new member business lending rule early this year. Then instead of adhering to prescriptive regulatory limits, NCUA will issue guidance on sound commercial lending principles.
Expanding Fields of Membership
We've already received nearly 2,000 comments on the NCUA Board's comprehensive proposal to expand field of membership options for community charters and occupational charters. Among other improvements, the proposed rule would:
Designate each Congressional District as a well-defined local community;
Include Combined Statistical Areas with populations up to 2.5 million;
Raise potential membership to 1 million for federal credit unions in rural areas;
Extend membership eligibility to honorary discharged veterans, contractors, and businesses in industrial parks;
Recognize full-service websites and electronic applications as service facilities for select employee groups; and
Modernize the definition of "underserved area."
The proposed field of membership rule is open for comments through Feb. 8.
Supplemental Capital
For complex credit unions without a low-income designation, we intend to propose a rule that would authorize supplemental capital to count toward risk-based capital in 2019.
More Relief in Store
In addition, through March 22, ten safety and soundness rules and five procedural rules are also still open for comments.
Some of our best ideas for regulatory relief have come directly from credit union officials, volunteers and stakeholders. So as we begin this new year of regulatory relief, I look forward to receiving more of your suggestions.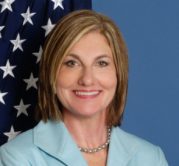 Debbie Matz was nominated by President Barack Obama to serve as the eighth board chair of the National Credit Union Administration (NCUA). After confirmation by the U.S. Senate on ...
Web: www.ncua.gov
Details