What to do if you're Pinterested in the perfect gifts this Christmas
Christmas is a time for giving and for showing your loved ones what they mean to you. It isn't about how much you spend or if you give (or receive) the latest gadget on the market. Before things get too hectic, spend some time thinking of thoughtful presents you can surprise your family or friends with this holiday season.
A great source for ideas and inspiration for handmade gifts is Pinterest, a visual bookmarking tool that currently has over 70 million active monthly users. When exploring the site's over 50 billion "pins" (or bookmarks) it can be very easy to spend hours falling deep into a bottomless rabbit hole. Before this happens to you, consider the following ideas and tips for best using the site, and you will be on your way to creating and giving unforgettable custom-made Christmas gifts.
Get started: Create a Pinterest account and decide whether you want to link it to your other social media accounts. If you do, you will be able to more easily find friends and family members so you can share your pins with them and access theirs as well.
Create "boards": Make a board for each person you wish to give a gift to, including friends, family, and other individuals in your life that you appreciate (such as your supervisor, your mail carrier, pet sitter, etc). That way, when you find ideas on the site, you can pin images directly to that board and keep everything well organized.
Make Pinterest purchases: If it turns out you aren't as handy as you thought and you decide to purchase a gift instead of making it yourself, Pinterest now offers the option to purchase certain pins. When you come across a pin that is blue that means it is buyable. Pinterest will send you directly to the retailer or vendor without taking any percentage of the purchase price. Look at this as a portable shopping bag, so although you have the best intention of tapping into your crafty side, if it doesn't work out, at least you've found something you can buy that you know your loved one will appreciate.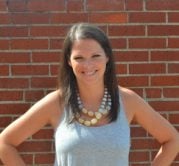 Wendy Moody is a Senior Editor with CUInsight.com. Wendy works with the editorial team to help edit the content including current news, press releases, jobs and events. She keeps ...
Web: www.cuinsight.com
Details