100 thank you's and what I've learned
"In life, it's not where you go, it's who you travel with." - Charles Schulz
It's hard to believe that we are 100 episodes into The CUInsight Experience. The idea was simple; try to replicate (and record) the conversations I've had with thought leaders from around the credit union movement over the years and share them with all of you. It's a great opportunity to pick their brains and see if there are a few nuggets we can all learn from. 
At the end of the 100th episode Jim Nussle asked me what I've taken away from these conversations. He put me on the spot and I've been thinking about it ever since. Here are my biggest life lessons from the past two years:
Listen – This was the first thing that came to mind when Jim asked me the question. Almost every guest on the show talked about being a good listener or struggling to become a better listener. 
Trust – Many leaders on the show consider themselves "Type A" personalities. They advanced in their careers by doing the work. Countless people talked about how they had to learn to delegate and trust their team once they were in a position of leadership. You don't accomplish great things alone.
Share – One of the things I love most about the credit union movement is the willingness to share. Guest after guest spoke of the mentors and networks who helped them along the way. Many spoke of the importance at this point of their careers to give back to the next generation of leaders, their community, and the credit union system at home and abroad. 
Passion – Love what you do. And if you don't, find something else to do. In every episode you can hear the passion in their voices. They love what they do and being a part of this credit union community. Most of us have no idea how we got here, but are grateful we did and can't imagine working in another industry. People helping people is more than a catchy phrase with this group.
Do – By putting people over profits, credit unions have the ability to change the world. I hear Jill's and other guests' words ringing in my ears. We have the ability to increase the financial capacity of our members and communities. We can live and share the cooperative principles that we are built on. We can create a more just and inclusive financial services experience and society. We can do good by doing what we do best.
I'd like to end by thanking the amazing humans who were willing to come on the podcast and share their experiences with all of us. They were willing to be open, honest, and vulnerable at times so that we could learn from them. I would also like to thank all of you, our loyal listeners. Without you, I wouldn't get to have this much fun doing what I do.
To steal a quote from Brian Schools (episode #88) "be well and be kind." We have one wrap-up episode to go for 2020 and then we'll be back with new questions, more great guests, and new experiences for 2021.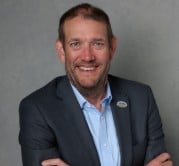 Randall Smith is the co-founder of CUInsight.com, the host of The CUInsight Experience podcast, and a bit of a wanderlust. As one of the co-founders of CUInsight.com he ...
Web: www.CUInsight.com
Details