3 steps your credit union can take to advance financial well-being for people with disabilities
The credit union system has been talking about diversity, equity, and inclusion as a shared credit union principle. For example, the Credit Union National Association (CUNA) is looking to work with the International Co-operative Alliance to explore the possibility of an eighth cooperative principle focused on diversity, equity, and inclusion. As system professionals continue to learn more about how these issues impact employees and members alike, it is increasingly essential to share how the credit union community has started rallying around disability inclusion. Here are three areas your credit union can focus on to participate in this important work.
Provide information about ABLE accounts to your membership.
ABLE accounts are tax-advantaged savings accounts for individuals with disabilities. Income earned by the accounts is not taxed and can be used for qualified expenses such as education, housing, transportation, and job training.
Over the last few months, credit union organizations have been helping spread the word about ABLE accounts. In April, you may have read one of several articles from the National Credit Union Foundation that shared how to improve the financial health of individuals and included information about ABLE accounts. CUNA Mutual Group has alerted CUNA Brokerage Services, Inc. financial advisors, so they may provide information about ABLE Accounts to credit union members who may benefit. How could your credit union share information about this important resource?
Ensure existing financial education programs are accessible and include information for people with disabilities.
According to the National Disability Institute, one-fifth of households headed by a person with a disability were unbanked and one-fourth were underbanked. People with disabilities are more likely to use alternative financial services like payday loans and are less likely to have a savings account than people without disabilities.
The financial services industry has a poor record in reaching people with disabilities in a meaningful way, and credit unions are positioned to excel in this space. Financial education programs can provide specific information to people with disabilities – from ABLE accounts to assistive technology loans – to better meet the unique needs of people with disabilities and potentially enable them to gain employment, independence, and financial security.
Do people with disabilities feel they are being served by your financial education programs? With an estimated 61 million people living with a disability in the U.S., your financial education efforts may be missing an important membership segment if they are not accessible or do not address the needs of people with disabilities.
Hire people with disabilities and build an inclusive workplace.
According to a report commissioned by the American Association of People with Disabilities and Disability:IN, only 29 percent of Americans of working age with disabilities participated in the workforce, compared with 75 percent of Americans without a disability. Even employed people with disabilities often face obstacles to working at their full potential. An organization's lack of understanding about accommodation, unconscious bias, or even outright discrimination can prevent employees from being hired, promoted to leadership positions, or being given an equal opportunity to succeed.
While hiring people with disabilities obviously has a positive impact on such individuals,  it also can help you identify and maintain focus on the needs of people with disabilities. Beyond that, research shows that organizations are more successful in general if they succeed in workplace inclusion for people with disabilities.
Co-Authored by Alyssa Ryanjoy, Implementation Operations Manager, CUNA Mutual Group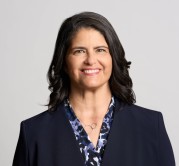 Gigi Hyland serves as the Executive Director for the National Credit Union Foundation (NCUF), the philanthropic and social responsibility leader of America's credit union movement. Prior to her work with ...
Web: www.ncuf.coop
Details