5 lessons from grandma Lizzie: Keeping aligned across your branch network
I'm very lucky that I have a close relationship with my mom. She's humble, funny, genuine and she is a remarkable grandmother. She lives in Michigan and our family now lives in Colorado. Regardless of the distance, she comes to see us about every 30 days. It means the world to my daughter. They have a very close relationship and it is a blast to watch. Of course, the downside to that great relationship is that it breaks my daughter's heart when grandma Lizzie heads home. Recently, on the Sunday after Thanksgiving after my mom headed back to Michigan, I tucked my daughter in bed. She seemed okay. I read her a story and I quickly thereafter was also tucking myself in bed. I shut off the lights, and was a bit startled when she came into my bedroom. She stood very close to my face in the dark crying, "I miss grandma Lizzie." They say that distance makes the heart grow fonder. That may be true, but distance challenges us as social creatures.
At Canvas, part of our vision is "to be known for our people." We strive to hire the best talent available; we work hard to create a strong new employee experience; we invest in training; and yet, especially for our branch family members at our 26 locations from Denver to Fort Collins, the distance can be felt. Bridging that distance matters. According to LinkedIn's 2018 workplace study, "70% of professionals in the U.S. today would not work at a leading company if it meant they had to tolerate a bad workplace culture. So much so, that people would rather put up with lower pay (65%) and forego a fancy title (26%) than deal with a bad workplace environment."
Keeping culture alive across our branch network matters deeply, yet, maintaining and growing strong connections across the miles tests us. It is also not a new challenge. As long as we've had branches, credit unions of all sizes and distances have had to work to find ways to keep culture across the network and to keep people feeling close, no matter the distance. No doubt it is hard, but it is not impossible. As she has for my entire life, Grandma Lizzie's behavior has helped model how we as credit unions can better stay connected.
1. Try Something Every Single Day. My mom is really good at finding ways to stay connected to both me and my daughter on a daily basis. For example, she buys MacKenzie books that she also has and will read a chapter to her once a day via FaceTime. She also learns MacKenzie's schedule and will text her to ask about activities that she knows that she has. As credit unions, we can do the same thing. What are the routines of each branch that we can learn more about and reach out to engage in? Maybe a rotation could be created for a person at the main office to be responsible to focus on outreach for each branch over the course of six months? Rotating new people to assist could create an even broader network across the organization over time.
2. Share Passion. My mom shows enthusiasm for the things MacKenzie cares about. If MacKenzie is really passionate about Pokémon or singing or Minecraft, my mom shows interest in those things and asks MacKenzie about those interests. They might not always be the things she cares most deeply about, but she listens and learns. What are the things that energize the teams at your branches? Ask about those passions and find ways to connect to those passions. Even if team members within one branch don't share those same passions, the act of learning will create lasting connections and provide unique insights.
3. Empathize. Despite the fact that most adults would love to be eight again to have a simpler life, there are times when life seems very hard to MacKenzie. My mom always empathizes with her. She meets MacKenzie where she is in life. Life at the branch can be hard. Our frontline team members are the face of the brand to our members. As a result, they hear the bad and the ugly when our members are frustrated. Hear those frustrations. Be a sounding board. Allow a moment or two of venting.
4. Visit Often. My mom starts planning her next visit to Colorado before her current visit ends. It gives MacKenzie something to look forward to and it makes the transition to Grandma heading home easier. Make sure the branch team knows that people will be coming to visit often. Integrate something special with those visits that is unique to that branch and that visit. Many times, branch team members perceive that life is easier or more fun at the main office. Create joy and fun that starts to shift that perception.
5. Use Technology. My mom keeps FaceTime at the ready. MacKenzie has a smart watch that allows her to send messages and talk to her loved ones. This week they planned specific times when they'll talk. While it's not the same as being together in person, the technology helps lots. At my first credit union, we had offices in Michigan, Illinois and Minnesota. The distance felt extreme. At that time video conferencing was not the norm, but we leveraged it every week to keep our team feeling closer during meetings. Seeing the interaction on both sides helped. Today the technology is even better and less expensive. At Canvas, we create weekly videos featuring different people across our family. We focus not only on business efforts, but also the personal details that make our team unique. Invite your branch team members to share their ideas about how they'd like to use technology to stay even more connected.
Even in this day of technological advances, our members still want to have in-person connections. Our branches play that critical role; they ensure engagement that grows loyalty and deepens relationships. Our efforts to keep our team members feeling closer to our organizations ensure that our branches can be even more successful. Keeping and growing our connections never ends. When you see the closeness that your team members feel, just as I see the closeness that my daughter feels to my mom, you'll know that every effort is well worth it.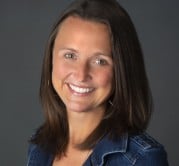 "No" is not a word in Tansley's vocabulary. If there is an opportunity to bolster Community Financial Credit Union and the industry at large, Tansley will jump on board ...
Web: https://www.cfcu.org
Details