5 reasons to move past mere marketing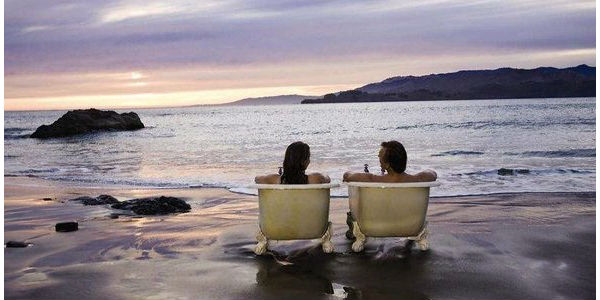 As our laughter at what Phil Dunphy just said settles down into a chuckle, the screen goes black momentarily and then the commercial begins.
Warm, soothing music. Lovely people lounging on a beige couch in a sunshine-drenched white room laughing in silent slow motion about something.
At this point, we're not sure if this is a financial institution commercial or a Cialis commercial. We haven't seen side-by-side tubs yet, so we're banking on it being a financial institution commercial. Our suspicions are confirmed when we here someone telling us, in their very best TV commercial voice, that Such-and-Such Bank has low rates and great service.
Pan back to smiling people. Superimpose logo. Fade to black.
Bing's online dictionary tells us that marketing is defined as the business activity of presenting products or services in such a way as to make them desirable. I know, I know, some of you prefer more highbrow sources for your definitions. Just for you, I'll include Merriam-Webster's definition, which, in (not) shocking news, you'll find is strikingly similar to Bing's. The fine folks at Merriam-Webster tell us that marketing is the process or technique of promoting, selling, and distributing a product or service.
Essentially, that's what I'd call mere marketing. It's marketing that's divorced from any human or meaningful context. It's just…marketing stuff.
Financial institutions are notorious for mere marketing, but do we really want our marketing efforts to just blend into the media milieu?
There are at least a few reasons we need to move past mere marketing:
1. Mere marketing tends to be largely focused on products and/or services.
The problem with this is at least two-fold: (1) It presupposes that products and services are the primary reason people do business where they do, and (2) it tends to exclude the very real human and emotional elements of people connecting with an organization's identity.
2. Mere marketing can dehumanize a brand.
We can know in our heads and believe in our hearts that the reason we're marketing a particular thing is because it's potentially helpful to our members, but us knowing that doesn't necessarily mean that our marketing efforts will reflect that people-centric philosophy. More often than not, if we sell the product without putting it within its human context, folks will start to believe that your main goal is, well, selling them something rather than helping them meet a very human need.
Quick aside: Just having humans in a commercial is not synonymous with humanizing a brand.
3. Mere marketing often isolates products and services from an organization's culture and identity.
For example, most of us say we don't want to cater to rate shoppers, because we know what an exercise in futility that is. There's always going to be someone with lower rates. What we need to do is use marketing as a vehicle to communicate more about our organization's brand, culture, and identity. It's that sort of thing that can form an actual emotional bond with our members.
4. Mere marketing actually trains people to shop in ways that are counterproductive.
Think about it. To stay with our example, if you're incessantly marketing to your rates, won't that encourage people to start comparing yours to everyone else's? And how often is yours really that much better than everyone else's? We're almost unwittingly teaching people that rates (or checking accounts, or whatever) are the primary thing that makes us or any other financial institution different, and if folks buy into that, you can be assured they're going to jump ship when they see a better rate elsewhere. I'm not saying we don't ever market our rates; I'm just saying that can't be it.
5. Mere marketing is often really, really boring.
Think about the last rate-based commercial you saw.
Hard to remember, isn't it?
So here's the thing. Don't misunderstand me here. I'm not saying marketing is dead. Heck, I'm the exec over marketing here at Mazuma, and we've invested a ton of time and energy in our upcoming marketing strategy and rebrand (if I gave you more details, I'd have to kill you). What I am saying is that we need to regularly revisit our marketing paradigm so that our work can evolve into something far more than mere marketing.
Matt Monge is a speaker, consultant, blogger, mental health advocate, and the founder of The Mojo Company. His mission? Simple. He's on a crusade to make the world a better ...
Web: www.themojocompany.com
Details