6 ways to better leverage your credit union branch locations
Over the last few years a lot has changed in the Credit Union world, but one thing has stayed fairly consistent… Declining branch traffic. According to a recent article by the Financial Brand, "consumer visits to retail bank branches are set to drop 36% between 2017 and 2022!"
So, does this mean it's time to stop building branches? Well, not so fast!
According to another recent 2017 study by TimeTrade, "Despite the convenience of online banking, personalized service at the branch is what wins and retains customers." And Business Insider reports that as of December of 2016, 61% of bank users had visited a branch in the last month.
And I DO believe in the value of face-to-face interactions with credit union members, which is why it's essential to use all the tricks of the trade to continue to position your brick and mortar branch locations for more traffic and new business. So, here's 5 ways to maximize traffic to your Local Credit Union branch locations:
Make Sure Your Local Website Listings are Updated:
Visit local sites such as Yahoo, Google my Business, Bing, Yelp and FourSquare and search each of your CU branch addresses. Then you'll need to create an account on these sites and claim your branch locations and update any details that might be inaccurate.  
This process can be time-consuming and difficult as often local websites focusing on small businesses allow users to tag themselves when they are at the location. Sometimes this will generate incorrect addresses and entries, so you'll need to fix those as well.
We help credit unions with this by using a tool that updates them all at once… so a tool like that is always an option to help make the process more efficient and accurate. If you're wondering how your branches are currently listed you can test them on our website.
Make Sure Your Credit Union Website has Content Updated Regularly
One of the factors in Google search results is the "Recency of Content Updates," which just means that Google favors websites with content that has been recently updated.
We recommend that clients add new content at least 1-2 times per week, so if this is possible we recommend that your credit union should make this a goal. Content should be high quality and have a designated keyword, and all on-page SEO MUST be completed.
Content posting tools such as HubSpot or the plug-in Yoast SEO for WordPress are very helpful to quickly optimize content as you post it. These can make the process both much more efficient.
Highlight Your Brick and Mortar Locations to Better Compete with Online Lenders
Online lenders have one major disadvantage when it comes to search results. Google search actually provides a natural organic boost for businesses with brick and mortar locations, because when they show results they include locations found within a close proximity to the user performing that search, and these locations are displayed on a map.
So, if your credit union website can better highlight these branch locations online you may have an advantage over other larger national lenders, if these locations are not as close by as your CU branches.
One way to continually optimize your locations via local listings is to run local awareness ads on social media. You can actually set up ads that are shown to users ONLY when they are close by your chosen target branch location. This can help drive more website traffic based on local search, which will, in turn, highlight these brick and mortar locations in future searches online.
It's kind of confusing, but believe it or not the more local searches that are clicked on the more your locations will show up in future searches.
Remove any Duplicate Listings on Local Search Websites
When you are maintaining your local listings on all of the various local search sites such as Google, Yelp, Waze, FourSquare and others, you will need to be especially aware of the potential for duplicate listings to pop up.
Often when people go online and attempt to post a review or check in at a local location, they might misspell an address or type it in slightly differently than your official listing. These slight variations will generate a totally new local listing, or what is termed a 'duplicate listing.'
If you find these duplicates make sure you remove them asap or combine them with your other official branch listing so that the details are accurate and are not considered duplicates by search engines. This will help boost future organic search results for your local credit union branch locations.
Run Mobile-Only Search Ads via Google Ad Words
If you are considering ways to boost local search results it's always important to run search ads for at least part of the time period when you'd like to see improved search results. As more traffic clicks through via local paid search results you will see organic (un-paid) traffic increase as well.
In addition, we've also seen some good results with mobile-only placements for search ads. This can be especially useful with small decision types of searches like 'find an ATM' or 'cash a check.' Searches like these are more apt to result in someone searching from their mobile phone, so they would be a good way to drive local traffic at what would likely be a much lower cost per click.
Ask Members to Post Reviews on Local Listing Websites
Encourage branch staff to ask members to post reviews online. Sites such as Facebook, Yelp and Google, among many others, offer review functions that over time will positively impact search results for individual branches and for your credit union as a whole.
You might even consider some kind of review contest, where if members put in an online review they would be entered to win a larger prize of some kind.
Local search marketing and online search and social media paid ads are extremely complicated, but we are here to help.
For more information – read our blog about How Your Credit Union Can Better Compete with Online Lenders, or contact us for additional assistance at info@socialstairway.com.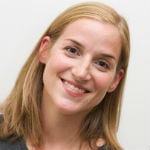 Meredith Olmstead is the CEO and Founder of FI GROW Solutions, which provides Digital Marketing & Sales services to Community Financial Institutions. With experience working with FIs in markets of ...
Web: www.figrow.com
Details