AI is changing the way people do banking: Is your CU making the right investment?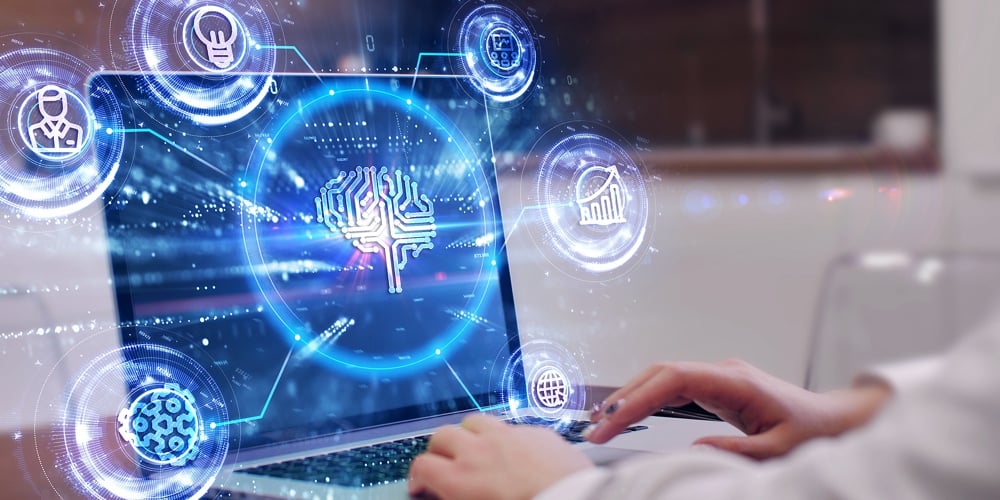 Artificial intelligence (AI) is not only the norm, but the expectation for just about every aspect of life, including banking. AI is an intelligent and virtual resource that deploys data to replace and improve business functions previously completed by human capital. In the world of banking, AI implementation is increasing revenue, mitigating risk, and improving the member experience through mobile banking. Chances are your branch will not get the same number of opportunities to impress members as you did two years ago. Once a member experiences 24/7 support with zero hold time, they will choose that convenience, and AI will allow you to provide that level of service.
AI implementation has become a necessity for credit unions, especially since the beginning of the pandemic. Credit unions cut back on brick-and-mortar store hours with 5% of credit union branches closing their doors completely.[1] But consumers still needed access to banks and credits unions in some form or fashion. The necessity rather than novelty of mobile banking became apparent, and AI is only improving the mobile banking experience.
AI is enhancing members' experience outside of the branch through mobile banking, call centers, payment processing, and other e-banking tools, creating opportunities for credit unions to increase revenue and maintain good member relationships.
Advantages for CUs
Nearly 60% of surveyed credit unions noted that an AI learning machine was an investment priority for 2021.[2] As it should be; mobile banking and AI not only have advantages for the member, but AI provides a wealth of advantages to credit unions, as well.
Cost Savings with Automation: AI allows for heightened automation by replacing the need for humans to complete routine tasks. Common tasks like depositing checks, transferring funds, and checking your balance can be completed efficiently and with a decreased risk of human error or misinformation. For example, Forester Research reported in 2020 that 36% of all inquiries to call centers were handled with incorrect information whereas AI has shown to be 90% accurate when relaying information.[3] Not only is this poor service, but it is also a compliance quagmire. While financial institutions are not required to report losses due to human error, it can be estimated that human error accounts for a significant sum of losses for financial institutions each year. By replacing humans with AI, credit unions can save money on staffing and training, and by minimizing costly human errors.
Member Satisfaction & Retention: Over 85% of Americans used a mobile device or app to do some form of banking in 2020.[4] Consumers want the ease and convenience that come with AI and mobile banking. AI can also improve member satisfaction and retention through the increased opportunities for personalization like member alerts and tools that fit the exact needs of the member. Mobile banking and AI implementation provide a seamless experience for their banking needs all in one place, making it convenient for the member.
Mitigating Risk: Cybercrime makes up 0.8% of North America GDP at $157.5 billion.[5]  Advancements in AI have allowed systems to detect fraud before it happens. Voice biometrics, the newest entrée to dual authentication, along with caller ID spoofing, helps to detect fraudsters and stop them in their tracks. AI models can also detect and reject fraudulent charges by analyzing big data. Tools like multistep verification and face recognition, among others, can save revenue and losses for your branch and its members.
Mobile Banking Tools
In 2021, there were 5.22 billion unique mobile banking users worldwide.[6]  Whether online or through an app on a cell phone, consumers have turned to mobile banking as their standard form of banking rather than going into a branch. This gives members access to your services from any location at any time.
Mobile banking can provide member access to many tools such as:
Quick balance checks
Online chat
Travel notifications
Account transfers
Remote deposit capture
Bill pay
ATM locator
Apply for a loan
Payment calculators
Mobile banking tools make banking easier and more convenient for the member. It has become the expectation for banking. Ensure your branch has the mobile and e-banking tools to satisfy and retain members.
Featured Solutions for AI & Mobile Banking Implementation
Solutions to ensure your financial institution has the tools your members want and expect.
AI & Mobile Banking are Transforming Credit Unions for the Best
Implementing AI will elevate and improve the consumer experience while positively impacting your branches' bottom line. One AI solution boasts of increasing online conversion of product purchases by over 500% due to omnichannel use and high personalization opportunities for members.
Credit unions across the country are investing in artificial intelligence and are reaping the rewards of their investments. Investment in AI is not only an investment in the latest technologies. It is an investment in member retention and employee satisfaction.
AI allows for unique implantation that is best for your institution's unique member base. It is scalable, personalized, and able to grow with the needs of your branch and the needs of each member. Investing in AI means more than just investing in the latest technology. It's an investment for the future.
[1] Federal Reserve. December 2021. https://www.federalreserve.gov/econres/notes/feds-notes/bank-branches-and-covid-19-where-are-banks-closing-branches-during-the-pandemic-20211217.htm
[2] NAFCU. 2021. https://www.nafcu.org/sites/default/files/2021%20Fed%20Report_Digital(1).pdf
[3] CU Today. 2021. https://www.cutoday.info/THE-feature/Solution-Seeks-to-Respond-to-Increased-Calls
[4] DataProt. 2021. https://dataprot.net/statistics/mobile-banking-statistics/
[5] McAfee. 2018. https://www.mcafee.com/enterprise/en-in/solutions/lp/economics-cybercrime.html
[6] DataProt. 2021. https://dataprot.net/statistics/mobile-banking-statistics/
[7] Interface. 2021. https://interface.ai/solutions/virtual-assistant-to-improve-customer-experience
[8] Interface. 2021. https://interface.ai/solutions/virtual-assistant-to-increase-revenue
Charlie Peterson is the Senior Vice President of Strategic Initiatives at Allied Solutions. In his current role, Charlie is helping credit unions nationwide successfully execute on their visions and plans ...
Web: https://www.alliedsolutions.net
Details