Amy Cuddy will outline steps to harness 'power of presence' at CUNA GAC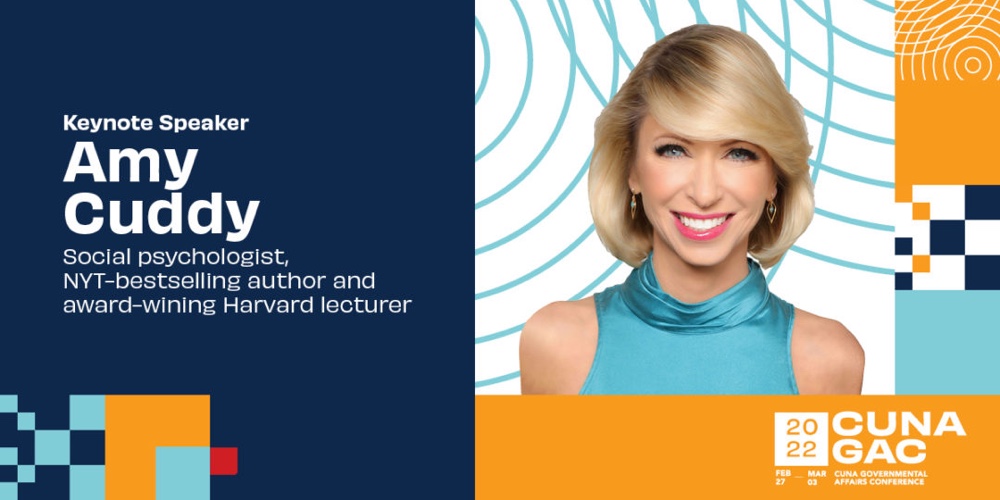 Social psychologist, NYT-bestselling author and award-winning Harvard lecturer Amy Cuddy will outline simple techniques to help attendees harness the power of presence and perform at peak levels under stress during the 2022 CUNA Governmental Affairs Conference (GAC). The 2022 CUNA GAC will take place Feb. 27 to March 3, 2022.
According to Cuddy's research, presence is the state where we modify how we see ourselves rather than thinking of the impressions we make on others. Cuddy's TED Talk, "Your Body Language May Shape Who You Are," the second most-viewed TED talk of all time, has more than 62 million views.
Named by The Guardian as "One of 20 Online Talks that Could Change Your Life," her TED talk has influenced how building confidence under stressful situations is taught and practiced worldwide.
Cuddy has been named by the BBC as one of their 100 Women of 2017, a Game Changer by Time, and one of 50 Women Who Are Changing the World by Business Insider, among many other accolades.
continue reading »