Beyond relief: Why Project Storm Break matters
180,000 homes. 30,000 buildings. 150,000 lives. Tuesday, January 12, 2010 will forever be a day Haitians remember with a sense of sorrow. 
Members throughout Haiti's credit union movement were hurting. Their lives were turned upside down by a 7.0 magnitude earthquake that had just rocked the nation, disrupting daily life for many—not just in the days, weeks, and months ahead—but for more than a year afterward. Food, water, shelter and medical supplies were essential to survive. Access to financial resources were essential to getting family and friends a lifeline of cash to get them through the storm.
The World Council of Credit Unions galvanized its global cooperative network in putting out the call to acquire and distribute crucial supplies, financial resources, and communication tools to reach their members and colleagues with this vital support to rebuild. 
Providing life-saving support to members is the primary goal, but the long-term results transformed Haiti's credit union system forever. Increased member loyalty to credit unions as financial providers, membership gains across the sector, and the creation of Haiti HOME—a WOCCU/USAID project—that has fueled the creation of a larger market for housing finance and infrastructure where builders, financiers and members all win.
Fast forward to 2017, when Hurricane Maria damaged the island of Dominica, disrupting 90% of its GDP, damaging credit union branches and the headquarters of the Dominican Cooperative Societies League Ltd. (DCSLL)—forcing its leaders to look at other strategies to get its cooperative system back on its feet, while serving its members more efficiently for the long term. A key outcome was a multi-year partnership between DCSLL and the Indiana Credit Union League to share best practices, strategic initiatives and provide technical cooperation. Would a partnership such as this have been created without initial disaster relief aid? 
Project Storm Break (PSB), a new initiative launched by the Worldwide Foundation for Credit Unions, seeks to address a logistical glitch in providing relief aid: the process of putting out the call for support on a global scale versus responding immediately with resources during the critical period of life or death for our members. Year one of PSB was a tremendous success, as we were able to raise over $100,000 for the Foundation's general disaster relief fund to serve this specific purpose. 
DCSLL General Manager Phoenix Belfield, speaking at the Foundation's Champion Celebration at the 2019 World Credit Union Conference, described the care and impact of contributions to Dominica from personal experience:
"Because of your resolve, I stand here today, assured that someone from our movement is out there—someone to lend help and support. Excitement permeated my veins at the thought of our movement being concerned about our tiny island. That made me forget that I hadn't had a warm meal in 72 hours or a cold drink in five days. Donations have been spent to provide immediate member relief, support long-term physical reconstruction of credit union branches and provided a financial ripple effect, as local funds were redirected to provide waivers of loan repayment of up to four months for our needy members."
Credit union disaster relief aid will always be about supporting the survival needs of staff and members in the days and weeks after a disaster. But there is also an opportunity for long-term growth. Providing immediate resources to credit unions is a vital first step, but this period of disruption also offers an opportunity for strategic cooperative collaboration among credit union peers.  
Every dollar matters. Project Storm Break will be active, open and relevant as natural disasters continue to strike and disrupt credit unions, and the lives of their members. Beyond initial aid, as Haiti and Dominica have proven, opportunities arise to take a step back and strategically pivot in deploying strategies that make credit unions systems—and their collaborative partnerships—stronger and more sustainable.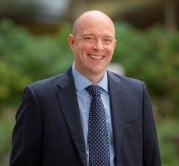 Mike Reuter is the Executive Director of the Worldwide Foundation for Credit Unions, the 501c3 charitable nonprofit that supports the World Council of Credit Unions in its mission of providing ...
Web: https://www.woccu.org
Details