BNPL: Financial health friend or foe?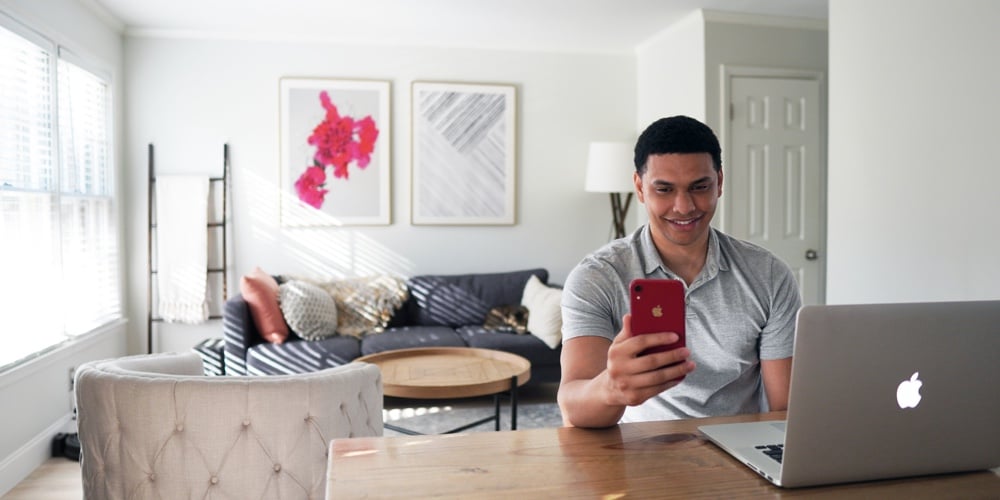 Work travel has reemerged to levels of the Before Times. I often find myself on the road, speaking at different credit union conferences, meetings, and executive readouts. It's been a blast! Not only is travel incredibly therapeutic with a five and three-year-old at home, but face-to-face meetings with clients propel action on financial health strategies in ways Zoom cannot replicate.
Without a Financial Health Network jet waiting for me in the O'Hare hanger and being a nimble non-profit organization, we coordinate our own travel. About a month ago, as I was booking a flight, United Airlines informed me that I could 'fly now and pay later' through a partnership with Uplift rather than pay my fare in full. My knee-jerk reaction to seeing these options was, "This is great! The airline is providing people with budget-friendly opportunities to travel."
As my travel week approached, United sent me an email that led to a new offer: 'upgrade' my seat to Premium Plus at a low cost, as little as $10 a month for six months! My sentiment on United's buy now, pay later (BNPL) offer shifted to skepticism, and I found myself asking, "Is BNPL helping improve people's financial health and opportunities, or is it encouraging us to spend more than we would have otherwise?" I think the answer is both.
BNPL embraces greater financial inclusion
No-interest BNPL products offer consumers the benefit of deferring payment on a purchase at no additional cost. This can provide consumers more purchasing power and a convenient short-term repayment mechanism. It could also help them avoid paying fees for additional revolving credit card debt or high-cost credit products. BNPL products offer point-of-sale loans that allow consumers to pay for online or in-store purchases over a set period, typically four payments over six weeks.
With younger generations resistant to traditional credit, it's not surprising that research shows the use of BNPL skews younger.
Younger households are more likely to use BNPL.
Percentage of households using BNPL by age group.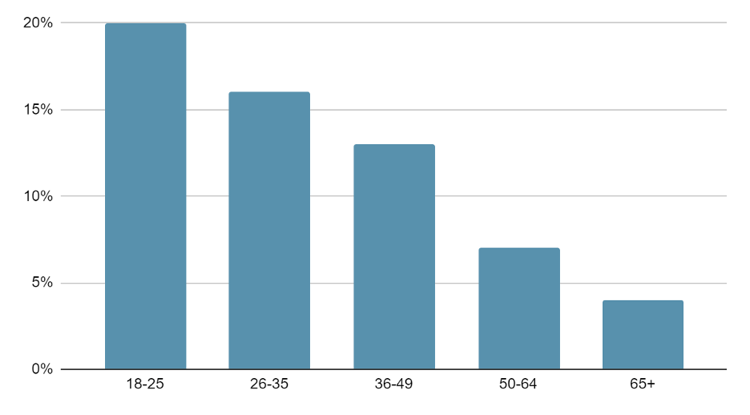 BNPL is being utilized mostly by people struggling with their financial health. We can infer this is due to age (as age correlates with financial health), but our data shows that BNPL users across the board are less financially secure than nonusers. Financially Vulnerable households are nearly four times more likely to use BNPL than Financially Healthy households.
Users of BNPL are also more likely to be struggling with their credit health. Nearly half of BNPL users (43%) report that they have subprime credit scores, and most BNPL providers are not reporting repayment behavior to the bureaus. So, yes, BNPL provides greater access and is more financially inclusive than many traditional credit instruments, but the overall impact on people's financial health remains less clear.
BNPL makes it too easy to spend money
I'm a frequent flyer with United, and I default to coach. My United flights get to the destination at the same time regardless of where I sit, and I prefer to save my money. But the $10 (per month) upgrade fee seems like a bargain for the added legroom!  But if I buy United's BNPL upgrade option now – for a luxury as opposed to a necessity – it might send me down a slippery slope. The airline industry knows this. Premium Plus has become a major revenue driver throughout the airline industry, and Premium Economy seats are set to triple by 2025.
Although BNPL services are still considered to be in the early adoption phase in the U.S., evidence suggests that some households are already using them repeatedly and for discretionary expenses. Among those who reported using BNPL within the past 12 months, almost half (46%) reported using the service three or more times in the last year.
BNPL may induce some consumers to overspend and take on additional debt. Among BNPL users, 30% said they spent more than they would have if BNPL had not been available to them at the time of purchase. Even at 0% interest, this could have a negative impact on savings, borrowing, and, ultimately, financial health.
Nearly a third of users report increased spending.
Percentage of users reporting challenges.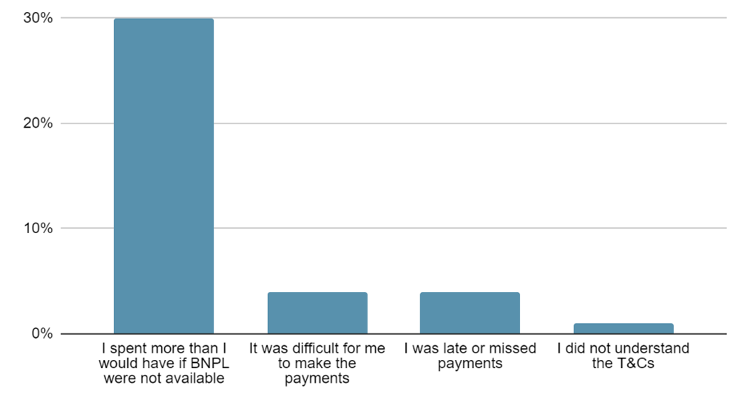 The jury is still out
The story these findings tell is still unfolding. BNPL may help users break expenses into more manageable chunks. But, at the same time, we see a sizable share of consumers spending more than they would have, or making purchases that they otherwise would not have made. There is also the threat that people will overextend themselves by taking on multiple loans across multiple BNPL providers.
While it's possible that a single BNPL transaction may be beneficial or, at worst, neutral from a financial health perspective, multiple overlapping BNPL transactions taken out by the same consumer could amass into a complicated set of payments.
For me, I'm still opting for coach.
Brenton Peck is a Director on the program team at the Financial Health Network, where he helps organizations structure and execute projects that improve the financial health of their business ...
Web: https://finhealthnetwork.org
Details