Building the digital and human bridge: Six ways credit unions can learn from Peloton
I've been running since I was 11. When I first started running cross country, I remember feeling like running for 20 minutes was as challenging as climbing Mt. Everest. Gradually, and with consistent daily effort, the miles got easier and I began to look forward to the time I spent putting one foot in front of the other. My early morning run became my time to think, decompress and reenergize. I loved that no matter where I was or virtually whatever the weather, as long as I had my chosen shoes and the right workout clothes, I could head out and enjoy the road.
With a six-day-a-week running ritual, I also found that I inevitably would fall about once a year. Typically, these falls were painful and embarrassing, but usually just left me with skinned knees, elbows or palms and I'd soon be back at it. Unfortunately, when I took my annual tumble in mid-2018, the years started to catch up with me. My clumsy stumble landed me on my right knee and I didn't bounce back like I had so many times before. The deep bruise required physical therapy and a rest from running.
It was rough for me as running is such a big part of who I am. My physical therapist was wonderful and helped me come up with alternative workouts and eventually got me back to running.  During that journey, I found Peloton. I had done group cycling classes before but really liked the flexibility of having equipment in my home that fit with my schedule.
From the moment of placing the order, the Peloton experience was exceptional. The website was easy to use and the ordering process was fast. Once ordered, they invited me to set up an online account, including a fun screen name. They also encouraged me to download the app so that I was familiar with the interface and ready to go once the bike arrived. Having ordered several treadmills, I was quite concerned about delivery and installation. The Peloton bike was delivered within five days of my order and the folks that delivered it ensured it was installed. It was ready for me to use that night after work.
When I got home that evening, I was excited to hop on and try it. The bike came with an integrated monitor and as soon as I turned it on, there was a quick and fun video hosted by one of the instructors, sharing how to use the bike. Peloton created two different ways for riders to engage on the bike. There are open road courses, where you can ride and immerse in scenery, and there are instructor-led classes. The instructor-led classes come in two forms as well. You can take them "live" during the exact time they are taught, or you can take them any time as recordings. During the live classes, the instructors will do "shout outs" to individuals taking the class for a great performance, for milestone rides, and even for birthdays.
The instructor-led courses are taught by several different individuals. They have vibrant personalities and all share a passion for fitness and the Peloton community. As you ride, you stay engaged with that community. On the far-left side of your screen, your user profile lines up with other riders that either currently or have recently completed the course you are taking. You can high five one another, see stats of fellow riders, and even more deeply engage by following users you know or wish to get to know. Many of the instructors are involved on social media and encourage connection as you take classes.
Peloton does a great job of keeping you engaged with the community through various online and offline means. When you finish 100 rides, you get a small congratulatory package which includes a Peloton "100" t-shirt. The instructors have favorite sayings and t-shirts for purchase that include those sayings. You can download playlists from Peloton to Spotify from classes that you enjoyed. The Peloton app allows you to track your fitness progress from anywhere, find other Peloton riders, view upcoming classes and integrate with fitness trackers like Apple watches.
If you are traveling and can find another bike, you can take classes using the app to continue your fitness efforts. They've also expanded the community to include a treadmill, along with non-equipment dependent classes like yoga, lifting, and stretching.
As credit unions look to attract and retain the next generation of consumers, we can leverage lessons from Peloton that play on our greatest strengths of trust, service, and personal engagement, and marry those with digital options to truly transform financial services. Here are six things your credit union can do to create even stronger omni-channel engagement grounded in who we are:
Keep people at the center. Often when I hear credit unions talking about their digital strategies, one of the questions raised is, in a technologically advanced world, how do we continue to serve people, build trust and stay personally connected?Peloton demonstrates just how technology can help us build a bridge between the online and offline world and help elevate our great human connections leveraging digital tools. Consider, how might you incorporate some of your most engaging and connected frontline team members within your website or mobile app? How might you bring forward the personalities and financial expertise of your best team members digitally so that even more members could hear from them? In what ways might you use social media to extend the ambassadors that already exist for your credit union? Think of technology as an enabler to deepen relationships and grow loyalty with the incredible people that your members already love.
Build a bridge between your branches and your technology. While many Peloton instructors live in New York City, most Peloton riders live across the world. Most of the classes they take are on bikes in their homes or via the mobile app. However, when riders visit New York City, Peloton invites them to come into the studio and take a class in-person. This fun moment enables riders to "meet" the instructors and see Peloton in a new way. How might you create moments of surprise and delight for digitally engaged members when they visit a branch? What extra value could you provide to make the ongoing digital path even stronger because of an occasional in-person connection?
Be a connector. Peloton connects people. Not just instructors to riders, but also riders to riders. They have fun stories of riders who met through Peloton, and grew friendships beyond their rides. Connection matters, according to Cigna's 2018 U.S. Loneliness Index study, "46 percent of Americans report feeling lonely sometimes or always." The trust that members feel for their credit unions is unique. How might we leverage that trust to build even stronger bonds between members? Imagine a virtual community of members that could share financial tips together to help one another and support each other with their financial journeys. The credit union could create the mechanism for connection and help bring people with common goals together either digitally or in-person.
Make it a game. Even if we may be tired of hearing about it, gamification really works. I love to see how I'm progressing on the Peloton leader board, both against myself and in comparison to other riders. Many credit unions have created Savings Challenges. Imagine if we could use that same approach with digital elements that allowed people to compete and share a host of financial efforts. Some might be focused on retirement goals, others might be working to reduce spending, while others might be building an emergency fund. The credit union could create the mechanism for engagement through the game and bring people together. Maybe the credit union could even bring a bit of surprise and delight for those that reach their goals.
Create memorable moments. The delivery of my Peloton started my experience on a very strong footing. It arrived quickly and they ensured that, upon delivery, the bike was installed and ready to go. This was an iterative improvement that Peloton CEO, John Foley invested in. According to a strategy + business interview, Foley shared that when Peloton was first on the market, the delivery experience was often not a good one for customers. In fact, Foley said, "The delivery guys weren't on time. They weren't on brand. They didn't educate customers on the product or the software. And, as a result, the customers weren't going to recommend Peloton to their friends. And that was very frustrating to me because I knew if we did it ourselves, we could delight our [customers]. I went to our board and suggested that we take this in-house. 'Let's lease a van, let's hire a team, let's paint Pelotonon the side and have our Peloton people who are highly trained deliver the bikes.'" Which parts of our member experience are preventing our members from having remarkable engagement with our credit unions? How might we make iterative improvements that can turn our members into raving fans? Investing in each element of the member experience can move us towards stronger loyalty and even more robust growth.
Build the bridge. Our new digital world doesn't mean that human engagement is less important. As we build our strategies, really thinking about how we can use our strengths of trust, service and people to integrate and elevate them through digital means, could these strategies enhance our trajectory and shift the ways consumers see credit unions?

The loyalty I feel to Peloton is real. After I returned from a recent vacation and hopped back on my bike, my husband asked, "Was it nice to be back with your friends?" When I meet other Peloton riders, we talk about the instructors and those that we love to join for class. This loyalty matters and it spreads. Anytime a friend asks me about new exercise equipment, I talk about Peloton first. According to PwC's 2019 Digital Banking Consumer Survey, "more than 50% of consumers under 35 say they will open a primary bank account based on a trusted referral." As our members have exceptional experiences with us and share that, it will build the future of our organizations.
While I will always have a special place in my heart for running that no other exercise can replace, Peloton integrated me into their community and now that I'm nearly healed from my latest tumble, I continue to include cycling in my routine. Peloton drove this deep engagement I feel through humans via digital channels. Credit unions can do the same. If done well, it will be yet another thing that sets credit unions apart and makes us the best choice for all American consumers.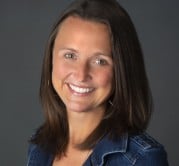 "No" is not a word in Tansley's vocabulary. If there is an opportunity to bolster Community Financial Credit Union and the industry at large, Tansley will jump on board ...
Web: https://www.cfcu.org
Details