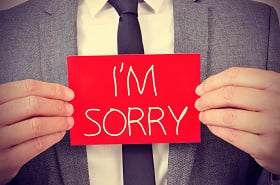 Saying you're sorry – it's not just mandatory for kids in preschool. A leader who can admit when he or she has made a mistake – and who can own that mistake, and apologize – can make the difference between employees who trust their organization and employees who are sending their resumes elsewhere.
Jim Whitehurst, the president and CEO of IT company Red Hat, wrote in Harvard Business Review  that one of his most important moments as a leader was admitting that he should have rewritten an acquired company's code before putting the product out. As a result of his decision, customers hated the product, and his company was forced to start over – when they could have just solved the problem before putting the product out there.
When Whitehurst owned up, he said many employees expressed their appreciation for his honesty. "When you don't make the time to explain why you made your decision, people will often assume the worst all on their own: that you're detached, dumb, or don't care," he wrote.
continue reading »