CEO Passing the Torch? A Rich List of Resources
by: Barb Kachelski, CAE, SVP, CUES
This week there's lots of buzz about "passing the torch," as the Olympic flame moves closer to Friday's opening ceremony.
In recent years, there's also been a lot of buzz about credit union CEOs passing their torches of responsibility and knowledge to their successors. A quick Google search turns up plenty of reports of an expected wave of retirements from the CU CEO spot—as many as 50 percent of all current CEOs in the next decade, a quarter of them in the next five years.
In a particularly visible transition, the CEO's torch will be handed off this August at the nation's 12th largest credit union, $5.4 billion America First Credit Union, Ogden, Utah. A long-time CUES member and former CUES Board chairman, America First CU President/CEO Rick Craig will retire and the CU's executive vice president, John Lund, CCE, also a CUES member, will take the helm.
How can a credit union board and exiting CEO sleep easy knowing the transition will be a good one? My conversations with credit union leaders suggest they are interested in helping people prepare to take the reins.
Last week at the World Council of Credit Unions meeting in Poland, I spoke with a credit union CEO who's getting ready to retire. While he hasn't been an individual CUES member for two decades, he thought CUES' group memberships had potential for helping his credit union be ready for a leadership transition. (CUES Executive Group Membership is for the CEO and his/her direct reports; CUES Advancing Management Group is for all of a credit union's professionals, and includes online learning for the whole staff.)
This CEO was concerned that his credit union be led into the future by leaders with not only a deep knowledge of financial services operations, but also credit union spirit.
It doesn't surprise me that the CEO found our group memberships appealing. The offerings came about because his peers—other CU CEOs and C-level executives—told CUES they would love a highly affordable way to have many CU leaders sign up for the educational benefits of CUES membership. Even beyond CEO transitions, CU leaders know they need to develop other leaders throughout the organization. A great leader in the CEO slot can no longer carry the ball alone.
America First CU's Lund included attendance at all three segments of CUES' CEO Institute in his preparation for the CEO job. That high-level experience, plus completion of the between-segments project, earned Lund the prestigious CCE, or Certified Chief Executive, designation.
What other resources are available to the many CUs with CEOs soon to retire—and for new CEOs? Let me recommend a few from our collection:

Free articles.
Model CEO Employment Agreement
A document like this is mutually beneficial to prospective CEOs and boards. Negotiating a written contract with a new CEO should be a standard step in the hiring process. If you're not yet a member of the Center for Credit Union Board Excellence, you can sign up for a free 30-day trial on the site, which will allow you to access this agreement and lots more articles and videos for board development.
Sample Decision Matrix in "Unconventional Thinking: Who Does What?"
This article by long-time CUES member and former CUES Board chair Bill Rissel, president/CEO of $1 billion Fort Knox Federal Credit Union, Radcliff, Ky., describes the use of a board-CEO decision matrix, a tool for knowing "who decides what." The article includes a sample decision chart. Such a grid can help board members and new CEOs get off on the right foot.
Compensation Data
Salary and bonus raises for credit union CEOs increased for the second consecutive year, according to data from the 2012 CUES Executive Compensation Survey.
CUES Symposium: A CEO/Chairman Exchange.
This learning and relationship-building experience is designed especially for CEO-chairman pairs. It will next be offered Feb. 3-7 in Hawaii.
At CUES, we're excited about the future of credit unions, and the next generation of leaders who will receive the handoff and forge new ground. We're glad to be able to help them. If you have ideas about what educational opportunities and tools we should be offering the up-and-comers—and the boards that will hire them—please email me at barb@cues.org.
Barb Kachelski is SVP/chief operating officer of CUES, a Madison, Wisconsin-based, independent, not-for-profit, international membership association for credit union executives. CUES' mission is to educate and develop credit union CEOs, directors and future leaders. www.cues.org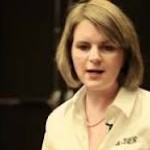 Barb Kachelski is SVP/chief operating officer of CUES, a Madison, Wisconsin-based, independent, not-for-profit, international membership association for credit union executives. CUES' mission is to educate and develop credit union ...
Web: www.cues.org
Details