Cities courting startups should also be courting lenders
It's a double-edged sword when global media run stories about our hometown of Des Moines, Iowa. While we're humbled and excited to have our city recognized for its awesomeness, we're also a bit like, "Shhh, don't tell anyone." Many of us like living in a best kept secret.
So when Inc. Magazine ran its super optimistic piece, Why the Next Great Startup Will Come from Des Moines, our team read it (and reread it) with enthusiasm and a smidge of dread. Could an article like this flood our town with entrepreneurs hungry for a fertile environment? It sure could; entrepreneurs are nothing if not nomadic. I moved (quite literally) across the world to find the best place to launch and scale a fintech business.
In many respects, the article was spot-on. There was, however, one really important benefit to building a company in Des Moines the author missed. In addition to offering startups an eager and involved government, proximity to Iowa State University and a slew of heavy-hitter business leaders, Des Moines has another really important attribute – a collection of progressive, smart and eager lenders.
And many of these lenders are credit unions.
There's a proven willingness among our community's credit union scene to finance entrepreneurs and idealists. Of course, it's not only credit unions contributing to this sense of financial adventure. Our entire financial services community – a sector rich with incumbents hungry for innovation – is incredibly strong and active in the pursuit of industry transformation.
The interesting thing about progressive financial institutions is they attract progressive financial providers. In our community alone, CO-OP Financial Services, PSCU, Shazam and many others have planted sizable flags. Mash them together with our venture capital firms, like Next Level Ventures and Plains Angels, or cooperative investors like Veridian Credit Union, and that's when the magic really happens. Combining their expertise, strategies and funding, these organizations working in collaboration can (and do) help accelerate fintech and other startup's ambitions for scale.
All that said, the role of civic leaders cannot be overstated. It absolutely matters that our state's central business hub is also home to the state's government. Local leaders are available and make time to interact with business. The governor of Iowa attended our launch party; a clear indication she believes in the power of startups to advance the state's economy. Government can't create a startup scene, but there is a lot they can do to support it. It's happening in Des Moines, but shhh, don't tell anyone.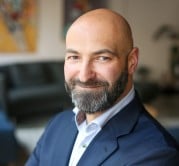 Omar Jordan is the founder and CEO of Coviance (formerly LenderClose), a CUSO, fintech company that's transforming the home equity lending process with its cloud-based platform, Home Equity Express™ (...
Web: https://www.coviance.com
Details