Why does my credit union hate me?
Recently I blogged about credit unions and their increasing addiction to bad profits.
It was in regard to some overdrafts on my share draft account that were covered by share transfers initially, until I hit the magic number 6 (Reg D) and then they activated courtesy pay. It was almost 50 bucks in fees, which I did not dispute because I made the error. Forgot I had a big quarterly tax payment queued up to be debited.
As I was getting my mail on Saturday it occurred to me that I received ZERO correspondence from my credit union during the 5 days that this was going down. So were they okay just dinging me fee after fee after fee until I discovered it? The answer apparently is yes.
Why does my credit union care so little about my financial well being that they would have that procedure in place? I can remember "working" the NSF list back in the day and actually calling some of our members asking them if they could make a deposit so we could cover their item. In the rare instance they could not but in every instance they appreciated the heads up. Then I remember as time went on and the credit union got bigger that we could no longer babysit our members. It's ironic that those conversations occurred at the dawn of the information age when computers began to make our lives easier. Why is my credit union not leveraging their technology to create a user experience that "has my back?"
My toothbrush, FitBit, Verizon and Chase care more about me than my credit union. Yes, I said Chase. My credit union could learn a lesson or two from these companies. Here are the examples of how they look after me:
I have the United Mileage Plus VISA card with Chase and I get a nice text when my statement is available and a reminder of my due date (I pay my balance off each month so I'm not horribly profitable but they still do it).
Last month I got a text from Verizon as I was landing in Madison that I was two days from the end of the billing cycle but dangerously close to the max of my data plan and told me what it was going to cost per GB.
My FitBit nudges me at 9:30 each night to start winding down and get ready for bed so I make sure to get a good night's sleep. It also alerts me when I have an appointment, when my cell phone is ringing and celebrates when I hit my daily goal of 10,000 steps with fireworks and a rocket and words of encouragement.
And now I have an electric bluetooth toothbrush that encourages me to brush for at least 2 minutes, 3 times a day and rates me with stars, a wink and a smiley face.
Rather than being so obsessed with the bottom line and month-to-month profits we need to look at the economics of loyalty.
68% of customers will switch companies because of poor service.
78% report falling in love with a brand because of friendly employees
engaged customers buy 90% more frequently
We're better than this folks. We are a member owned financial cooperative. How might we leverage all the technology we have today to protect our member's financial well being, to encourage them to save, to celebrate their financial milestones?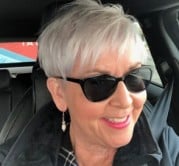 Denise started her credit union career over 30 years ago as a Teller for Pacific NW Federal Credit Union in Portland, Oregon. She moved up and around the org. chart ...
Web: https://www.zest.ai
Details