Credit Unions… Mind the GAP
by: Stephanie Lutz, Management Analyst, CRI Solutions
The CUNA e-scan for 2013 rightly encourages credit unions to continue reaching out to the Millenial Generation – aka Gen-Y.  This doesn't just mean finding the best technology to meet their needs, although that is important.  It also means making sure the loan products and services that your credit union offers are the best available so that you can foster a long-term relationship with this up-and-coming generation of credit union members.
One such product that is often taken for granted is GAP (Guaranteed Asset Protection) on auto loans.  Think about it, one of the most popular major purchases that Gen-Y will be looking for a loan on in the coming years is an automobile, so it's important to provide them the best protection available on that loan.  While many credit unions already offer some type of GAP product, not all GAP programs are created equal.  Millenials are notorious for wanting the best and being willing to pay a little more or go somewhere else to get it.  Is your credit union offering the best program available to these members?  Here are some things to look for when evaluating your program:
What is the Maximum LTV Covered?
The standard loan to value protected by most major GAP providers is 125%.  While that may sound like a lot, 28% of GAP claims are above that amount, which means over a quarter of your members' claim payments would be short of the amount needed to pay off the loan.  Try looking for a GAP provider that provides up to 150% LTV coverage so that more members will be fully protected in the event they need to file a claim.
How Many Skip-Pays or Late Payments Are Allowed?
This is a big one!  A major benefit of getting a loan through a credit union is the opportunity to take advantage of skip-a-pay programs, something that is not offered by banks.  As a result, it's important to factor your skip-pay program into your GAP program selection.  Many providers combine skip-pays and late payments in their allowed number, so make sure you understand how many of each your member is allowed.  If at all possible, try to find a program that separates these two categories so that your members are able to take advantage of all of the benefits your credit union has to offer, including skip-pays, without fearing their GAP claim will be denied or shorted.  Similarly, keep in mind that 15% of GAP claims have more than two late payments.  It's especially important for the claims on these loans to be covered to mitigate the risk to the credit union.
Is Other Debt Covered?
This will not apply to all of your auto loans, but it is not unusual for Millenials to be carrying some credit card debt that they may wish to roll into an auto refinance or car purchase.  Some GAP providers will not cover this debt when a claim is made, resulting in a shortfall in the amount needed to pay off the loan.  Ask your provider what their policy is on other debt that is rolled into the loan.
How Fast are Claims Processed?
In the event a member needs to file a GAP claim, you want the process to go as smoothly and quickly as possible.  A major frustration can occur when a claim is submitted and it takes several days to process.  Ask the GAP providers you are considering what their claims turn around averages and take that into consideration when evaluating your program options.
Focus on the features of the program and don't get caught up in the pricing game, short-changing your members on their claim coverage over a few dollars.  Remember that the average cost of GAP at a dealership is over $500 and, at the end of the day, members are purchasing GAP with the expectation it will pay off their loan should they need to file a claim.  While this isn't always going to be the case, regardless of the program you choose, by evaluating the items above, you can make sure that as many members as possible have that experience.
After all, a positive experience during a difficult time – and the circumstances surrounding a GAP claim almost always fall into the "difficult time" category – can earn your credit union some great word-of-mouth advertising, especially among a young generation that loves to share positive experiences.  However, by the same token, a member who thought they would be taken care of, but finds that they aren't is going to tell twice as many people about it and may sour on the credit union as a whole for future business.  Reaching Gen-Y and converting them into members is important for credit unions, but it's equally important to make sure the products available once they get through the door will meet their expectations.
CRI Solutions' unique QuoteMore tool provides credit union staff with an easy and effective way to quote add-on loan products on all loan types, complete with an interface to NADA and auto warranty pricing and a menu format that displays a variety of package options for each loan.  Their credit union training program also helps MSRs feel comfortable and confident when offering products to members.  With over 35 years of serving credit unions, CRI Solutions focuses on ways to help credit unions and their communities transform tomorrow by integrating technology and financial services in  ways that best benefits members.
Stephanie Lutz is a Management Analyst with CRI Solutions in Elkridge, MD.  CRI Solutions exclusively serves credit unions by integrating insurance and financial products with the company's best-of-breed technology platforms, resulting in market leading custom lending and workflow solutions. To learn more about the variety of training programs offered by CRI Solutions, visit our website at www.crisolutions.net.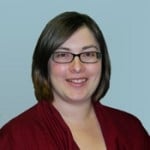 Stephanie Lutz is a Management Analyst with CRI Solutions in Elkridge, MD. CRI Solutions exclusively serves credit unions by integrating insurance and financial products with the company's best-of-breed technology platforms, ...
Web: www.crisolutions.net/main.asp
Details