Culture eats strategy for breakfast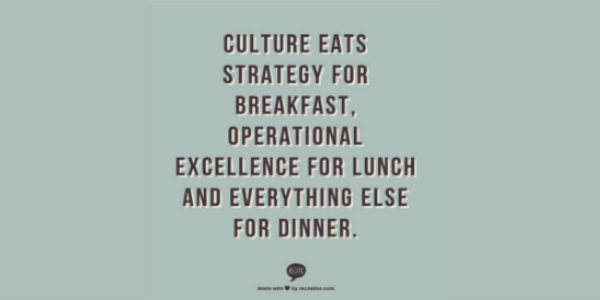 As an organization, we've been discussing our culture a lot lately.  Like a lot of small businesses, we are feeling the growing pains of becoming a larger, if not, somewhat more highly matrixed company.
While growing is always a positive thing, it's good to take a step back and remember your organization's origins.  And, it can be a bit scary as you grow and feel like you could potentially lose sight of what's really important.
How do continue to ensure that your original values are still driving the vision and mission of your organization, and more importantly, are practiced by everyone on a daily basis?
It's definitely challenging.  But, without a clearly communicated culture and value system, your organization will surely go off track.
 "Culture eats strategy for breakfast, operational excellence for lunch and everything else for dinner."  – Peter Drucker 
Drucker was the grandfather of philosophical and practical foundations of the modern business corporation and he has a very valid point.  If people are not happy to come to work or excited about your mission, then you are eventually going to run into trouble.
When you think about the best companies with strong cultures, who do you immediately think of?  Zappos?  Facebook? Google?  Apple?
And, by culture, I'm not talking about free soda or ping pong tables.  I'm talking about everyone understanding why they come to work every day and how they contribute to the success of the group.
And, before any of these companies developed a strong recognizable brand and culture, they first delivered a world-class product or service.
When should you decide that is it critical to start defining your culture?  And, what is the right approach?
I found a really helpful guest post on Forbes by Todd McKinnon, CEO of Okta that addresses this issue.  He provides six lessons that he's learned going through the process of defining culture.  Read more here
As your own organization starts to grow, begin to think about how you are going to inspire your employees and ensure that the values that founded your company drive the corporate culture moving forward.
Co-founder and CEO of Airbnb, Brian Chesky, defines culture as "simply a shared way of doing something with passion."
Passion certainly makes it a lot more fun to come to work every day.
He also thinks that if your culture is strong, then you have less of a need for process.  Through shared values, everyone has the autonomy to make the right decisions.
If someone asked you about your culture, what would your response be?   And, is it time to define it?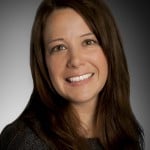 Heather is the Director of Marketing at Momentum, a national design-build firm. Heather and the Momentum team work with Credit Unions to facilitate strategic planning, evaluate facilities growth needs, and ...
Web: www.momentumbuilds.com
Details