ECM: The constant in core banking conversions and digital transformation
The digital transformation era is upon us. Cultivating better engagement with members and improving the overall member experience is a goal of every credit union. To differentiate your institution from the competition, not only do you need to focus on the member experience, but you need to be strategic about the way your technology supports your employees in this quest.
You need to empower your employees with the member information they need, when they need it. Meaning, immediately.
While on their digital transformation journeys, many financial institutions are reevaluating their existing technologies, including their core banking platforms, and are connecting different data siloes across the credit union. It's no secret, converting from an existing core banking platform, or even just upgrading, is a major project that impacts the entire credit union and its members.
And we all know it's painful for the institution.
Like, root canal without Novocain painful. Fieldtrip bound, trapped on an old, hot school bus with 30 screaming kids after a long night of celebrating the Cavs' playoff victory painful. Having your mother-in-law visit for months painful.
Ease the pain
What does a core banking platform change mean for credit unions' other systems? Does it change their enterprise content management (ECM) platform and strategy? Should it?
The questions I am getting from credit unions are all along the lines of "If I change my core, can I still integrate my existing ECM with the new system?"
At this point in the ECM game, integrations seem like a basic thing to offer. However, what's causing many credit unions a lot of angst right now is just that – if they change their core, they have to rethink ECM, too.
But, maybe that's not such a bad thing. If credit unions don't have a true ECM system, they're probably up against a wall with a core provider's document imaging component. If they decide to switch cores, or have to consolidate and share content from multiple acquired credit unions, it is impossible to do so without an independent ECM solution that can grow and evolve with other technology improvements.
So, while the drive for digital transformation and enhanced member service is causing many to take another look at their cores, in the long-term, it also makes sense to consider how to evolve their content management strategy. They're growing and changing, and making sure they're investing in a flexible ECM solution that can grow and change with them is imperative.
Your credit union simply can't afford to have your data held captive in silos. Especially if you're trying to improve your member experience.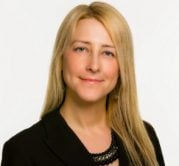 Michelle Shapiro has more than a 15 years of experience in the banking industry to her role as Financial Services Industry Expert at Hyland Software. Her mission is to share ...
Web: www.onbase.com
Details