Even during this crisis 'sales' cannot be a four-letter word at your credit union
Many credit unions lack a more traditional sales culture. For many in the industry, 'sales' doesn't really exist, because they are really just people helping people. And your members need that help now more than ever, so an outreach phone call to talk about their current financial situation or a discussion around the best products and services to help will be viewed as free financial counseling from an institution that cares.
However, consumer banking behavior has clearly changed during the global pandemic. People are now not only utilizing digital banking channels for everyday banking needs like mobile deposit or bill pay, but they are also being asked (forced) to apply online for even more complicated financial products and services like mortgages or business loans. And one of the biggest challenges with this shift to online applications for banking products is how to better connect credit union digital marketing with actual new accounts and loan conversions. 
A typical banking consumer will also jump from source to source, and device to device before completing an application or calling a member service center to apply over the phone. This leads to one of the biggest challenges to being able to properly credit digital marketing with specific revenue impacts. And this is why we typically find there is still a need to involve an actual person in your bank or credit union's digital sales follow-up process. 
Believe it or not people still like to talk to other people
Because people consult so many different sources of information when making banking decisions, it's extremely helpful when a staff member uses digital behavior of leads to kick off a robust follow-up process with new applicants or leads. This also allows for more accurately attributing when a specific marketing channel or campaign is driving positive marketing ROI for your institution.
But there's a lot of reluctance at community-based financial institutions to fully embrace a digital sales culture. Many people still see SALES as a four-letter word in community banking. With the growing shift of consumers to more digital banking, it's time to embrace digital sales as a very necessary, and even beneficial part of your mission – to help your members or customers!
Here's why it's time to build an authentic and positive sales culture at your credit union
Authentic digital customer insight drives authentic sales interactions
Digital sales can provide a ton of insight into your current or potential new member's real-time wants and needs. With a robust website and customer relationship management tool (CRM) you should be able to see important details about your members or customers. 
Existing customers can be added to new marketing campaigns if they are showing specific interest in a particular product or service by visiting a web page or reading a blog about a relevant topic. And if the user is a new lead you can see how they initially found your website and where they've been spending their time throughout your webpages. 
All of this digital insight can help your team better connect applications to their original source and provide digital insight into what types of products or services specific users or leads are most interested in learning more about.
Useful and personalized sales follow-up
When configured properly, digital sales tools can provide truly personalized sales follow-up, and it can be done with automation!
Smart lists and digital behavior triggers can be used to kick-off automatic processes that send more information or prompt a manual sales follow-up based on real-time digital behavior. So, if a member or customer is reading a blog on a specific topic and then visits a product page, perhaps it's a good time to have a member service representative or loan officer make a quick call to see if they have questions. You can also send this lead an email with some supporting details or resources, and you can do this all right after they visit your site. In effect showing the right person the right information at the right time!
Digital sales timing is KEY
When consumers are considering buying or refinancing they have likely already been doing their research. Some people take days or weeks to make financial product or service decisions, but some take much longer. So it's important that your team reaches out quickly AND that they continue to reach out over time. Even if they haven't had any responses.
We recommend a possible real-time automated email if a known lead is actively reading relevant product or service information. And then your team should personally reach out within 1-3 business days with a personalized offer of help and possibly some additional resources that might be relevant and helpful.
This doesn't mean sending a one sentence email like: "Hey, I wanted to help you complete your car loan application. Let me know if you have any questions. Thanks!" Train your team to help people like they were a member of their own family or a good friend. Send them some links to helpful information, maybe an actual tip or two. And for goodness sake DO NOT ask them to book a phone call in the first email!!
We have found that reaching out at least five times is a good start, with a combination of emails and phone calls, and much of that can be automated in email nurture campaigns to take the onus off your sales team.
Embracing digital sales is essential if your institution is going to continue to grow and thrive in this new and uncertain digital age. Visit the FI GROW Blog to read more!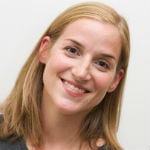 Meredith Olmstead is the CEO and Founder of FI GROW Solutions, which provides Digital Marketing & Sales services to Community Financial Institutions. With experience working with FIs in markets of ...
Web: www.figrow.com
Details