Getting the most from your agency
Recently I made a change. I went from working as a VP at a credit union to working for an advertising agency that focuses on credit unions. I am thrilled to be able to help credit unions grow. Being at the agency, I am seeing things from a new perspective. Here are some "insider" insights to help you get the most from your agency relationship.
1. Marketing Mix – Have frank conversations about it, be open to a larger digital spend, challenge traditional thinking, and trust that the agency knows what they are doing to get the results you are seeking. Trust is important to any relationship.
2. Speaking of results, are the goals clear? Has success of the relationship and/or campaign been discussed? What does it look like? What are the metrics and benchmarks and how often are they reviewed? Accountability is important to any relationship.
3. Your agency wants to be your partner, invite them to see the big picture. The work an agency can produce when they understand your mission, vision, and organizational strategy will be miles ahead of work produced with only a narrow tactical focus. Transparency is important to any relationship.
4. Allow your agency to challenge your thinking. An outside perspective is important. It is easy for those of us that have been around awhile to default to standard "credit union thinking" but sometimes a different approach is needed. Yes, those creative types can be "out there" but they also know what resonates with consumers right now, it is their job. A good relationship takes you outside of your comfort zone.
5. A seasoned relationship becomes comfortable because of time spent working together. Great communication leads to great marketing. Open, honest, and regular communication is key to any relationship – this is a partnership that is focused on the same goals.
Allen Klein said, "a little perspective goes a long way," and from where I sit now, I see that agency relationships can be strengthened for the good of the credit union and their members. As strategic planning rolls around, consider the role of your agency in your plans.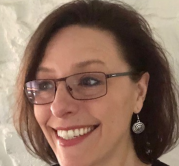 Cynthia is a Credit Union Development Educator (CUDE), she holds a BS in Business Administration and an MBA from Elmhurst College in Illinois, and a master's degree in Adult ...
Web: www.balancepro.org
Details