Going Phygital: The laminal space between digital and physical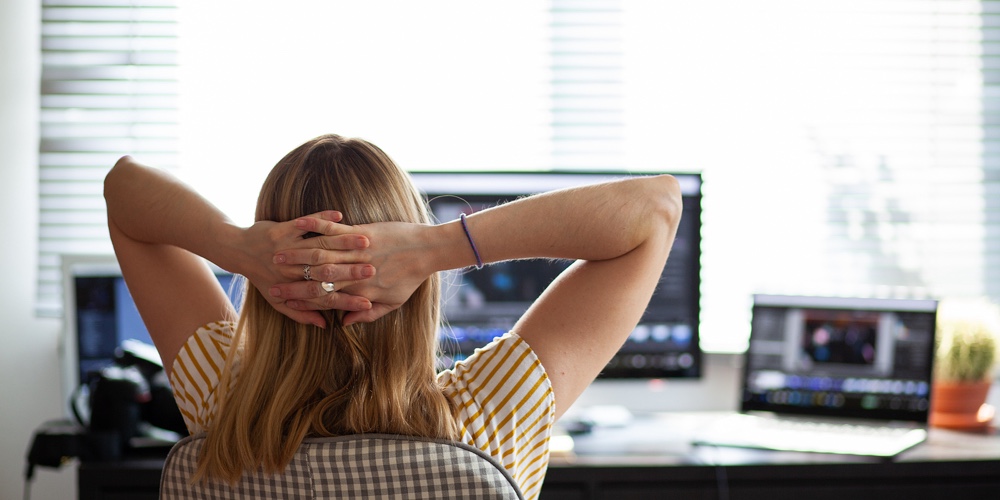 Living in the future
We live in an age where the sentence, "I'll jump in the Zoom room soon, I had to find my ethernet dongle because my Wifi dropped," is comprehensible to the majority of us, but would surely send a small colonial child into cardiac arrest.
Past generations may have imagined 2021 full of people zooming around in flying cars, but in reality, we're Zoom-ing into each other's living rooms. Due to the global pandemic, 42 percent of the U.S. labor force is now working from home full-time. And this 42 percent is dropping into meetings through AirPods while switching the laundry, leading team meetings from kitchen tables, and making our furry friends our most loyal coworkers. We've gone phygital.
So, what is phygital? 
To put it simply, phygital was born from the combination of the words "physical" and "digital." And while it may be considered a buzzword in the online space right now, I could bet my life that phygital experiences aren't going anywhere anytime soon. 
The lines between the digital world and the physical world are blurrier than the edges of Kylie Jenner's Facetuned photos. As Konstruct explains, "The digital world has slowly been creeping into our physical lives for a while. Think about the impact of smartphones and how we now expect to get a personalized, digital dimension that complements our physical day-to-day lives, for example via Google Maps." 
But this isn't the only example of how nearly every single one of us, even my grandma's 92-year-old boyfriend (I'm serious), has been required to go phygital in some way. It's paying your energy bills online, it's depositing checks through a photo snapped on your cell phone, it's virtual doctor appointments. Not only have we adopted these technological benefits in our everyday lives, but some companies are reaching for the stars in the way they embrace the digital impact on our physical world.
Socializing in the digital space
The merging of physical space and digital space is everywhere. In January 2019, Amazon launched Scout, an electric robot carrier who delivers your packages. The small vehicle can navigate around pets, pedestrians, and other objects on the sidewalk as it makes its delivery rounds. But even if you don't live in an area where real-life Wall-E can deliver your toilet paper, social media is just as futuristic, perhaps just on a less flashy scale. 
The social media world has created an entirely new dimension for humans to exist in. And thanks to AI web crawlers, cookie tracking, intent data, and other modes of data mining we have the power to formulate a nearly whole picture of someone's interests, habits, and activities in the digital space. But we don't even need advanced applications like G2 Crowd or Bombora to understand the scope of someone's personality through the internet, we have a front row seat with social media. 
In this space, individuals are consistently curating a visual compilation of their interests, activities, and hobbies. One quick trip to Jenny's Instagram and we can see her recent trip to Cancun, the birthday party she threw for her dog, and that she's an avid Detroit Tigers fan. The way we share snapshots of our lives online serves the opportunity for connection up on a silver platter. 
So, if people feel so empowered to share their interests through a screen, and since our physical lives are so vastly interconnected to the digital space…
What can we do with that information?
Use social media to gain new perspective
Social media gives us the unique opportunity to see the world through another's eyes. Do your prospects live in another country? Browse the Instagram location and see what the visitors are up to; then use the local brunch hotspot as a touch point in your outreach. Is your target audience sharing TikToks to their Instagram stories? Check out the creators they're sharing and get a glimpse at what their For You Page looks like. 
Take opportunities for connection
Once again, these digital sneak-peaks into people's lives give us so many opportunities to connect. It takes less than two seconds to respond to someone's story with, "I love this artist!" or "Is this restaurant good? I've been thinking about it!" Breaking the ice has never been simpler. 
Go with the flow 
Change is hard. We might even be resistant to adapting new platforms like TikTok or Herd (released this week). But the reality is, its opportunities missed. Be adaptable, hop on the train, and go with the flow!